Life in the Balkans may seem sometimes like a scene from Emir Kusturica's films. Quite often, everyday life is brought to the level of absurdity, so ordinary people are trying to build a life founded on common sense in the environment of absurdity. The region of the Balkans with its diversity is certainly the most exciting wine region of Europe where transformation and reshaping of wine scene is taking place at the speed of light. And right there, in the center of the Balkans, there are vineyards that are bizarrely classified according to two different Wine Laws.
We all know complicated history and present situation in Kosovo and Metohija, a territory that still lies stuck between politics, unresolved national disputes in the Balkans, interests of big and small global powers, personal traumas… The reality is that Serbia nowadays does not accept independence of Kosovo and Metohija (which is not recognized by The United Nations), but still considers it an autonomous province within Serbia (in accordance with UN declaration 1244). The reality is also that Albanian population in Kosovo declared independence from Serbia in 2008 and works hard to gain as many features of the independent state as possible. Therefore, for local Serbs, Kosovo and Metohija is still a part of Serbia, whilst for local Kosovo Albanians, Kosovo is an independent republic. In such a bizarre environment, the EU and NATO are striving to promote the idea that the situation has stabilized there and that everything is OK now, but as soon as you dig beneath the surface, an absurd or bizarre situation which cannot be found elsewhere in the world pops out.
One of these absurd situations is the fact that wine industry of Kosovo is regulated by two different laws: the Law on Wine of the Republic of Serbia, which outlines two wine regions in Kosovo and Metohija: North Metohija and Central Metohija wine regions. On the other hand, the Parliament of Kosovo (the independent one) also adopted its own Wine Law, which defines two wine regions: the region of Dukagjini and the region of Kosovo Plain. Ethnic Serbs from Kosovo have aligned their wine production with Serbian laws and sell their wines on the Serbian market (with small quantities exported to Austria, Switzerland and other countries). Albanian wineries have aligned their wine production with Kosovo law and sell their wines in Kosovo, in the Balkans and beyond.
In order to get comprehensive understanding of winemaking in Kosovo and Metohija, it is necessary to observe all wineries. In Serbia, we have an opportunity to drink prevailingly wines from Serbian wineries located in Kosovo and Metohija, so this year at ProWein Fair in Düsseldorf I had an opportunity to taste wines produced by Albanian wineries in Kosovo for the first time and thus got the whole picture.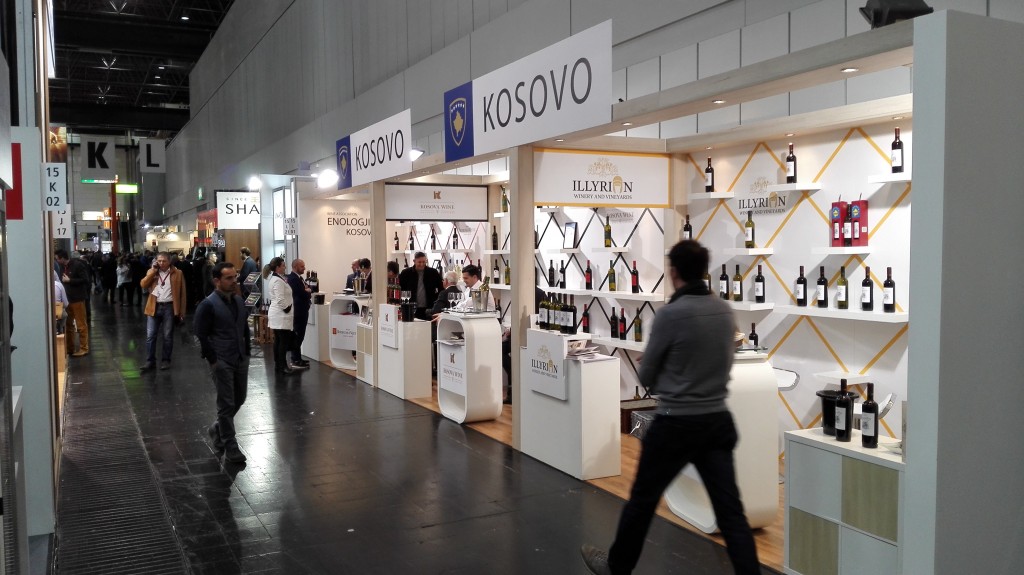 KOSOVO WINEMAKING PROFILE
In 1988, there were 9,000 hectares of vineyards in the territory of Kosovo and Metohija. Nowadays, the area covered by vineyards totals 3,220 hectares.
If we speak about white varieties, the most common grape varieties are Smederevka (45% i.e. 358 hectares), Italian Riesling (28% i.e. 218 hectares), Chardonnay (13% i.e. 106 hectares), Rheinriesling (6% i.e. 48 hectares) and Župljanka (3% i.e. 26 hectares).
Concerning black grapes, the most common grape varieties are: Vranac (26% i.e. 447 hectares), Prokupac (25% i.e. 401 hectares), Gamay (18% i.e. 289 hectares), Pinot Noir (11% i.e. 112 hectares).
Within 2007-2014 period, Kosovo exported 41,657,264 liters of wine in total. Number one destination for  Kosovo wine sale is Serbia (13,289,071 liters), followed by exports to Germany (6,194,042 liters), Croatia (9,090,383 liters), Macedonia (2,809,194 liters) and Slovenia (2,881,026 liters)
Kosovo has adopted the basic Wine Law, however, by-laws have not yet been adopted that would define clearly the content of the label. Therefore, you should be cautious when dealing with Kosovo Albanian wine labels because they don't define precisely the meaning of terms such as Reserve, Exclusive Reserva, Extra (?!?), etc. It may also happen that the label "Riesling" depicts a wine made from Italian Riesling. Further harmonization with EU legislation will also regulate this segment of Kosovo's wine-making, similar to Serbia where these legal steps have already been taken.
BODRUMI I VJËTER (OLD CELLAR)
This winery is a successor of Orahovac Agricultural Cooperative, originally founded in 1953. Following privatization in 2006, the winery changed its name to Old Cellar, modernized equipment and technology. The winery owns 2.3 hectares of  vineyards, while cooperating with local farmers who provide grapes from another 526 hectares of vineyards. The Old Cellar Winery buys nearly a million kilograms of grapes from small producers, and in 2007 it produced nearly 2 million liters of wine.
Elephant Chardonnay 2014 – Wine with distinctive varietal characteristics of Chardonnay. Plentiful aromas of  tropical fruit, mango, banana, apricot, peach. The palate reveals full-bodied wine, lively acidity which contributes to impression of freshness. Long, persistent finish. The price of this wine is 8 EUR, so definitely good price-quality ratio.
Vranac 2014 – If we were to search for the flagship grape of Kosovo, then it would certainly be Vranac. Easily recognizable in a glass by its colour intensity. The nose shows lots of black and red forest fruit, complemented with hints of vanilla and sweet spices. Not excessively complex wine, but thanks to its intensity and full-body, it leaves a striking impression.
Elephant Cabernet Sauvignon 2014 – I was wondering why Kosovo wines were marketed with "elephant" label. Inspiration actually came from a bronze statue of elephant dating from the end of the first century/the beginning of the second century AD which had been excavated by archaeologists in the territory of Orahovac. This statue is nowadays kept at the National Museum in Belgrade. The wine matured in Hungarian oak barrels. Ripe tannins, fresh acidity… Further aging will further polish the wine and give it additional softness and warmth. I asked for the price of this wine that is sold mainly in restaurants in Kosovo. Ex-cellar price is 10 EUR, while prices in restaurants of Priština reach 40 EUR.
ILLYRIAN WINERY (BIOPAK)
Another winery from Orahovac. It owns 4 hectares of vineyards and in addition it uses grapes from another 1 hectare of vineyards which are grown in cooperation with local farmers. As part of  IPA2013 program "Quality Stabilization Of Kosovo wines", the winery used EU funds in the amount of 500,000 EUR to modernize technology in the cellar. Grape varieties represented in the portfolio of this winery are: Chardonnay, Italian Riesling, Pinot Noir, Vranac, Cabernet Sauvignon.
Pinot Noir 2015 – In Kosovo, wine consumers are not particularly used to wines such as Pinot Noir, so more effort is needed to promote and sell it. However, Pinot Noir wines that I have tasted so far show typicity of the variety that would meet expectations of any winelover. Already in the glass, distinct elegant translucent, pale red colour. The nose is dominated by soft aromas of strawberries, ripe red fruits, cranberries, cherries dipped in dark chocolate, hints of earthy tones. Medium-bodied wine with smooth rounded tannins.
Cabernet Sauvignon 2015 – The nose is dominated by complex aromas of red and black fruit, which open up in layers, accompanied with hints of oak, coffee, cinnamon, sweet spice. The wine aged for 12 months in Hungarian oak barrels (Trust). Pleasant mouthfeel. Long warm finish.
KOSOVA WINE
A young family winery from Orahovac founded in 2011.
Italian Riesling 2015 – Vineyards of Italian Riesling cover an area of ​​5ha, at an altitude of 450 meters. Pleasant refreshing aromas on the nose, with dominant citrus notes, grapefruit, herbal aromas, linden tea, white flowers. Refreshing impression in the mouth thanks to vibrant acidity.
Vranac Extra 2014 – Although my friendly host from Kosovo Wine Winery told me that the year 2014 was remarkable in Kosovo and grapes had no problem to ripen and collect enough sugar, I have an impression that the character of this Vranac is largely influenced by a difficult year. On one hand, it got elegance, without characteristic robustness and power that Vranac typically possesses. On the other hand, it lost colour intensity and full body which differentiate Vranac from other local varieties. The wine matured for 9 months in barrique barrels. Exceptional balance, smart use of oak accompanied with aromas of black forest berries, plums, hints of spiciness, vanilla. Ripe mouth-coating tannins.
Pinot Noir 2014 – Another fine example of Pinot Noir from Orahovac with distinct typicity. Nose is fruity, with aromas of strawberry, cherry, raspberry. Medium-bodied wine, medium finish. A pleasant fruity trail is just tempting you to take another sip.
Syrah Reserve 2014 – Complex nose, black forest berries, raspberries, blackberry, black olive, white pepper. Medium-bodied wine, fruity impression in the mouth dominated by flavours of blackberry and blueberries. A long, harmonious finish.
ANTIĆ WINERY
Zdravko Antić, former oenologist of Orvin Winery from Orahovac and Kosovo Vino from Mala Kruša, founded Antić Winery in 2003 with an idea to continue  tradition of wine production in Metohija together with other members of his family.
Postojbina 2016 – A blend of Italian Riesling and Rheinriesling. The nose brings forward discrete aromas which reveal predominant character of Rhineriesling (yellow apple, pear). In the mouth, the wine is medium-bodied, medium finish.
Izbor srca 2015 – (Varietal composition: Gamay, Pinot Noir) Elegant wine on the nose, fruit forward. Mouth is dominated by flavours of red forest berries, strawberries, cherries, dark cherries. Medium body, long rounded fruity finish.
Rajska bašta 2015 – (Varietal composition: Cabernet Sauvignon, Merlot, Prokupac) The character of this wine is largely shaped by oak. Intensive oaky aromas on the nose, yet the palate still keeps prevailing fruitiness, hints of cherry, red berries, currants in particular. Ripe tannins, plentiful. A long drying tannic trail lingers in the finish.
DEČANSKA VINICA
The winery belonging to Serbian Orthodox Christian monastery of Dečani is called Dečanska Vinica. It is located in Dečani Mahala, in the village of Velika Hoča. This village, 4 km away from Orahovac, is one of the oldest settlements in Metohija. It was first mentioned in the gift certificate issued by Stefan Nemanja in 1198 and sent to Hilandar Monastery. The village of Velika Hoča is also mentioned in latter written documents, including Dečani cadastre records from the 18th century.
Manastirsko Dečansko 2014 – (varietal composition: Cabernet Sauvignon, Merlot, Vranac) A wonderful intense dark red color with purple reflection. Aromas of black forest berries, coffee, cinnamon prevail on the nose. A full-bodied wine, a fruity impression in the mouth with prevailing flavours of blackberry and black currants. Smooth tannins.
STONE CASTLE WINERY
At an altitude ranging from 350 to 520 meters, there are 600 hectares of vineyards owned by Stone Castle Winery in the municipality of Orahovac. Since 2006, more than 15 million dollars have been invested in winery facilities and vineyards. Certainly the most famous winery from Kosovo outside the borders of the Balkans because their wines are exported to the United States, Great Britain, Germany, etc.
Stone Castle Merlot Selection 2013 – Developed wine, mature, intertwined aromas of black and red berries on the nose, coffee, leather, black chocolate. Thick, pleasant mouthfeel, harmonious, medium body. Long, fruity finish.
Stone Castle Cabernet Sauvignon Reserve 2013 – Elegant use of wood in the aromatic profile. On the palate, flavours of black currant, black forest berries, pyrazine tones, spicy tones of mint and basil in the finish. Medium body, pleasant, rounded impression. Somewhat higher alcohol level doesn't spoil overall impression.
Stone Castle Pinot Noir 2014 – Nose is showing varietal character, fruity aromas of cherry, strawberry, earthy notes, mild herbal impression. In the mouth, the wine is simple, linear, hints of fruitiness. Medium finish. Kind of unconvincing.
Stone Castle Chardonnay 2016 – A classic Chardonnay, moderate intensity on the nose, aromatic profile with dominant notes of peach, yellow apple, pineapple, banana, citrus. In the mouth, the wine is pleasant, medium-bodied. An average Chardonnay that you can find in large numbers in all countries of the region.