© tob
The European triangle of great nightlife and endless entertainment is composed of 3 cities whose names begin with the letter B: Barcelona-Berlin-Belgrade. Even during the dark 1990s, citizens of Belgrade followed the philosophy of "Carpe Diem" which was perfectly suited to their southern mentality. After the country reopened after the year 2000 and began its long journey of transition towards EU membership, tourists from Western Europe have discovered what the locals  already knew: Belgrade and rhythm of this city are really special ...
Lonely Planet called it "the city of endless fun"
http://www.lonelyplanet.com/travel-tips-and-articles/39339
The Guardian recommends visiting the well-reputed parties on Belgrade's nightlife floating barges:
http://www.theguardian.com/travel/2009/dec/13/belgrade-from-our-correspondent
World traveller and blogger Justin Klein also shared his impressions about Belgrade's nightlife:
http://www.justin-klein.com/europe-best-nightlife-belgrade/
With the revival of the wine scene in Serbia, with the Renaissance of Serbian wineries and increased interest of young people eager to taste and know better the world of wine, creators of social life in Belgrade quickly created numerous opportunities for wine lovers to have fun.
Suddenly, wine fans and admirers got into an unenviable situation: a race against time and space that defies the laws of physics ... The day is short, and wine events in Belgrade have become numerous ... So, you need to choose wisely and plan the schedule ... and then the walk through Vinopolis of the Balkans may begin!
Ready! Steady! Go!
© tob
Date:
October 11th, 2014
Location:
Belgrade, Serbia
Mission:
The conquest of the Balkans' Vinopolis
Destination no. 1
- Vračar, city center, near St Sava Church ... while sipping morning coffee in one of numerous cafes in the neighbourhood, I am calling friends and making final preparations for today's Belgrade wine marathon.
Destination no. 2
- Hotel Crowne Plaza, New Belgrade - The wine shop "Kuća vina" (
http://www.kucavina.rs/index.php
) in collaboration with a consortium of Chianti producers (
http://www.consorziovinochianti.it/en/
) organized presentation of the association of winemakers from Tuscany which represents over 3600 members. We got an opportunity to find in one place 17 wineries from Tuscany which presented their wines to Belgrade's wine lovers, distributors, retailers, importers and wine journalists.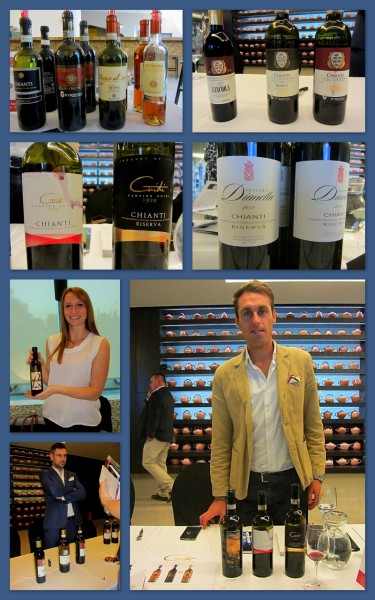 Wines labelled Chianti often cause great confusion among regular consumers... Prices in shops may vary significantly from 250 dinars up to several thousand dinars, on the labels you can find many variations of the theme: Chianti Classico, Chianti DOCG, Chianti Colli Florentini, Chianti Rufina, Chianti Riserva, Chianti Superiore ... And considering the quantity of wineries in this region, you should explore the region well and find quality wines with good price / quality ratio. This wine show presenting wineries from Tuscany was very well organized. Thematic concept of displaying wines that do not bear the label Chianti Classico brought varied offer: from fresh fruity wines from concrete tanks, then mature wines with captivating minerality, to aged complex wines from Slavonian oak. There were some labels that you could easily find in a nearby supermarket at a price of 300 dinars, which would give you at least some indication of what to expect from the variety Sangiovese, although a touch of Cabernet Sauvignon in a blend has changed its character and impression to some extent .
Several "small wineries" which were present at the show have displayed the authentic experience of Tuscany in their wines, whilst maintaining technically healthy wines and well-profiled price range:
Chianti d.o.c.g. 2013 - Azienda Agricola Pugliano
- Pugliano Winery was founded in 2002. From the beginning, the winery owners, Fioravanti family, have opted for organic production. At the site of ancient vineyards, new vines were planted, on the soil of fossil origin combined with clay. This wine from the winery Pugliano (varietal composition: 90% Sangiovese, 10% Merlot and Cabernet Sauvignon) impressed me with its elegance. Wine is distinctly fruity, and clay soil certainly contributes to it. Intense fruity aromas of blackcurrant and raspberry dominate the nose, with discreet floral notes of violets which give elegance to the overall impression. The wine is ready for drinking, rounded, medium-bodied, with pleasant acidity.
 Chianti d.o.c.g. Riserva "Vigna 54" 2012 - Azienda Agricola Pugliano
- wine from the vineyard situated on the best plots owned by Pugliano winery (varietal composition: 100% Sangiovese). The total production: 1300 bottles. Wine aged in French oak barrels. Potent wine, full-bodied, 14% alcohol, complex aromas on the nose ranging from fruity aromas of red berry fruit, notes of violet, vanilla to sweet spices. Alongside good acidity, this wine also keeps minerality as a feature similar to all the other wines from this winery which I had an opportunity to taste.
Chianti d.o.c.g. 2013 - Castello del Trebbio
- Estate Castello del Trebbio extends over 350 hectares of land near Florence. Castle on the estate was built in the 12th century, and vineyards on the estate spread over an area of 54 hectares. This wine (varietal composition: 90% Sangiovese, 10% Canaiolo) best reflects the style of Chianti  that exudes freshness and fruity character. Intense fruity aromas (blackcurrant, blueberry, blackberry) on the nose indicate that the vineyards from which the grapes for this wine come are on relatively cooler plots. Simple wine but still elegant enough and with character that makes you want to drink it again ...
Chianti Rufina d.o.c.g. Riserva "Lastricato" 2010 - Castello del Trebbio
- This wine is still in diapers ...  Lively acidity, it will take more time to calm down, but it gives a nice impression of freshness. On the nose, you can already detect tertiary aromas of truffles, baked earth, coffee, leather. A complex wine, the body medium-to-full ... It would be exciting to see how it will develop in the coming years.
Vin Santo del Chianti Colli Fiorentini D.O.C. 2008 - Azienda Agricola Lanciola
- According to the rules, vin santo must have at least 16% alcohol, varietal composition must be at least 70% Trebbiano and Malvasia varieties while the remaining 30% can be other local white grape varieties. This dessert wine from Tuscany (translated as "holy wine") is traditionally made from dried raisins in order to concentrate sugar in raisins. The nose is dominated by aromas of honey, hazelnut, caramel, dried apricot, candied fruit ... Nice acidity contribute to vividity of this wine.
Vin Santo del Chianti d.o.c.g. "Il Santo" 1998 - Cantine L'Arco
- This wine surprised me with its acidity which leaves an impression of exquisite freshness. It is hard to believe that this is a wine from the harvest 1998. On the nose, oxidative notes, aromas of walnuts, almonds, candied oranges, raisins, dried apricots ...
Destination no. 3
- Wine Shop Srpska kuća vina (
http://www.enotria.rs/skv/
), Novi Beograd. Budimir Winery from Župa has given an opportunity for Belgrade's winelovers to taste wines from their portfolio which had recently been rated by Robert Parker's team, which Vinopedia.rs has already reported (
http://www.vinopedia.rs/?p=3899&lang=en
).
The evening was marked by added exclusivity owing to the premiere of the new wine from this winery with a mysterious label Project X 2009. Limited edition, the result of continuous experimentation in the cellar of Budimir winery and permanent search for new and authentic impressions of Župa.
I should comment here briefly a detail that speaks volumes about Serbian wine audience: simply, we love points, awards, medals, competitions not only in sports, but also in the wine world ... This could be a trait of our mentality ... In any case, the wine shop that evening was packed out. Nice to see so much interest in wines from local wineries ... And given that I am already acquainted with wines from Budimir winery, I have focused on Project X 2009 ...
So ...
Project X, vintage 2009
... ripe for consumption ... on the nose closed, with predominant note of sweet plum...The mouthfeel exudes plenty of plums, blackberries, blueberries, ripe but not jammy fruit ... pure fruit ... pleasant acidity... medium body ... there are not many wines of this style among domestic producers ... and the blend is made according to the principle: take everything we have and blend together: Prokupac, Cabernet Sauvignon, Merlot, Pinot Noir ...
I must point out that Pinot Noir isn't easily found in blends, unless you're talking about champagne. In some wine regions of the world, you might come across blends with a small percentage of Syrah or Tannat in order to amplify structure of Pinot Noir. Simply, elegance, softness and refinement of Pinot Noir in the blends gets lost when paired with other varieties. So, that's another reason why you should taste this wine - just see for yourself and explore how these four varieties function together in a blend. You will see whether the winery is on the right course.
Destination no. 4
- "Wine Illegality" in Dedinje, Belgrade. The very name of the event seems rather vague ... Location: One of the villas in Dedinje, residential part of Belgrade dotted with sumptuous palaces and residences of diplomats, politicians, tycoons, singers ... Could there be something illegal in that part of the city that is not related to local tycoons and politicians?!? Obviously, things change over time, so the wine crowd has arrived in this part of the city ...
I wondered how many visitors would come to this meeting of winemakers and wine lovers since its marketing concept was based solely on social networks ... But the power of social networks is not to be underestimated ... While I was still attending the promotion of Budimir wiens, rumours came that Wine Illegality was in full swing ...
The concept of Wine Illegality is essentially similar to Wine Jam originally launched in Savamala district of Belgrade ... Wine events with the aim of bringing together urban crowd of Belgrade, young creative people who truly love wine ... Now we know that Wine Illegality was a success and we surely can expect in the future new get-together events organized by wine guerrilla of Belgrade. And the winemakers also seemed happy and satisfied... Real stars of the evening were Sauvignon Blanc from Pusula Winery and Babaroga from Bjelica Winery.
So the midnight hour has come... Belgrade never sleeps, so we decided to continue listening to the rhythm of the city ... We placed into a bag the bottle of wine which we had bought and headed towards's Branko's street in downtown Belgrade ... Another party's started already ...