It's Saturday, June 6th, 2015. Smiling face of the morning program presenter on TV has announced that the rest of the day will be sunny with temperature exceeding 30 degrees. Fine, it seems tolerable, particularly if one makes an escapade from the heated asphalt and concrete in the city.
And today's destination is Fruška Gora mountain in northern Serbia, whose slopes covered with orchards and vineyards belong to the region of Srem. In Serbia, Fruška Gora is commonly referred to by the fact that therein Marcus Aurelius Probus planted the first vineyards and thus marked the beginnings of winemaking in Serbia and beyond, and this story can be heard at virtually every winery in the area.
In Srem wine region, vineyards cover an area of 2,140 hectares, and vineyards prevailingly spread over altitudes ranging from 90 to 270m.
On this occasion, I have decided to leave aside the wine history of the region and to focus on the future of Fruška Gora. So I headed from Belgrade towards the village of Mala Remeta. This village of 150 inhabitants who had fled Bosnia and settled in this part of Serbia after World War II is best known owing to an eponymous monastery. It is believed that the monastery was built in the 14th century, but the Ottoman Turks burnt it in the 16th century. Monks from Rača monastery rebuilt it from the ashes. Until the advent of phylloxera, the nuns used to produce wine from monastery vineyards. After phylloxera, vineyards in the area around Mala Remeta were replaced by plum orchards. But times are changing and vineyards are now returning to areas where they once dominated.
I am approaching slowly the outlines of Fruška Gora, a lonely island in the endless sea of wheat. Symbolically, today is the birthday of Thomas Mann, and I already imagine that he was observing similar images while he was writing Der Zauberberg. I am following well-marked sign posts and awaiting the moment when wheat fileds will be replaced by orchards and vineyards.
Southern and northern side of Fruška Gora are intersected by numerous streams that flow into the Danube river in the north and into the Sava river in the south. For this reason, exposure of the plot depends on which side of the stream it is located. Smaller or bigger plateaus are nestled between the streams. On the southern slopes of Fruška Gora, these plateaus are spacious, often comprising dozens of hectares in one piece, with gentle sloping and seldom facing erosion problems. Deurić Winery, the youngest star in the wine universe of Fruška Gora, is located in such a position, at an altitude of 270 meters.
The existing winery building was built in 2007 on the estate owned by the Deurić family since 2005. Having started with initial 37 hectares of land, the owner Mitar Deurić patiently purchased adjoining plots and expanded the estate, which now includes 100 hectares of apple orchards and 14 hectares of vineyards. Vineyards are well-prepared for the global climate change that is now a burning issue, because they are fully equipped with an irrigation system drop-by-drop, and water is pumped from irrigation wells scattered on the estate. When choosing grape varieties, in consultation with experts from the Faculty of Agriculture in Novi Sad, they opted for Gewurztraminer (a variety that was quite common in the vineyards of this wine region in former Yugoslavia when the grapes were transported to Slovenia in order to make wine in Slovenian wineries), Chardonnay, Riesling, Sauvignon Blanc, Pinot Noir, Merlot and Probus.
Deurić family is already well-reputed for apple production. 90% of their apple production is exported, mainly to Scandinavia, Great Britain, Russia, Germany, UAE. Now they are also resolved to build a distinctive identity on the local wine scene and present their wines, while actively promoting the possibilities of wine tourism and taking advantage of proximity to Belgrade and Novi Sad.
Deurić Winery has recently introduced two new wines to the market . Symbolically, the wines are named TALAS (wave), the association with the Pannonian Sea in which Fruška Gora once represented an island. Given that the grapes originate from young vineyards, the last year was not favourable for the winery, but they eventually managed to cope with the difficult year and present their own new labels to Serbian wine audience.
Talas White 2014 – Deurić winery – (varietal composition: Chardonnay 90%, Gewurztraminer 10%) The nose is fruity, airy, fresh with prevailing aromas of peach, apple. The impression of freshness continues in the mouth, with notes of citrus and apple that leave a juicy trail and lead to a delicate finish. Then, Gewurztraminer notes come to the fore. Medium-bodied wine. Pleasant, refreshing acidity. An excellent partner for the long hot summer days and nights ...
Talas Red 2014 - Deurić Winery (varietal composition: Pinot Noir 90%, Merlot 10%) Recognizable varietal aroma of Pinot Noir. Aromas of cherry, raspberry, red berries prevail on the nose. Merlot in this blend adds fruitiness that makes wine more opulent, more complex. Medium-to-short body, pleasant finish, neat acidity, integrated nicely.
From Mala Remeta, the road took me further through the forests of Fruška Gora, gradually descending to the village of Neštin. Neštin village is located close to the border between Serbia and Croatia. The local population there has always been cultivating vines and every household in the village owned a wine cellar for producing wines to satisfy domestic needs. This tradition was interrupted during the Second World War, when the Ustasha troops (Croatian fascist army during the Second World War) arrived in the village and killed 150 male villagers. Thus, many households in the village lost a male head of the family, and therefore the result was no manpower to work in the vineyards in the coming years. It took a decade after the end of the Second World War to restore wine production in the village to pre-war levels.
Today's wine scene in Neštin is still slumbering and waiting for its affirmation, unlike other places in Fruška Gora such as Banoštor or Sremski Karlovci which have already shaped their own wine identity. Local wineries in these villages have significantly improved quality of their wines. Neštin for the time being remains a ticking time bomb and awaits the right moment to build up to show its wine energy. The biggest obstacle to make this happen now is insufficient investment in equipment and technology in local cellars, and probably an equal share of responsibility should be borne by the local mentality of villagers.
Dirt road winding between vineyards and orchards brings us to the edge of a plateau with a beautiful view of the houses in the village. And there, a vineyard totalling 57 ares nestled along the cliff. The vineyard was planted 30 years ago, and the main grape varieties found there are Grašac and Vranac. I was welcomed in the vineyard by Vladimir Dragičević, a young architect who also took up winemaking a few years ago. Fascinating energy and commitment burst from Vladimir and transform this small plot year after year.
Since 2011, the year when the vineyard was purchased from Grandpa Slavko who was far too old to continue vineyard management, a 100-year-old vineyard-guardian's cottage has been restored to look exactly as it looked a century ago. Then, it was the turn to build a wine cellar. Brick by brick, half buried in the ground, the outcome of Vladimir and his father's hard labour is now ready to store wine originating from the soil of Neštin. Alongside construction works, Vladimir also took care of the vineyard over the past few years and made wine in order to gain experience and get better grasp of his vineyard and grapes.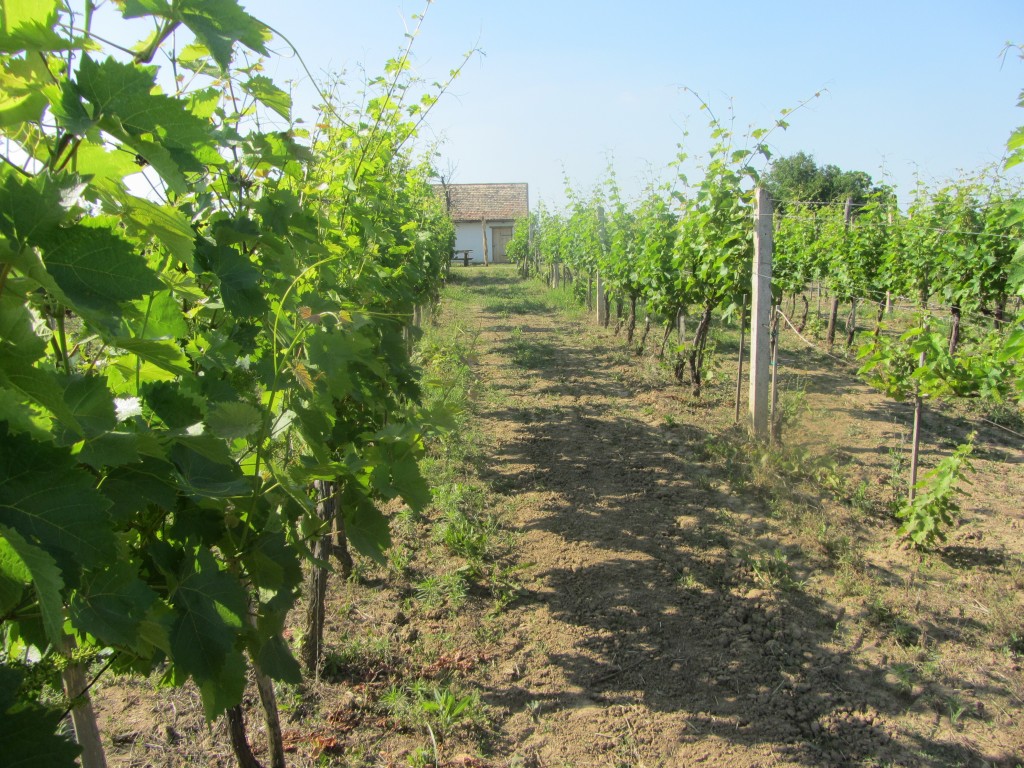 I have a feeling that the year 2015 will be a new milestone in the realization of Vladimir's dream... Completed construction works, proper vineyard management ... Now he can fully focus on technology and grape quality. Even the sweet agony of choosing the best name for the winery and label design. Vladimir eagerly mentions that one of our young oenologists who is working for top Serbian wineries is giving him great support and advice.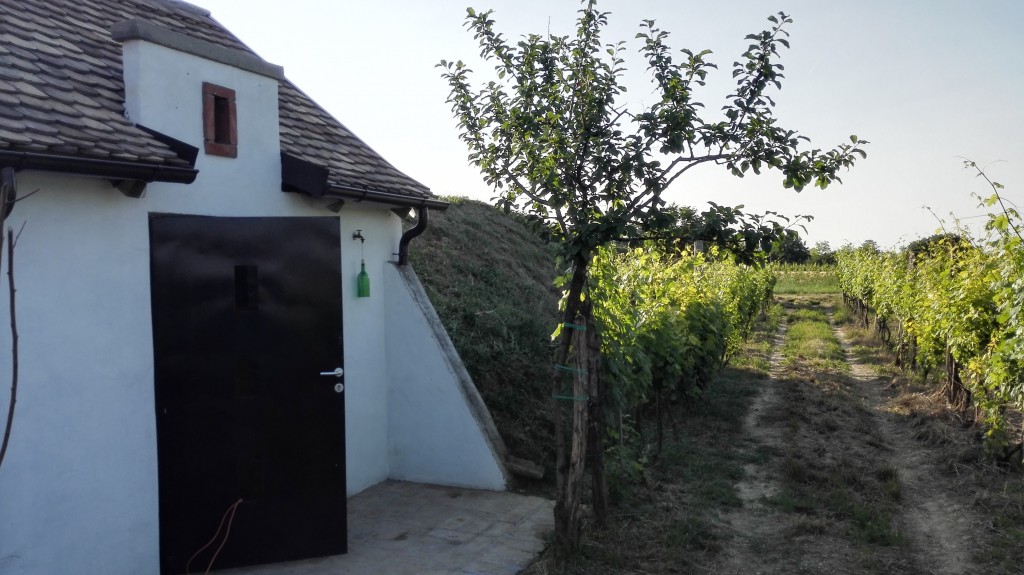 As I sat with Vladimir in the vineyard and listened to the story of his struggle with the municipal administration and unfulfilled promises of local authorities to construct a few hundred meters of asphalt road to the vineyards and wineries in order to fulfill legal requirements to register his wine production, it occurred to me that we continuously whine about high unemployment rates in the country but the authorities are not doing anything to create conditions and empower young people to do what they like.
Then I tasted the wines that Vladimir made. Honest wines, as honest as Vladimir ( who is also fully aware of both their qualities and defects). Until now, the wine quality has varied considerably from year to year, but the quality of Vanac 2012 clearly indicates that this vineyard can give a good representative of Vranac from northern regions in sunny years. Vladimir is determined to devote himself fully to quality of wines starting from this year.
These two wineries are start-ups. But, at the same time, they are positioned exactly on the opposite sides in terms of available resources, size, capacity, available technology, funding. However, there is something that unites them, and it's the same soil of Fruška Gora where they grow vines, the same blue sky that transfers its energy to the grapes ... And the same vision and passion to make wine from grapes which express the character of Fruška Gora. Serbia has not gone the same wine evolution like, for example, Bulgaria and Romania where investment funds, private companies from West Europe and large wineries scooped cooperatives and wineries of the communist era, so very often the story of these wineries excludes the owner. Then, the only personalized segment of the story is hiring a well-known "flying consultant" who makes wine around the world. I am glad that Serbian wine scene experiences its organic growth. It is a more difficult path to take, but it promises bright future. The future of Fruška Gora has already begun. Its foundations were layered by a well-established winery from Fruška Gora, which are already winning medals in major international wine competitions.