The curtain has fallen on another edition of the Wine Fair in Düsseldorf. This year ProWein has assembled the entire wine trade in one place: winemakers, wine dealers, importers, wine journalists, critics, oenologists ... Each visitor roamed around with a carefully designed schedule of meetings and a list of wineries to visit, as well as a plan how to make the most efficient wine route marathon from Hall 7 to Hall 17 of Düsseldorf Fair Ground.
ProWein continues to grow and continues to hold the title of the largest professional wine event. This year, from 18th to 20th March 2018, a total of 6,870 exhibitors from 64 countries and more than 60,000 visitors gathered  in Düsseldorf.
For us, certainly the most important news is the presentation of Serbian wine scene supported by the Serbian Chamber of Commerce (PKS) and the Development Agency of Serbia (RAS). So, similar to majority of other exhibitors at this fair - with state or EU subsidies and awareness that winemaking is an important industrial sector that can generate significant export revenues and at the same time shape the country's identity as a wine region. Finally, Serbia presented its wines at ProWein. A total of 12 exhibitors: Budimir, Aleksandrović, Despotika, Rubin, Aleksić, Erdevik, Zvonko Bogdan, Trivanović, Virtus, Lastar, Toplički vinogradi and Doja. Although the stand of Serbia was significantly smaller (as well as the total vineyard surface), we can compare the presentation of our exhibitors with Bulgaria, which presented 12 wineries at the stand as well. From the region, Slovenia presented 32 wineries, Croatia 19 wineries in total, Macedonia, Romania 28 wineries. So, we keep up with the region, although this is Serbia's first organized presentation at the fair.
Now, it is vitally important for our wineries to appear at the fair next year as well, possibly with larger exhibition space (although it is very difficult to provide extra space due to high demand, so we need to rely on bargaining capacity of our exhibitors). The ProWein 2019 project should already commence, since this fair requires that majority of activities are completed before arrival at the fair. Those three days at the fair are used solely to meet contacts, agree final terms and arrangements and maximize marketing promotion.
This year's ProWein brought a lot of novelties. Organic, natural and biodynamic wines continue to expand at the fair. This year, a large portion of the hall 13 has been occupied by wineries certified by Demeter, Biodyvin and other organizations.
During the fair, I tasted a large number of wines, visited stands of various wine regions and picked my favorites. Three days ain't enough to visit all stands that you would like, so each visitor leaves the fair with some regret about wineries that have been missed this year...
This year, Japanese winemakers and saké producers had an impressive presentation. Numerous tastings, lectures, a huge stand with staff in traditional Japanese clothes... And a great opportunity to taste Koshu and Muscat Bailey, local Japanese grapes. Numerous wine experts forecast growing popularity of Koshu outside the borders of Japan and praise the potential of this variety. It is believed that Koshu was brought from Europe to Japan more than a thousand years ago owing to the Silk Road, and nowadays it constitutes the most cultivated variety in the province of Yamanashi.
Grande Polaire Yamanashi Koshu 2016 Barrel Fermentation - (varietal composition: 100% Koshu) Wine fermented in a French oak barrel. On the nose you can detect discreet notes that come from wood accompanied with pleasant fruity aromas: peach, apricot, citrus. The palate is juicy, creamy, flavors of pineapple, tropical fruit, citrus. Salty impression on the mid-palate with some pleasant bitterness in the finish.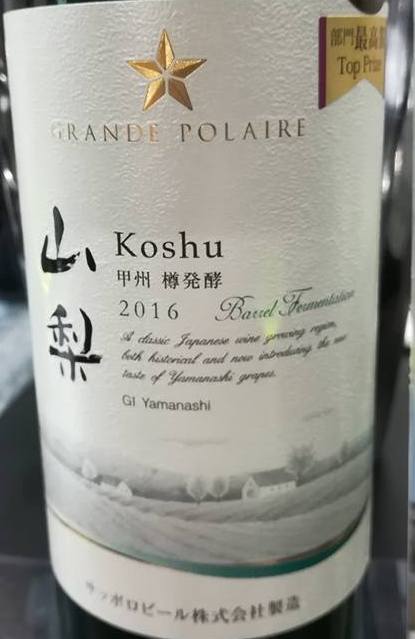 Austria has announced that the export of Austrian wines in 2017 reached a new record high. Despite the fact that the volume of exports was slightly lower than in the previous years, the value of exports of Austrian wines reached a figure of EUR 158.6 million. Also, another record has been broken: for the first time, the average price of wine per liter in export reached 3.39 EUR (for comparison, the average price of Italian wines per liter in export is less than 2 EUR).
This year at ProWein, I also visited several exhibitors from Austria. A pleasant surprise was a meeting with Franz Schneider, the owner of Artisan Wines, a boutique winery from Burgenland (Neusiedlersee) who left his career in the Austrian Airlines and devoted himself to wine production. Wines from this winery show remarkable precision, clear varietal typicity, expressiveness, both for conventional wines and experimental wines,  where the innovative methodology developed by Franz Schneider and his passion for wines comes to the fore. Franz Schneider is also devoted to Welschriesling variety (known as Grašac in Serbia) and tries to explore diversity of this noble grape variety.
In addition to pure, fresh, crispy Welschriesling (a style that is widely present in our country as well), Franz also makes Welschriesling Alte Reben 2015,  wine made from grapes originating from a 45-years-old vineyard. Fermentation in used oak barrel followed by 12 months sur lie ageing and maturing. No malolactics. 2 grams of residual sugar. A complex nose, yellow stone fruits, williams' pear, smoky hints, acacia flowers. In the mouth, juicy impression, acidity contributes to wine's vibrancy. Very exciting flavour profile: peach, yellow apple, quince, anise, hay.
Then I also tasted Welschriesling under the label Experimental Wine 2017 (a 300-bottle limited series). Unfiltered wine, 3 weeks on the skins, without temperature control, fermentation in an open-top wine fermentor. A hipster-style of Welschriesling (Grašac), a very complex wine on the palate, aromas of elderberry, green plum, grapefruit, citrus, hay, green tea. Fresh acidity adds to wine's depth. Even these experimental wines express precision, winemaker's focus, clear varietal features and, most importantly, the absence of defects and faults.
On Franz Schneider's stand, for the first time I have also tasted PetNat made from Grašac (Welschriesling), another wine in his experimental wine edition. Another wine style which shows Grašac's versatility...
Of course, during the tour of Austrian exhibitors, a must-see is Umathum, the winery that gained recognition in the countries of former Yugoslavia primarily owing to Miloš Marković, an oenologist from Trebinje who completed postgraduate studies of viticulture and oenology in Geisenheim, Germany. The first time I had met Miloš was in Spain last year where we both judged at the Concours Mondial de Bruxelles competition. In the meantime, Umathum Winery has shown its biodynamic wines throughout the region, and the interest that was raised among our winemakers is also indicated by the fact that all leading Serbian winemakers took the opportunity to visit Umathum Winery during their visit to Austria and explore principles of production that Miloš applied in the vineyard and in the cellar.
Umathum Grauer Burgunder 2017 - Fermentation in an oak barrel with 6 months' sur lie ageing. The wine features excellent structure and full body. Plentiful aromas of ripe fruit exhude from the glass: Williams' pear, melon, apple, spicy hints, chamomile, delicate smoky trail. The palate is rich, creamy, soft. Spiciness complemented by pleasant fruitiness comes to the fore.
Umathum Ried Hallebühl Zweigelt 2013 - Grapes for this wine originate from a vineyard with an extimated age between 40 and 50 years. The wine which proves that Zweigelt should not be underestimated. Complex nose,  mature, aromatic profile ranging from blueberries and black forest berries to hints of coffee, forest floor, leather, with a touch of smoke, vanilla, cocoa. The aromatic profile is dominated by a patina of maturity... Grainy, mature, soft tannins round up this multilayered wine. The palate still shows youthful fruity flavors of raspberries, red berries, violets as opposed to earthy tones. Definitely one of the best examples of Zweigelt that I've tasted in recent times.
Umathum Kirschgarten Blaufränkisch 2015 - (varietal composition: 100% Blaufränkisch) Definitely the wine that I liked most from the whole portfolio of Umathum Winery. On the nose, recognizable spicy aromas typical of Blaufrankisch, hints of thyme, rosemary, cinnamon, elegant aromas that originate from wood ageing. In the mouth, flavors of sour cherry, black currant, blackberry, floral tones. Tannins silky, soft. A trail of minerality on the palate. Balanced acidity gives freshness. A full-bodied wine.
If we talk about Austria, FX Pichler Winery from Wachau region is definitely not to be missed, given that it is often perceived as the top-notch Austrian winery. Indeed, I am tasting some great white wines. At ProWein, I tasted young wines from the vintage 2017, which will only show in the future all the aristocratic opulence they possess.
FX Pichler Grüner Veltliner Ried Loibenberg Smaragd 2017 - Grapes from the vineyards situated on the warmest plots (south-facing aspect). In June and July 2017, they had to irrigate the vineyard. On the nose, aromas of ripe green apple, peach, pear, honey. In the mouth, an incredibly powerful wine, lush flavors of yellow apple, apricot, pear, quince. Highlighted minerality,  salty impression in the finish.
FX Pichler Riesling Ried Burgstall Federspiel 2017 - Rich aromatic complex: ripe apricot, white peach, honey hints, spicy tones. Elegant structure. Full-bodied wine, refreshing acidity, flavors of green apple, citrus and tangerine. Wine with an aging potential.
FX Pichler Riesling Ried Loibenberg Smaragd 2017 - Wine exudes youth and potency. It will benefit from further 15 years of aging and then it will show its full splendor. Aromas of yellow apple, tangerine, green tea, white peach, tropical fruit are highlighted on the nose. Well-integrated acidity. Salty impression on the palate. Extractive wine with a long finish.
Then I continued the tasting with another Pichler. Rudi Pichler Winery is also located in Wachau region and their vineyards extend to 15 hectares, while the prevailing varieties are Riesling and Grunerveltliner (with 5% Pinot Blanc and Rot Traminer). Rudi Pichler's wines can be found in Serbia since they are imported by Baltasar Wine Shop from New Belgrade.
Rudi Pichler Ried Achleithen Riesling 2017 - Grapes for this wine originate from extremely steep terraces along the Danube. Intensive fruity aromas on the nose: white peach, pineapple, yellow apple with traces of juniper, wet stone. In the mouth, wine develops a rich expression, a complex concentrated fruity profile. Flavors of pineapple, peach, grapefruit. Plentiful minerality, salty impression on the palate. A long, striking finish.
Rudi Pichler Wösendorfer Kirchweg Riesling Smaragd 2009 - Opulent, well-developed wine. On the nose, it is extremely complex: aromas of yellow apple, tangerine, apricot, spicy notes, hay, thyme. Silky, elegant texture, nice acidity on the palate. Quite mineral. It calls for another sip.
Finally, I selected Giefing Winery from Burgenland. At their stand, I tasted their Chardonnay (on the basis of a reliable "insider" recommendation).
Giefing Contessa Chardonnay 2015 - 24 months' ageing in French barrique. Lush wine. Elegant tones of spice and wood on the nose, smoke, grapefruit, citrus; creamy, buttery mouthfeel with flavors of melon, apricot, tropical fruit, mango in particular. Extremely long finish. A balanced wine.
Hall 17 which hosted Austrian wines offered much more authentic wines from Austria, so I should definitely continue further exploration of Austrian wines next year...
(22.03.2018)