Serbian wine scene is amazingly spry. Despite limited purchasing power of an average Serbian wine lover and ever growing competition in the market, wineries manage to make a difference and generate new ideas to present their wines. These are several examples of wine premieres where local wineries managed to avoid cliché and offered fresh, innovative approach, thus deviating from a common wine event in a wine bar with standard scenario: introductory speech by the winery owner and oenologist, followed by wine tasting and finishing with a buffet for everyone somewhere in the corner of the room.
EXAMPLE 1 - location: Cooking school IL PRIMO, Belgrade. Wine writers, journalists and distributors were divided into two groups. Thank God we weren't competing in cricket, rugby or any other alternative sports discipline, but it was a culinary duel. Aleksić Winery organized premiere of their wines from vintage 2015 for wine trade/professionals. The idea was that teams learn how to prepare dishes that would pair well with presented wines, under supervision and guidance of chef Slobodan Radeta and the staff of cooking school Il Primo. The menu included crispy spring rolls, bruschetta with goat cheese and mashed peas, tuna ceviche, brioche with salmon cream, brie cheese with pear topping, and "južnjačka mućkalica" (South Serbia's dish: diced pork with a pepper and tomato sauce) as highlight of the evening. Proactive assignment which requires participants' involvement and loads of thinking about wine and food matching suggestions. And judging by the reactions of those present, Aleksić sisters organized a fun evening and socializing accompanied with the following wines: Arno, Tamjanika Žuti Cvet, Bonaca, Sevdah and Barbara.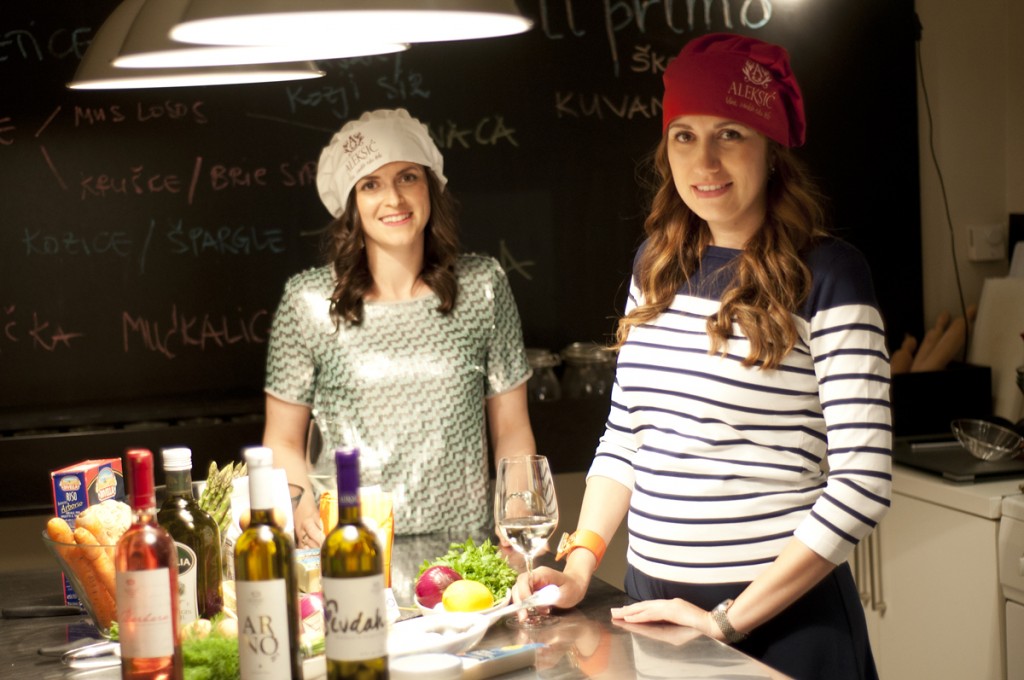 EXAMPLE 2 - Location: HOMA restaurant, Belgrade. Matalj Winery from Negotin officially presented its new semi-sweet red wine made from Crna Tamjanika. So far, Crna Tamjanika has been vinified mainly as dry wine on the Serbian market, so this semi-sweet version of  Matalj's Crna Tamjanika represents something new even for the more experienced wine connoisseurs. Therefore, Matalj Winery decided to present their wine to the wine press in the format of practical exercise how this wine could match haute cuisine. Filip Ćirić, chef from Homa restaurant devised thematic dishes that will be served with Crna Tamjanika in order to demonstrate that despite residual sugar, this wine can be successfully matched with both savory and sweet dishes. Wine press were again expected to participate proactively in the tasting and choose the perfect match and assess the possibility and prospects of finding this wine on the wine lists of local restaurants.
EXAMPLE 3 - location: HOMA restaurant, Belgrade. Janko Cellar from Smederevo has chosen Homa restaurant, certainly the flagship restaurant on Belgrade's gastronomic scene, as a venue of the epic battle. Baš Prokupac 2015, the first wine made from Serbian indigenous variety Prokupac from this winery, entered the battle field. This time, chef Filip Ćirić decided to demonstrate how local varieties match gastronomic pearls made from authentic local ingredients such as meat of busha cattle or Pirot cheese. And to destroy stereotype and propose pairing Prokupac and butter-bathed squid from the Adriatic sea .
So, wineries are making lots of efforts to be original, creative, intriguing when releasing wines on the market. The fact that fine wines and gastronomy have become inseparable indicates that local wine culture reached new levels. Both wineries and consumers realized that food makes an ideal companion to wine. A superb wine seeks the company of haute cuisine. But creativity and bright ideas will make a wine premiere stand out from numerous similar wine events and give it a broader context.