After Cabernet Franc conference and tour of several wineries in Villány, I have decided to visit Pécs and Mohács together with Daniel (Daniel Ercsey, WineSofa) and Matthew (Matthew Horkey, Exotic Wine Travel) before returning home. Daniel recommended that we visit Planina Winery in Mohács ("planina" stands for "mountain" in Serbian/Croatian)... Hmm ... Is this some local joke?!? A mountain in flat Hungary?
The importance of Mohács equals historical significance of Kosovo battle. The clash of civilizations, East and West, Turks and Hungarians, Suleiman the Magnificent and Lajos II ... Defeat of the Hungarians back in 1526 on the vast Mohács field enabled further progress of Suleiman's conquering army towards Vienna. As I drive to Mohács, I look around ... No sign of the mountain ...
At one point, when we have almost reached the Danube, we turn off the main road and head along a narrow paved path towards a loess hill which resembles the loess hills of Slankamen (Fruška Gora).
In front of winery building, we are greeted by Zoltán Horváth, the owner of Planina Winery. Zoltán speaks Croatian, as his family shares Šokci/Sokácok roots. That's why he picked a Croatian word meaning "mountain" for a winery's name (at the same time, such loess hills along the Danube are locally called "mountain" i.e. planina). Zoltan's passion for "tamburica" music as well as visually striking wine label design reveal his appreciation of Šokci/Sokácok tradition.
The story of Planina Winery began in 2003 and to date, Zoltán has planted 5 hectares of vineyards. His goal is to preserve in his vineyards Mohács wine tradition. The region around Mohács, unlike Villány, is better known for its white wines. The unique combination of plentiful sunshine, loess soil and proximity to the Danube (the effect of two suns) motivated Zoltán to plant black grapes in addition to white varieties in his vineyard in order to devote himself to production of red wines and schiller as well. Varieties such as Cirfandli, Cabernet Franc, Cabernet Sauvignon, Blaufrankisch, Királyleánka, Kadarka are planted in his vineyards.
Zoltán is also actively developing wine tourism, so visitors to Mohács have the opportunity to stay in his guestrooms with possibility of guided wine tastings in the tasting room and wine shop.
After tasting wines from Planina winery portfolio, Zoltán also offered us a true rarity: Csomorika variety and wine made in limited quantity. Csomorika is a variety of unknown origin, geographically limited to Transdanubia region in Hungary.
Csomorika 2019 - Planina Pince - Delicate, youthful aromas on the nose. Predominantly fruity character, white peach, apple, citrus, complemented by gentle herbal tones, chamomile, elderberry flowers. Nothing in excess, the wine leaves a confined impression... In the mouth, green apple, pear, citrus trail... Medium body, short finish with prevailing citrus notes.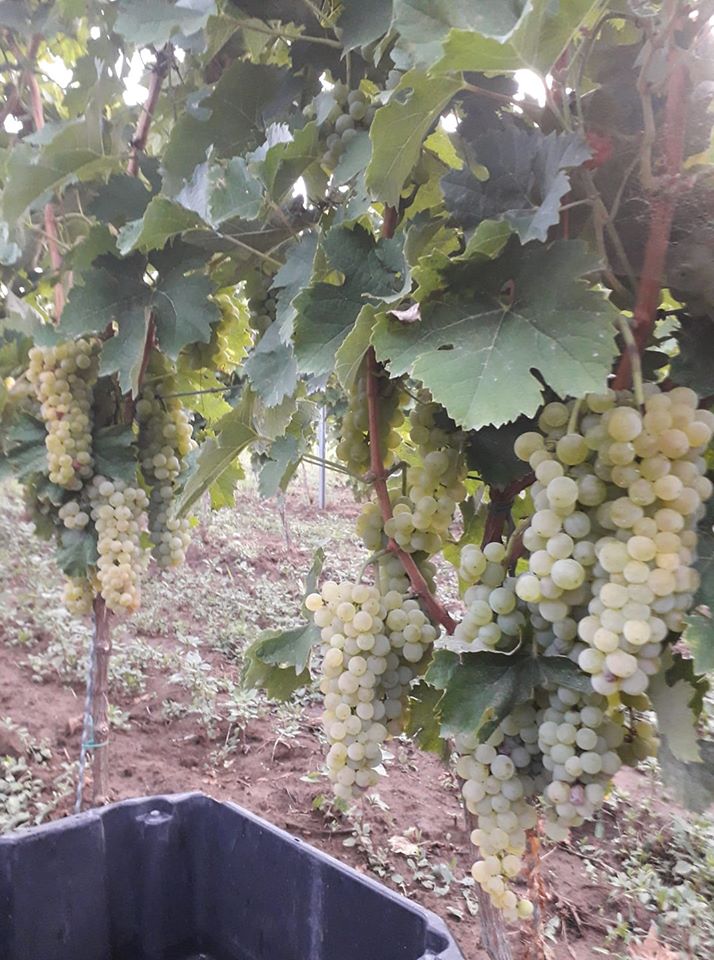 Csomorika grapes (Photo: Z. Horváth)
Prim 2017 - Planina Pince - (varietal composition: Cabernet Franc, Blaufrankisch) Wine with a lot of character. An amazing combination of strength and refinement in one wine. On the nose, the first impression consists of sweet spices, vanilla, and then followed by fruity aromas of sour cherry, red forest fruit... In the mouth, juicy, fruity, complex aromatic profile (sour cherry, red forest fruits, spicy notes). Tannins ripe, leaving a dry mouthfeel.