Sometimes good things in life happen when we least expect them. For already a year now, I have been on the quest for the "famous" Malaga grapes in Serbia ... Historical sources from the first half of the XX century are full of information about it, so I waited patiently for a moment to find it in an old vineyard ...
On my way back from the town of Topola, instead of usual route via Mladenovac, I turned left towards villages of Banja and Venčac… I have met a young winemaker from the village of Lipovac and I wanted to see his vineyards and taste the wines he makes. The reason: young Nemanja Petrović knows what Malaga is and what kind of wines are made from it... And not only does he know it, but his family actually owns a 40-year-old Malaga vineyard.
The village of Lipovac is truly a wine village… As I progress along the winding road through the village, the view of surrounding hills on all sides reveals vineyards… Well-known Šumadija wineries such as Rogan and DeLena are located here… Also, the best plots on the slopes of Venčac, once owned by Venčac Vinegrowers' Cooperative are located nearby (most probably new vineyards will soon be planted here on 13 hectares of land)… Thus, Lipovac will shine even more as Šumadija's wine oasis. The sun has given me a treat this time for my first visit to Lipovac: plentiful sunshine and mild 18 degrees Celsius allow me to tour local vineyards without haste.
I was cordially welcomed by Nemanja and after a few minutes of conversation with him, I have an impression of knowing each other for years ... We are touring vineyards located in the vicinity of his house. The pruning is in full swing, so Nemanja spends most of his time there. Surprises never end… A total of 3.5 hectares of vineyards… The land on nearby plots is already prepared for new plantings of Malaga and black grape varieties…
We visit a 7-year-old Malaga vineyard. The Petrović family have realized that Malaga could be the next big thing for their village. Sales results indicate that consumers are aware of its qualities. Of course, all cuttings required for further expansion of Malaga vineyards are taken from a 40-year-old vineyard on the slopes of Venčac, planted by Nemanja's grandfather. Nemanja's grandfather was also a winemaker, a member of Venčac Winegrowers' Cooperative.
Wines from Petrović family are not unknown in the area. They sell all the wine they produce there on the doorstep to regular customers from Arandjelovac and the surrounding area. Gradually, from year to year, they expand equipment and infrastructure of the cellar in order to be able to offer their wines one day on the national level... Due to limited capacity of the stainless steel tanks and oak barrels, they strive to sell all their wines until the next harvest so that they could store new wine in the cellar. As I listen to Nemanja's plans for the development of the winery, I remember that Šijački Winery from Banoštor was once in the same position ... I see a similar family story, dedication, and winemaker's persistence.
In the vineyards, beside Malaga, there are also varieties such as Muscat Hamburg, Vranac, Cabernet Sauvignon, Chardonnay, some Prokupac... The largest vineyard plot is located on a nearby hill, simply known as "Vineyards on Lipovac". Mild slopes, great aeration (given that a gentle breeze is continuously blowing), great panoramic views of Venčac, Arandjelovac, Šumadija and surrounding hills.
The wine cellar within the family house was built in the 1930s. In recent years, it has been renovated to provide optimal storage conditions for wine. In the cellar, we also taste wines from vintage 2018. I look around… There is no such thing as top-notch equipment, everything is still quite modest, as circumstances allow. However, wow… With white and rosé wines, it is clear that there was temperature control fermentation… I ask Nemanja about this, and he puts on a smile and revealed that they have improvised and devised a sort of makeshift cooling chiller. Nemanja modestly presents himself as an amateur winemaker, but his wine in the glass is by no means amateurish.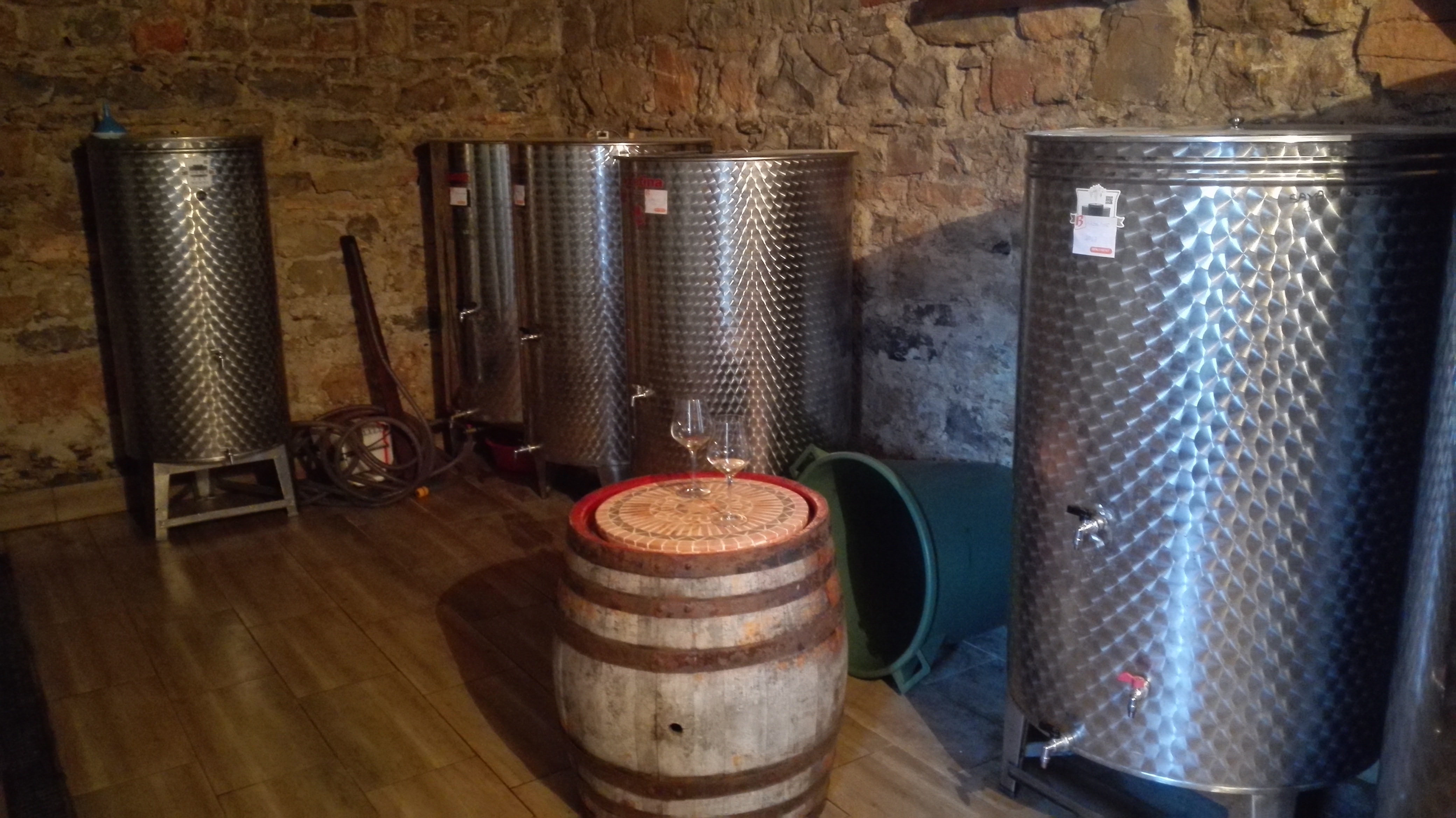 It's time to taste Malaga 2018. For the first time, I taste Malaga from Serbian vineyards and feel a certain amount of excitement because there is no use of talking about tradition, history of winemaking in Serbia, historical records, etc if wine lovers cannot taste and appreciate these wines nowadays. Nemanja knows Malaga well. He already has experience with 10 harvests of Malaga, from vineyard to the bottle. Very precise, clean, aromatic profile. Aromatic muscat notes on the nose, dominated by geraniol, somewhat less intrusive, more floral and rose petal hints, less intense than those of Tamjanika. Concerning the mouthfeel, I would place it somewhere between Tamjanika and Morava. Medium body that gives structure to wine, acidity contributes to its freshness. An authentic story of Šumadija and Šumadija's response to growing popularity of Tamjanika. And an opportunity for Lipovac to gain recognition on the Serbian wine scene for its Malaga wines in the future.
Malaga was introduced in Serbia during the 19th century. This is evidenced by the first viticultural exhibition in Smederevo, which took place from September 25 to September 29, 1898, which also featured Malaga classified as a foreign grape variety. Today we know that Malaga was widespread in the region of ​​Smederevo and Šumadija. Malaga was also found in the vineyards of Venčac Vinegrowers' Cooperative. It is believed that it was introduced in Serbia in order to improve quality of Smederevka wine (therefore it makes sense that it was widely present in the region of Smederevo and Šumadija). Also, even nowadays, the best renditions of Smederevka wine in Serbian vineyards (made by Janko Cellar) are produced by adding 5-10% of muscat grapes (Tamjanika) to the blend.
To understand Malaga better, we should say that it is also known as Muscat of Alexandria. DNA analysis showed that Malaga was created by natural crossing of Tamjanika and Axina De Tres Bias variety (it's a black table grape variety grown in the Greek islands, Sardinia and Malta). And since we're talking about family ties, then we should also mention Muscat Hamburg which was created by crossing Malaga and Italian variety Schiava Grossa.
Like Tamjanika, Malaga is present throughout the Mediterranean (from Portugal to Israel), and it's mostly used in other countries for production of sweet wines. Nemanja tells me his experience with Malaga in the vineyard. Best pruned short, similar to Smederevka and Prokupac, because the first buds at the base are very prolific. Owing to its being a Mediterranean variety, it tolerates heat, but shows sensitivity to frost. Big bunches with large berries. Susceptible to botrytis bunch rot. It collects a lot of sugar.
Nemanja Petrovic is convinced that Malaga will make the village of Lipovac recognizable on Serbian wine scene. Hence, Rogan Winery also took cuttings from his old vineyard for their new Malaga vineyard.
My search for malaga in Serbian vineyards started with this text:
http://www.vinopedia.rs/?p=5687
Thanks to Nemanja Petrovic, this story about Malaga from Šumadija has a future.
(03/04/2019)