The journey of discovering history of Serbian wines continues. Another get-together and another opportunity  to taste some archive wines and remember the beginnings of contemporary wine history of Serbia. Meeting point: again at Absolut Wine wine-shop in Vračar, Belgrade (Mačvanska 15).
Prestige Riesling NV - Veličković Winery
 - A blend of Rheinriesling and Italian Riesling. The label contains no indication of vintage, but it is written that the bottling year is 2008. Golden yellow color, the nose is dominated by soft oxidative notes with rich notes of walnuts, hazelnuts, dried apricots, quince. The wine past its best on the nose, but it's still vivid on the palate, fine delicate acidity complemented by aromas of quince, yellow apples and quince jam. Medium body, long finish.
Rasplet 2007 - Botunjac Winery - (varietal composition: 100% Italian Riesling) wine released in a limited edition of 2,000 bottles. Another golden-yellow coloured wine in the glass. The nose is dominated by notes of dried fruit, dried apricots, raisins, hazelnuts. Moderate, restrained acidity. Aromas of quince, yellow pear, yellow apple. The wine has oxidative character.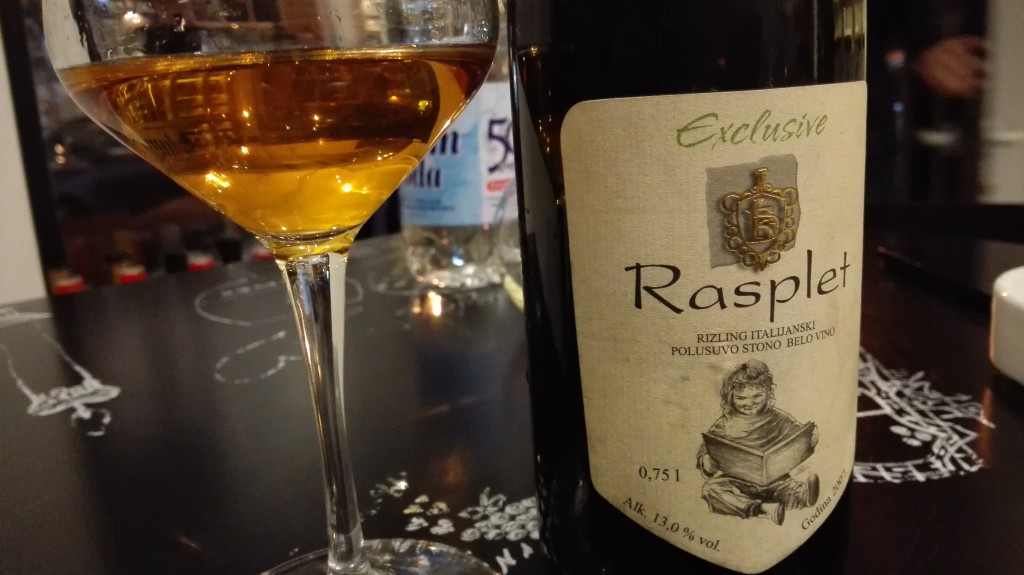 Riesling 2004 - Rajković Cellar - (varietal composition: 70% Italian Riesling, 30% Rheinriesling) Plentiful herbal notes, basil, chamomile on the nose accompanied with mild nutty tones. On the palate, wine shows surprising freshness. Rich spicy-herbal flavours, citrus fruit, grapefruit, orange. Wine moving slowly in the glass, oily texture. Fresh long finish. The wine is in excellent condition.
Riesling 2003 - Rajković Cellar - (varietal composition: 70% Italian Riesling, 30% Riesling)Petroleum notes can be detected on the nose, accompanied with herbal-spicy hints, basil, discrete notes of hazelnut. Overall,  more beautiful rounded impression than in the previous wine. In the mouth, no trace of oxidation. Freshness, beautiful acidity, complex wine with lots of spicy flavours: basil, chamomile, linden flower complemented by citrus tones.
Rheinriesling 2004 - WINECO Radenković - Then follows a wine made from grapes originating from Biserno ostrvo (Pearl island), North Serbia. A challenging location, where winter frost and low temperatures may occur and damage vines. On the other hand, this terroir may produce great white wines. This Riesling from vintage 2004 is a solid proof. The nose is dominated by notes of petroleum, abundant aromas of grapefruit, citrus, chamomile, white flowers. No sign of oxidation. Vibrant acidity, persistent trail in the finish. An exciting wine.
Rheinriesling 2003 - WINECO Radenković - This wine could be called the winner of the evening. Wine with lots of character, in excellent condition. Elegant nose, petroleum character, mature, complex. Minerality dominates the mouthfeel, long petroleum trail on the palate. In addition, the flavor profile contains hints of quince, yellow apples, pears. Wine's freshness finely contrasting its maturity.
Varina 2001 - Radenković Cellar - And then follows a wine which represents an important part of Serbian wine history. The first commercial white wine from Radenković Cellar. Varietal composition: 85% Italian Riesling, 15% Smederevka. Grapes for this wine originate from Župa. Varina is a plot of land which stretches over two hills, soil composition prevailingly volcanic tuff and white soil. On the nose, oxidative character, hints of nutty aromas, hazelnut, soft velvety impression. The wine follows the same impression in the mouth. This wine is no longer at its peak, but the excitement still grows, because we are truly tasting our wine history.
Opium Reserve 2007 - Rajković Brothers' Cellar - Then we switched to red wine for a moment. Wine from Braća Rajković Cellar in Župa is also known as "Serbian Wine Trilogy" because it contains three local varieties: Prokupac, Začinak and Vranac. The wine was decanted. On the nose, complex, ripe, lush tertiary aromas: meat, tobacco, truffle, leather. Medium-bodied wine, but the complexity of flavor in the mouth gives it an impression of full-bodied and rounded, luxurious wine. Still plenty of fruit flavors: dark cherry, currants, blueberry with notes of cedar, leather ... Beautiful rounded finish. Tannins simply caress the mouth.