A few of us will think of wine or vineyards when talking about the small town of Petrovac na Mlavi (East Serbia). Also, if you travel there from Belgrade, you will hardly come across any vineyards as you drive across the vast plain of Stig. However, it should be noted that out of 815 hectares of vineyards in Mlava region, majority of them are located in Petrovac na Mlavi. Most often, these are small family vineyards, rather neglected, silent witnesses that this area used to be a great wine Mecca in the past.
I headed to the village of Krvije (Krv means 'blood' in Serbian). I'm on the lookout for a small family winery that is still to shine bright in Serbia's wine universe. What have the locals done to deserve such a brutal name for the village, which brings to mind images of blood and violence?!? Maybe I'll find out by the end of the day ...
I enter the village and at the crossroads I call the winery owner Aca Popović. The cell phone barely receives a signal... Aca is in the vineyards, so his wife Dragica will guide me to the vineyards first... Literally 5 minutes away by car from the winery, we pass the village church and head to the top of Jolić Hill.
We reach the vineyards ... The gentle slope of Jolić Hill, a view of Gornjak canyon through the vineyards, Mt. Beljanica (altitude 1339m) in the distance covered with snow. Although this February day has given us unusually generous sunshine and 17 degrees Celsius, a cool breeze is blowing from the canyon through the vineyards. This wind is a distinctive feature of Jolić Hill because on its way from the north towards Gornjak canyon, the so-called 'gornjak wind' brings freshness to the slopes where Aca Popović's vineyards bask in the sun all day long.
Vineyards are located at an altitude of 250 meters. In 2008, 3 hectares were planted with Merlot, Cabernet Sauvignon and some 4,000 vines of Petit Verdot. The soil is composed of vertisol, with yellow sand and limestone elements deeper below. Aca entered the wine story quite by accident, without any prior experience. His wife Dragica adds with a smile that back in those days he did not even know how to plow with a tractor, since his main occupation was woodworking. And he certainly didn't know how much work awaited him in the vineyard...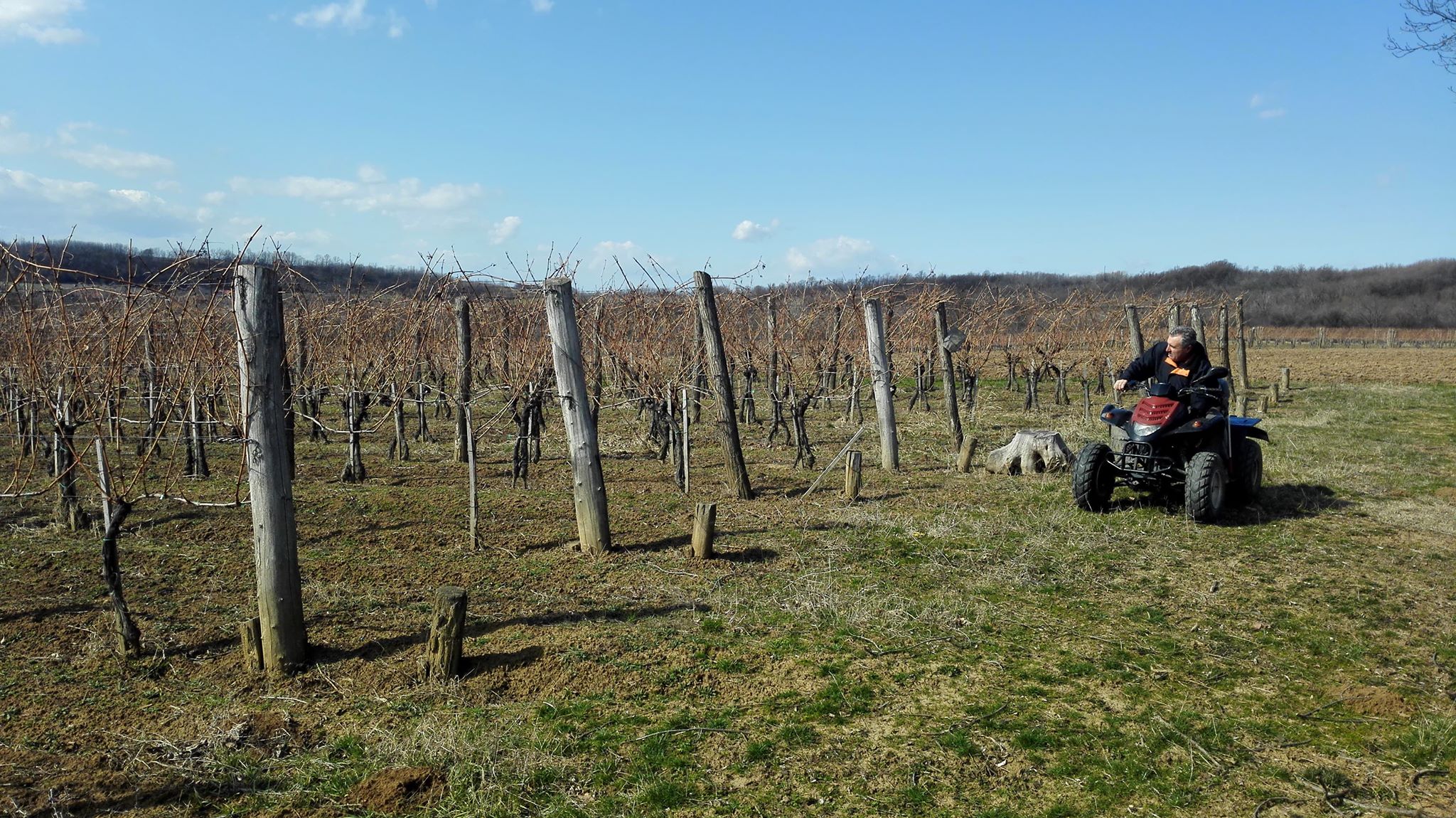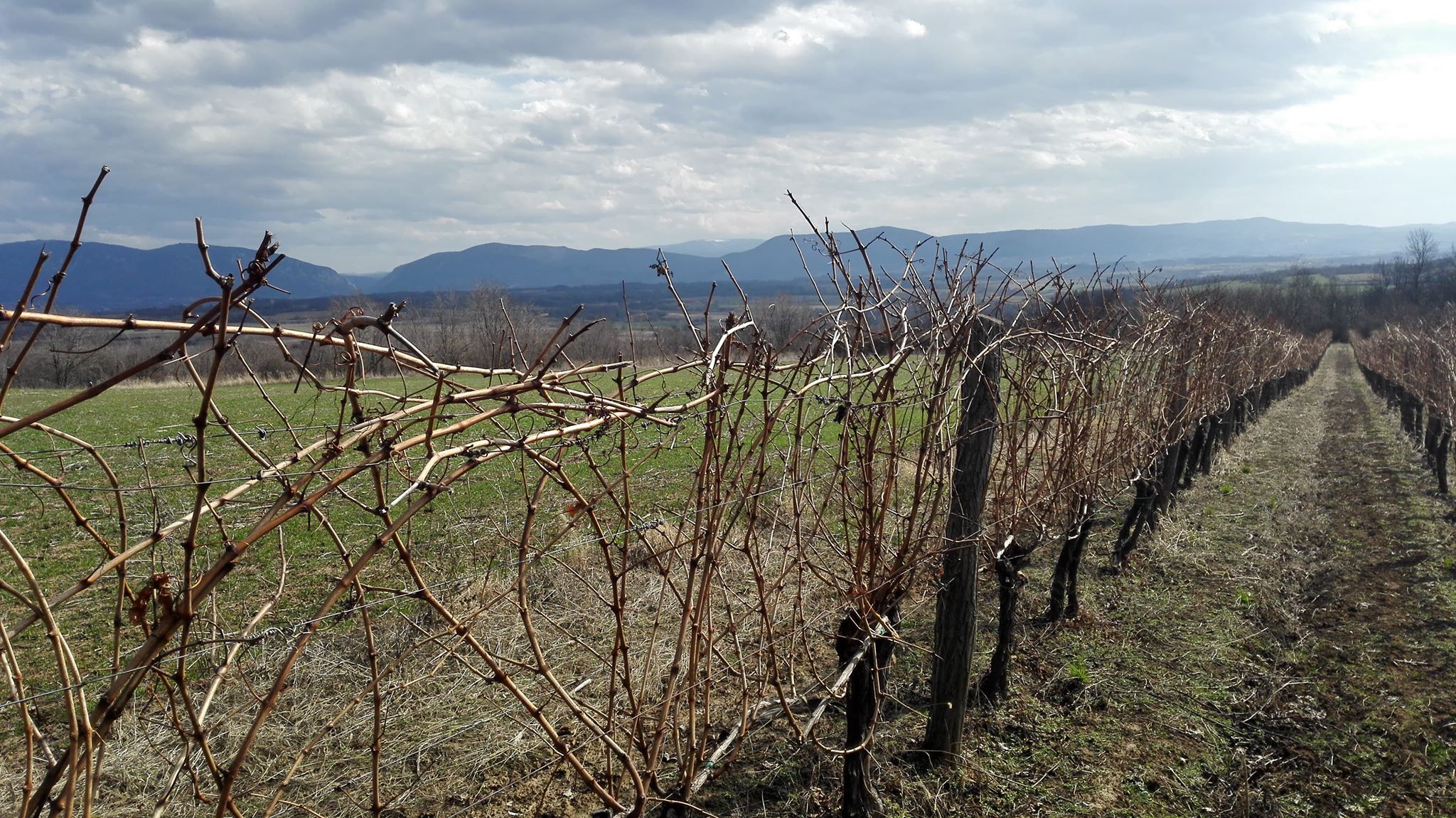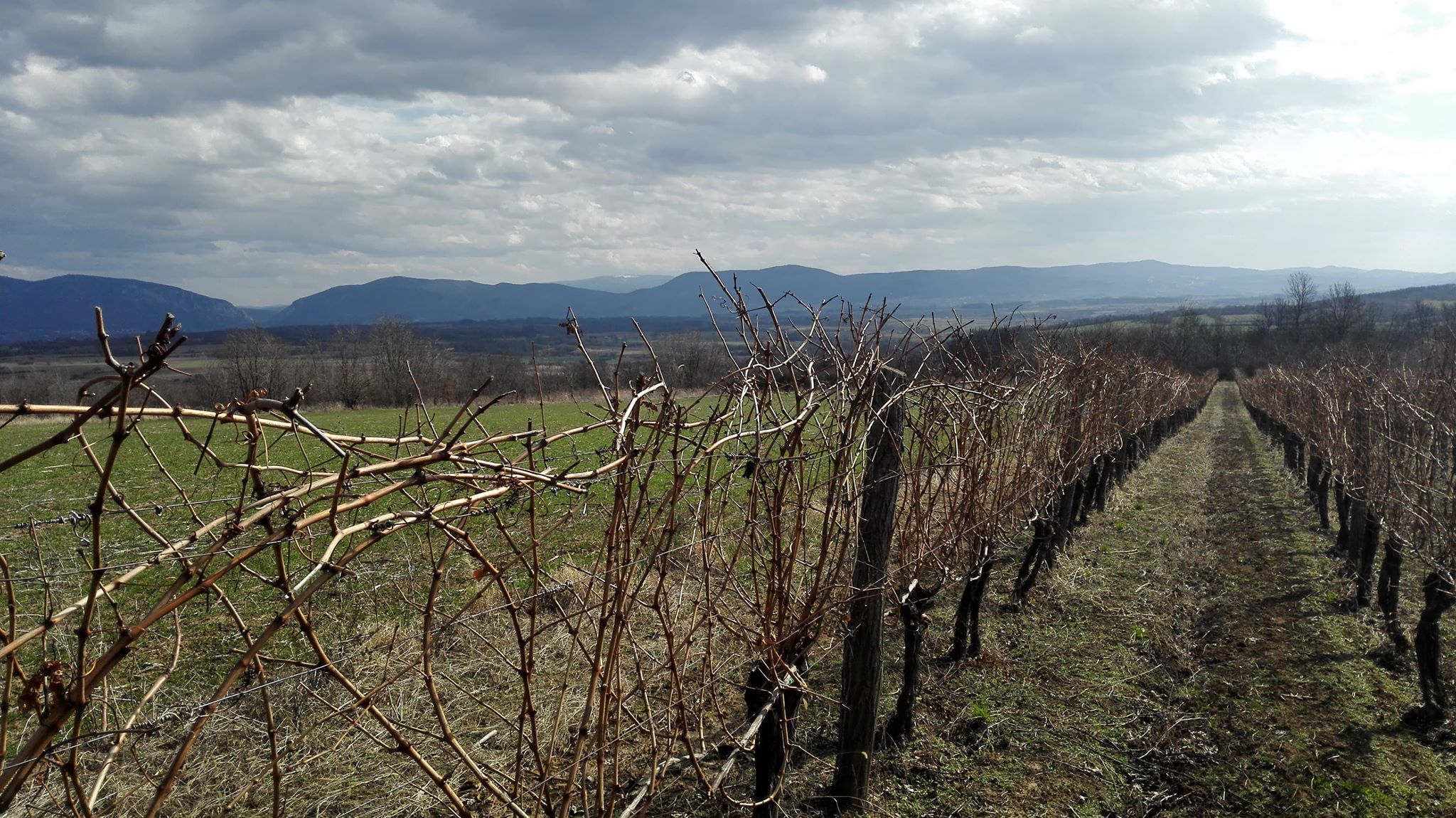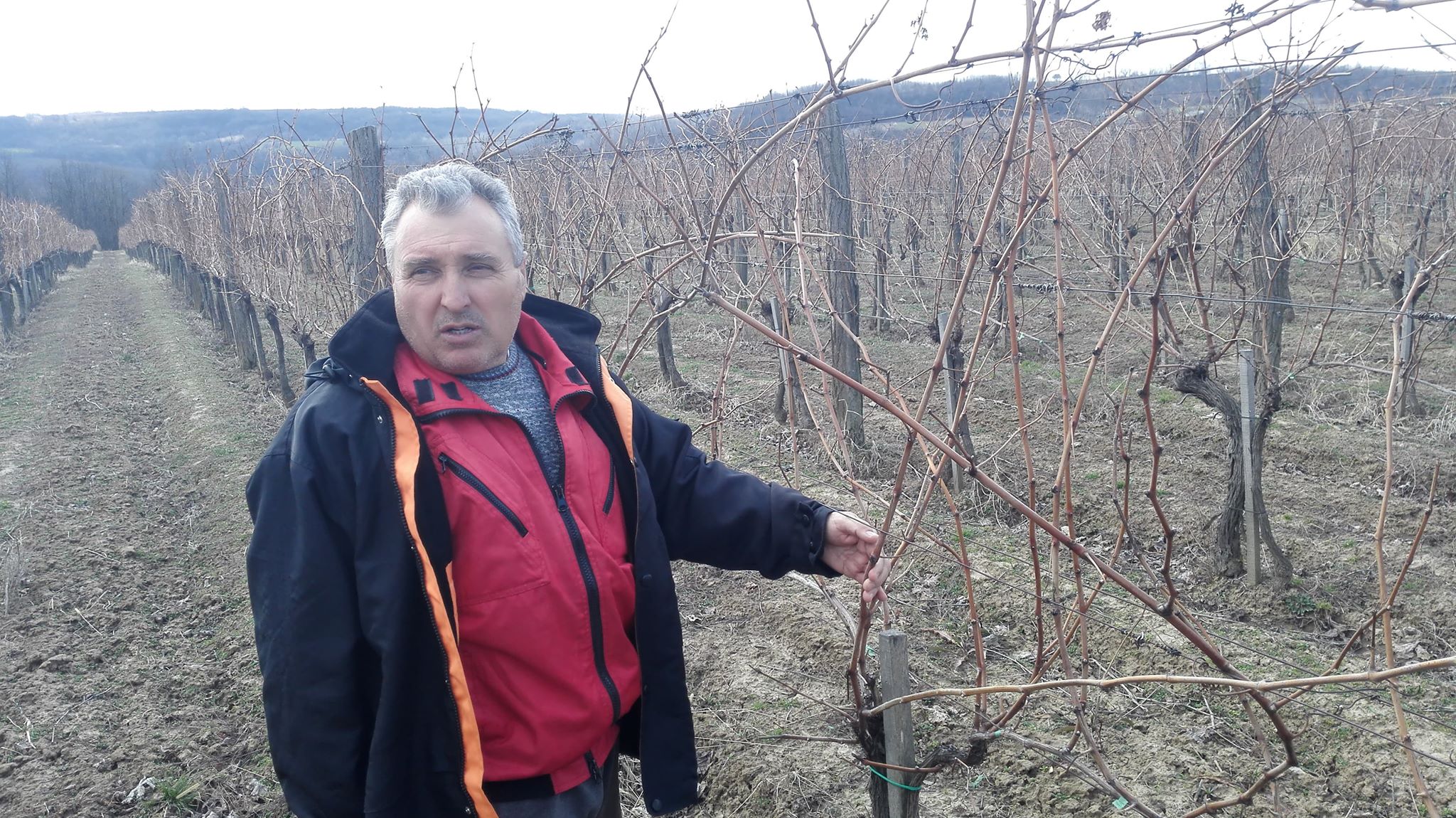 There used to be an old abandoned vineyard of 20 ares on this plot... On one occasion, Aca sat down in Petrovac na Mlavi with friends who had just returned from a wine festival in Belgrade and brought some bottles of Serbian wines. They tasted these wines, commented, enjoyed them... From then on, the idea of planting a vineyard continued to lurk until, after about a month and a half, Aca and his friend from Petrovac na Mlavi set off in search of planting material... Both were motivated to enter the world of wine, and at the same time to use subsidies provided by government for planting new vineyards. Unfortunately, sudden death of a friend interrupted the comrades' plans to develop new wine scene of Petrovac na Mlavi jointly, but Aca persisted in his intention.
Mlava wine region features rare hail storm. However, in 2010, the vineyard was hit by such a hail storm that hardly any locals remember something alike. The young vineyard has suffered enormous damage. But it didn't disturb Aca's plans.
Starting from the following year, Aca began to sell grapes, and at the same time learn skills of winemaking by running microvinifications. A visit to Aleksandrović winery and a conversation with Božo Aleksandrović encouraged him and inspired to start thinking seriously about winemaking instead of selling grapes.
In the meantime, the reputation of high-quality grapes from Popović vineyards went around, so over the years, the most famous wineries of Serbia have started buying grapes from Jolić Hill.
Last year, the moment finally came to register Popović Winery. Total production of 6,000 liters of wine. The wine cellar within the family household is still under construction, with an ambition to build a tasting room as well. Aca already has a plan where to pile oak barrels, a fermenter and all the equipment that he intends to acquire. Aca's creativity comes to the surface in the cellar because he strives to make quality wines without state-of-the-art equipment. This year, the wine label design has been changed, and the plan is to purchase fermenters... Step by step, Aca and Dragica's dream becomes a reality. Their son is gradually getting involved in winemaking as well. Winemaking in this region has always been a family business.
Sokolov Let (Falcon's Flight) 2015 - Popović Winery - (varietal composition: 100% Petit Verdot) Although Petit Verdot is not a common variety in Serbian vineyards today, it is worth mentioning that the first written records of Petit Verdot in Serbia originate from 1900, when it was found in nursery vineyard of Viticultural School in Bukovo (Negotinska Krajina). Given that the school in Bukovo was founded in 1890, we can assume that Petit Verdot in that experimental vineyard was planted in the period between 1890 and 1900.
Sokolov Let 2015 must be decanted for at least an hour. Initially some unclean aromas, but they almost disappear by decanting and fruity aromas come to the fore. A warm, ripe, velvety impression on the nose. Spicy tones of vanilla, cinnamon, cedarwood, leather and black fruit, jammy trail adding to soft, rounded impression. In the mouth, excellent acidity gives this wine a backbone and freshness. Sour cherries, blackberries, black currants emerge after a while, accompanied with more intense peppery hints... Tannins ripe, polished, full body... Long juicy finish, lots of spice. Wine carries 14.5% alcohol well. Obviously, a wine made from grapes of exceptional quality. Just a few steps away from superb wine, and to get there, it requires somewhat better quality of wooden barrels. In any case, a winery that deserves support and that I see as an exciting newcomer on the Serbian wine scene in the coming years.
Šestica Cabernet Sauvignon 2015 - Popović Winery - This wine also needs decanting. Intense fruity impression, blueberries, black fruit, vanilla, cinnamon, dark chocolate. Full body. A mature, jam-packed impression in the mouth. Acidity adds to wine's freshness. Intense tannic mouthfeel but mature, smooth, just caressing the palate.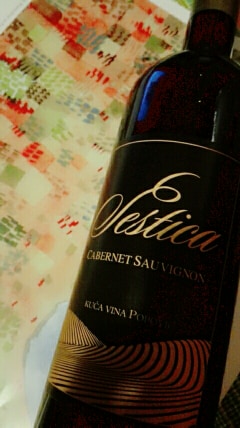 When you stumble upon Ćibrik, it means you have arrived in Petrovac na Mlavi
In the garden, Aca planted several local grape varieties (both table and wine grapes), including Ćibrik. You will only hear about this variety if you travel to Petrovac na Mlavi and sporadically in Timok region. It is a hybrid grape, with tiny black berries, often used as teinturier in the past, with characteristic musky aromas...
Krvije - a village with a brutal name
Folk tradition says that the villages of Krvije, Dobrnje and Lopušnik were once a single village. However, in Turkish Ottoman times, the local sipahi displaced them all and divided the village into three smaller villages. Krvije was reportedly named after residents who were vicious, eager to argue and fight and "spill blood" ('krv' means 'blood' in Serbian). Of course, this folk tradition has no foundation in history, and today's inhabitants of Krvije definitely don't fit into that picture.
I say goodbye to Aco and Dragica, sincerely happy that in the coming years, another wine star will shine bright in the wine universe of Serbia, particularly in Petrovac na Mlavi, which will revive this region's wine tradition. I just regret not having enough time and opportunity to taste "žmare" in Petrovac na Mlavi, the local traditional Wallachian dish and Homolje honey. But, let's wait until the next occasion... Popović Winery will stay on my radar.