Don't be fooled ... Although the name of this grape variety is associated with Portugal, this is still a variety that is historically linked to the region of Central Europe. It was even thought once that the Baron von Fries, the Austrian ambassador brought it from Portugal to the region of Central Europe in the 18th century. But owing to DNA research, however, the theory that the variety originates from Central Europe and was once common across the Austro-Hungarian Empire, prevailed. Nowadays, the largest plantations of Portugieser are found in Austria and Germany (where it represents the third commonest black variety in the vineyards). In addition to Austria and Germany, Portugieser is considered indigenous in other Central European countries: Croatia, Serbia, the Czech Republic, Romania, Slovenia and Hungary. It should be noted that in Vojvodina (province in the north of Serbia), Portugieser was among the most frequent black varieties at the beginning of the twentieth century. Today, this variety can be found in Serbia only on Mt. Fruška Gora, where the most notable producers are: Mačkov Podrum (Tomcat's Cellar), Kiš Winery and Bajilo Winery. In the wine world, Portugieser has a reputation for producing light-bodied wine that is not intensely coloured, whilst low acidity in wine enhances the watery impression. Wine experts were somewhat unfair to this variety, and generally labelled it a bland, ordinary, trivial wine. This desription reminds me of inexpensive house wines made from this variety that can be found in small cafes and restaurants in Vienna ... The Oxford Companion to Wine even states that "these wines are rarely exported, with good reason, and are only rarely worthy of detailed study" . On the other hand, Portugizer doesn't make a lot of problems in the vineyard. It is resistant to diseases, not too demanding, vigorous ... So I guess the descriptions that we find in the literature refer to wines made from Portugieser grapes  grown in vineyards where little effort was made to tame Portugieser. However, Villány in Hungary, Plešivica in Croatia and Fruška Gora in Serbia are wine regions where local winemakers put great efforts to get the maximum from this variety. Strict control of yield in the vineyard, old vines, carbonic maceration, and even some barrel aging... all aimed at placing Portugieser above the average. Thus, some winemakers from these regions have succeeded in giving Portugieser more extract, distinct fruitiness and making it rise above average. Portugieser is still a wine to consume young, because in Serbia it is traditionally called "svatovac" ( svat = wedding guest, because it is consumed in the autumn, when the season of weddings and feasts starts).
IT'S ALL IN THE NAME
Generally accepted name of this variety in international circles is Blauer Portugieser. In all countries of Central Europe, there are traditional local names for this variety which usually represent a customized peer in local language. Thus, Modry Portugal is common name in the Czech Republic, Portugizer is widely used in Serbia ... We can say that this variety has become collateral damage in the war for consumer protection. Namely, owing to strict implementation of consumer protection rules, some countries have lost the right to use the name of this variety that existed for centuries, primarily because of bureaucratic incompetence to deal with complicated paperwork and sometimes irrational regulations.
The best example of this is Croatia. Due to a mistake made by a clerk in the state administration, Croatia omitted Portugizac from the list of varieties and traditional names that historically exist on Croatian territory. In a subsequent attempt to correct the mistake, Portugal reacted and filed an objection that the name Portugizac may cause confusion among consumers and lead them to believe that the wine comes from Portugal. This was enough to ban the use of this term in Croatia, although Portugizac has been known under that name in Croatia since the times of the Austro-Hungarian Empire. After much deliberation and attempts to correct the error, it was finally decided that the name Portugizac will be replaced by Purtugizec (name of the variety in the local dialect of Plešivica).
One can not say that the Serbian winemakers were lucky because good luck is not crucial in this matter. Simply, the team of the Serbian Ministry of Agriculture led by Darko Jaksić successfully carried out the entire reform of the Serbian wine sector and harmonization with the EU rules and thereby preserved the particularities of Serbia. And for that he deserves a lot of praise.
TOMCAT'S PORTUGIZER
In Serbia, Mačkov Podrum (Tomcat's Cellar) Winery from the town of Irig (Fruška Gora, Srem wine region) contributed most to the revival of Portugizer on the Serbian wine scene and its growing popularity. Dedicated work in the vineyard, which is located at an altitude of 250 meters, and superior quality of grapes resulted in Portugizer 2014 - Mačkov Podrum, characterized by complex aromas of raspberry, blackberry and blackcurrant on the nose accompanied with subtle notes of mint and eucalyptus that give this wine appeal and lift beyond common renderings of Portugizer. In the mouth, very fruity trail full of freshness and aromas of currants and blackberries. Medium-bodied wine, alcohol 11.5%.
THE HARVEST 2015 HAS STARTED
Mačkov Podrum Winery celebrates every year the beginning of harvest. Of course, the earliest ripening variety in the vineyards owned by Mačkov Podrum Winery is Portugizer. Accompanied with "pudar", the guardian of the vineyards, and local musicians, the winery owner Sava Jojić with family members, friends of the winery and wine media symbolically started harvesting Portugizer on 29th August, 2015. This year, nature has been generous to vinegrowers in Serbia. This can be attributed to the nature's balance and universal justice, taking into account how much they suffered in 2014. We will be able to verify quality of wines already on the third Thursday in November when the first bottles of new Portugizer Svatovac will be officially opened at the central square in the city of Novi Sad.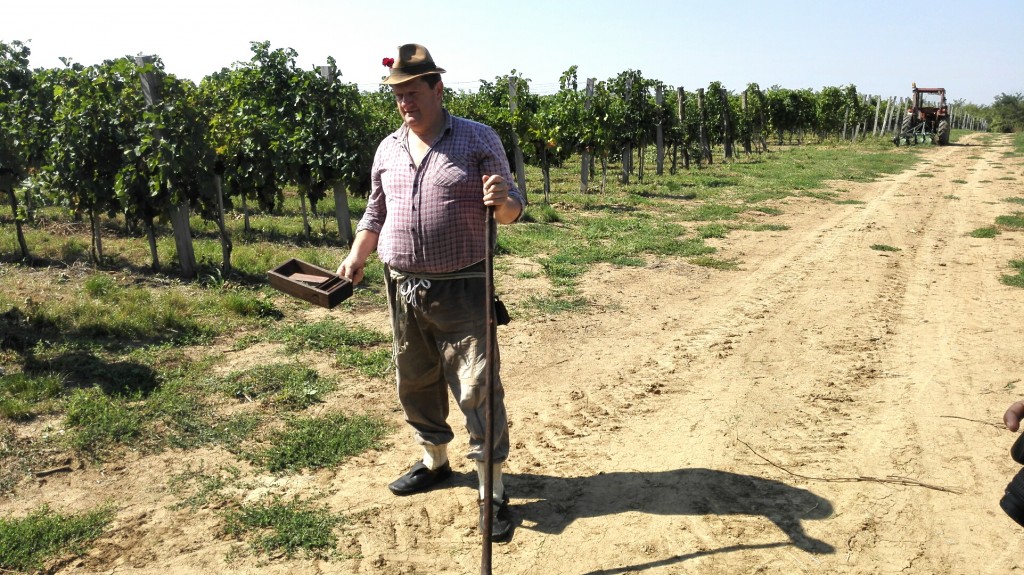 "pudar" - guardian of the vineyards