History of viticulture in Fruška Gora (Srem wine region) is inextricably linked to Rhine Riesling variety. At the end of the nineteenth century, Marko Popović Smotra and his son Josim (Joseph)were the first in Karlovci to start replanting vineyards after phylloxera epidemic. Their wine cellar was well-known for its
Rhine Riesling Selection
, wine which promoted wine-tradition of Sremski Karlovci together with Bermet wine throughout Central Europe. The history of wine-making in the Kiš family from Sremski Karlovci began in those days. In 1830, Stevan Kiš purchased his first vineyard, right after he moved from Czech Republic and settled down in Sremski Karlovci. In the post-phylloxera period, his vineyards were restored. And nowadays, the tradition of this family from Sremski Karlovci is continued by the living legend of Serbian wine-making - Grandfather Slavko Kiš and his grandchildren Predrag and Tamara.
With joint forces, step by step, the family winery Kiš has been shaping its wine identity on the wings of Serbian wine renaissance.
Kiš Bermet
is appreciated in the market as the best Bermet from Sremski Karlovci. Last summer,
Kiš Rosé 2013
 (varietal composition: Merlot and Blaufränkisch) made a small revolution in the market having won the trophy for the best wine of the Balkans in the category of rosé wines in the competition BIWC 2014 in Sofia (Bulgaria). And admirers of Rhein Riesling will often go for 
Kiš Misterija
(either dry or semi-dry), particularly because all wines from this winery are characterized by excellent price/quality ratio.
At the recently held Belgrade Wine Salon at the Hyatt Hotel (Belgrade), Kiš Winery has decided to present its entire recent wine-making history. Somewhat risky move, because when you open a bottle of wine from older vintages - archive stock, there is always the possibility that wine couldn't stand the test of time, especially if you take into consideration that this vertical tasting includes wines from the first harvest, from the very beginnings of modern "Kišology". Stars of this vertical tasting are Rhine Riesling from Fruška Gora and Grandad Slavko. For the first time, Serbian wine lovers were given the opportunity to assess the potential and quality of Riesling originating from Fruška Gora (Srem wine region).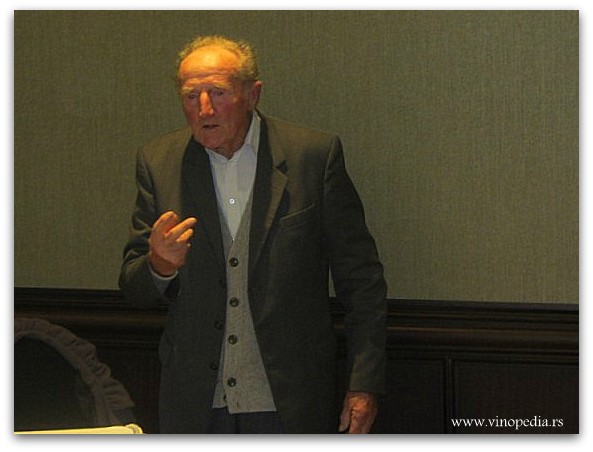 Grandad Slavko Kiš
1.
Kiš Misterija 2011 semi-dry - Kiš Winery
- The year 2011 had optimal conditions for grape-growing, so grapes on Fruška Gora had the opportunity to accumulate enough sugar, without losing any acidity or aromatic profile. Residual sugar (10,8g / l) is in balance with refreshing acidity that gives this wine vivacity. The wine is fully mature. The nose is opulent, rich, with primary fruit aromas of quince, quince compote, apple, pear, complemented by the mild petroleum notes, characteristic of Rhine Riesling. The palate is dominated by fruity aromas with moderate minerality. The wine has a long finish.
2.
Kiš Misterija 2009 dry - Kiš Winery
- Fine petroleum notes come to the forefront here, with fewer fruity aromas. The wine has evolved and entered the stage when its future character is to be defined. Surely, you can drink it at this stage, but my innate curiosity would definitely prevail and I would prefer waiting to see what will happen with this wine after a few more years. At this stage, the wine tastes less inspiring to me, especially because I feel that in the coming years, this wine will show much more (acidity still holds and contributes to wine's vivacity, and serves as a guarantee that the wine will age gracefully). Given that the wine is dry, its minerality is even more prominent.
3. 
Kiš Misterija 2008 - Kiš Winery
- aged Riesling will certainly provide a unique experience. To put it simply, it will detach you from all the madness of everyday life and speedy rhythm of modern life. Aged Riesling will give you a chance to pause, to bring your soul to serenity, to exalt your spirit ... How is it possible that an ordinary fruit produces such a plethora of rich and complex aromas, flavors and subtle nuances in the structure?!? Just a year older than the previous wine, but  it shows already on the nose that definition of its future character that I felt lacking in the vintage 2009: there are petroleum notes, and aromas of honey, tangerine, fluffy floral aroma, quince, pears ... Impressions are persistent and keep evolving ... I have finally found another wine from Serbia, which can accompany Margus Margi, Riesling from Budimir Winery (Župa), which has no competitors on the Serbian market when it comes to aged Rhine Riesling.
4.
Kiš Misterija 1998 - Kiš Winery
- Excitement has reached its peak at the moment of opening bottles of Kiš Misterija from 1998 and 1997, i.e. from the very beginnings of the recent wine history of Kiš Winery.  I awaited this magic moment with mixed feelings of suspicion, curiosity, excitement, desire to share this moment with other wine lovers who attended the vertical tasting. A true rarity - a 16-year-old wine from the slopes of Fruška Gora (Srem wine region, North Serbia) , a witness to the journey that Serbian wine-making has made so far. Also, it is exciting to compare this wine from Serbia with representatives of the modern generation of dry Rieslings from Germany and Austria, which are thought to reach their prime after 10-15  years of aging. Wine in great shape, healthy. Elegant on the nose, complex with delicate notes of petroleum, linden blossom, peach, quince. A unique experience!
5.
Kiš Misterija 1997 - Kiš Winery
- And finally, the first vintage ... Already on the nose you may detect attack of tertiary and mild oxidative notes, honey, roasted sugar, hazelnut ... Wine can still be drunk although it is already showing signs of fatigue ... In any case, Kiš Winery has proven with this vertical tasting that they have their say when it comes to aged Rieslings from Fruška Gora. And personally I hope the owners will find more courage to go boldly towards production of small series of aged Rieslings for the market. In this segment, there is currently a lot of space in the domestic market, a critical mass of consumers who appreciate such wines exists, although not large, and Kiš Winery has confirmed with this vertical tasting that they have the required skills ... Just to wait for a good year and good quality of grapes...