Orašac, a village 6km away from the town of Arandjelovac. Some would say, a village like any other, as there are plenty of similar ones in the province of Šumadija. However, history has firmly engraved the name of Orašac in the biography of Serbia. Karadjordje and the First Serbian Uprising, Marićević's gully, are all associations to the place where the wave of resistance started, which eventually resulted in Serbia's freedom from the Ottoman Turks.
Orašac is not only history, but also endless rows of vineyards and orchards that have long adorned slopes of the local hills. Nowadays, vineyards in Šumadija continue to expand. More vines are being planted, the number of wineries is increasing. Long-established Matijašević family from Orašac and vineyards have always lived side by side. On their estate, they produced wine for domestic use. Darko Matijašević, the owner of Matijašević Winery, raised the production of wine to a professional level nowadays with an ambition to share with others aromas and flavours of Orašac terroir.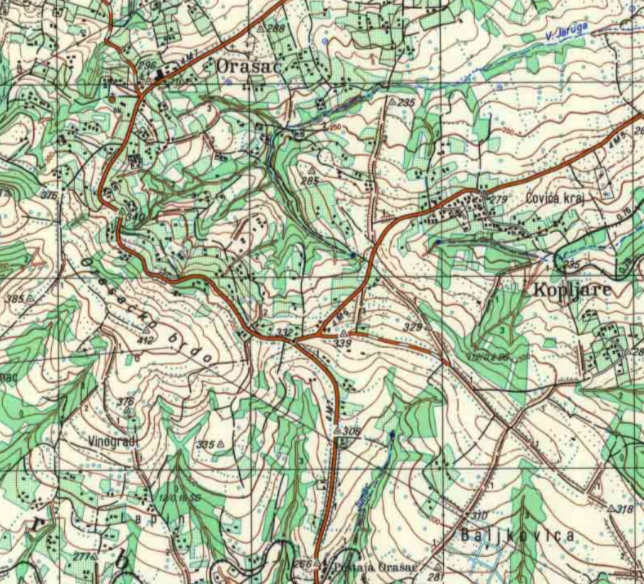 This spring, the first wines from Matijašević Winery arrived on the market. Therefore, the right moment has come to visit vineyards in Orašac. Every wine originates from the vineyard. Simply, all the hard work invested in the vineyard in the course of a year is then reflected in the quality of the wine we drink.
Not far from the winery building and the Matijašević's family house, vineyards spread over the plot known as Orašac Hill. Vineyards on Orašac Hill cover the total area of 4 hectares. The altitude is about 300 meters. Rows of vineyards stretch from the top of the hill down the slope.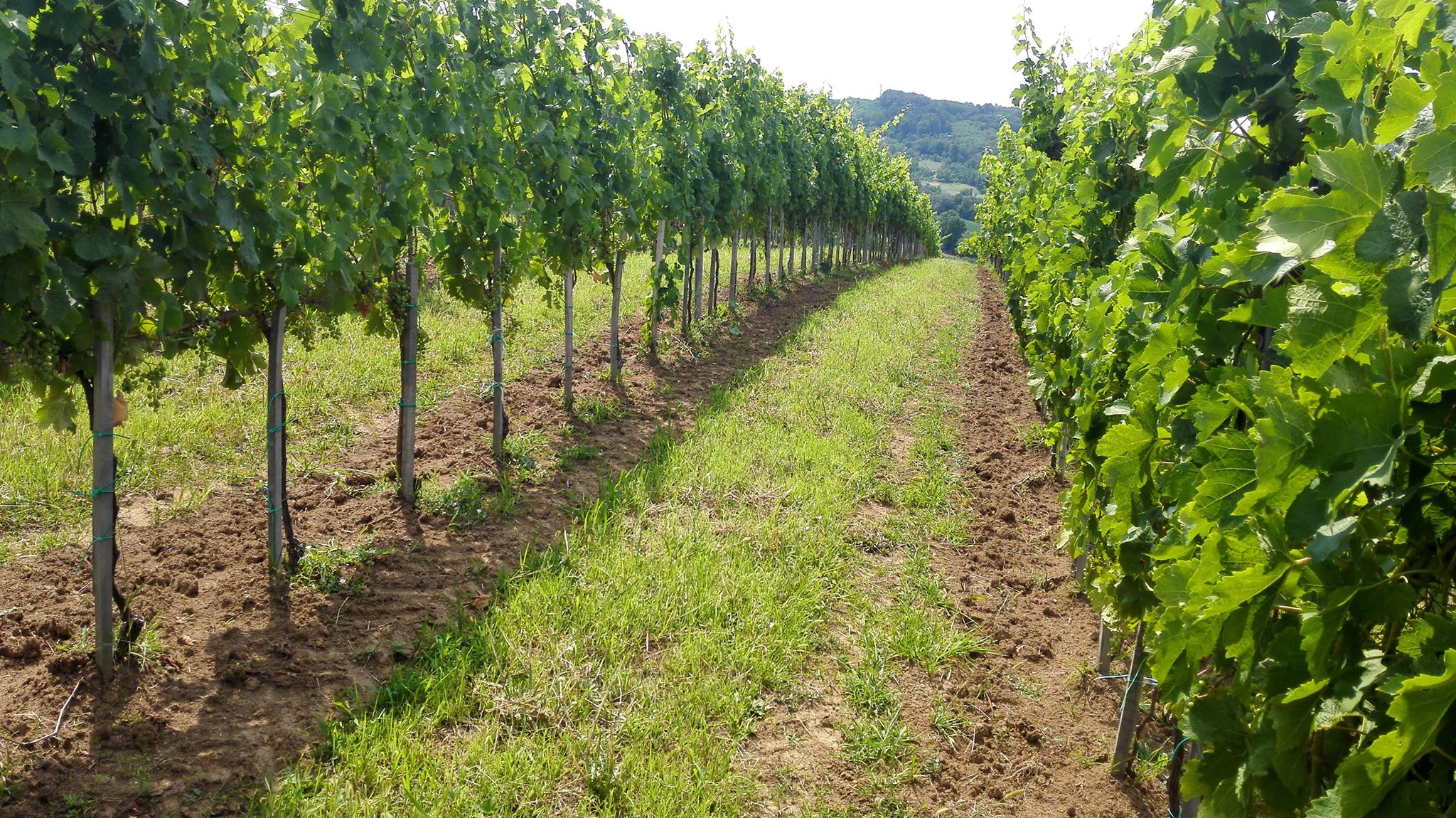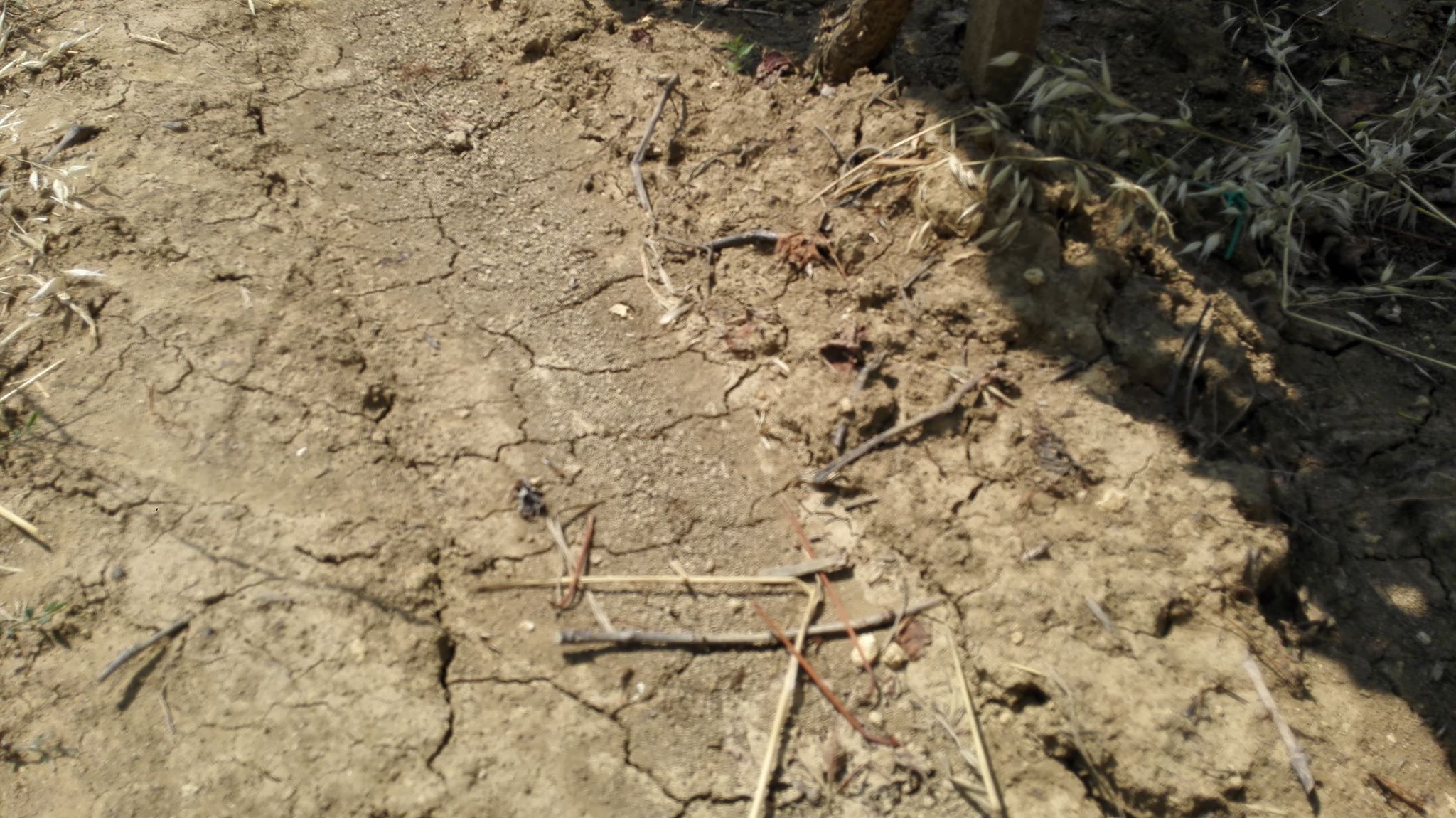 As I walk through rows of vineyards, I reach a mulberry tree that solely disturbs symmetry of otherwise flawless rows of vines. According to folk beliefs, the mulberry tree has magical properties. Among the Old Slavic tribes, certain oak, mulberry and walnut trees were considered shrines where the supreme god-thunderbolt Perun resides. Because of their position in the meadow or because of their height, such trees were often struck by lightning. Thunderbolt was interpreted as descent of gods to earth. For that reason, such trees were not allowed to be cut down or destroyed in Šumadija. Consciously or not, this mulberry tree in the vineyard has been preserved so it will continue to watch over and guard surrounding vineyards in the years to come.
There have always been vineyards on Orašac Hill, so our famous oenologist M. Savić wrote in 1874, during his visit to Orašac and its surroundings:
"While still on the path heading from Banja vineyards towards the town of Aranđelovac, one can easily find his way through both vineyard regions. There is a hill on the right that can be seen from afar, with ugly bare peak, but it is not the hill of Orašac; the latter is lower, and its peak is wider, almost like a plateau. A genuine mountain range rises on the right side, composed of two mountains: Venčac, followed by Bukulja. The first is planted with vineyards, the latter is covered only with forests.
The hill of Orašac, or at least its section overlooking Mt. Venčac and covered with vineyards, consists of a limestone base, which can be perceived on its eroded hillside. The hillside surface is quite steep and intersected by such frequent ravines, that it is difficult to find two similar plots of land intersected by those ravines.
The vineyards are predominantly south-east facing. The soil is in some places quite rocky and somewhat steep, so I think the vines can obtain heat and bask in the sun at will.
The predominant grape varieties are Kameničanka and some Začinak, although Mr. M. T. planted Belina Smederevska long ago and it thrives very well. The only thing I have noticed is that local Smederevka has poor vine growth and small leaves this year. Therefore, I am inclined to think that Smederevka doesn't thrive on arid positions such as Orašac hill; but even if there are fewer grapes in quantity, they will not be lacking in quality. "
In Orašac, there are two more plots where Matijašević Winery owns vineyards. Baljkovica and Bakčine are covered with one hectare of vineyards each.
We continue tour of the vineyards on the plot called Terzijine Livade/Tailor's Meadows (Staro selo, Kopljari) where there are grape-bearing vineyards and a section of young vineyards that will produce grapes for Matijašević wines in the years to come. The path we take to the vineyard seems to be the scene of a constant struggle between the surrounding greenery and human hand over supremacy. The nature in Šumadija is so lush that if no one walked this road for two or three months, dense vegetation would overgrow and cover the path entirely, making it impassable.
The vineyard plot covering 8 hectares is surrounded on all sides by untouched nature. For that reason, foxes, deer, pheasants and other animals can often be found roaming among vineyard rows. At the corner of the vineyard, there are also seven oak trees that have found their place on the wine label.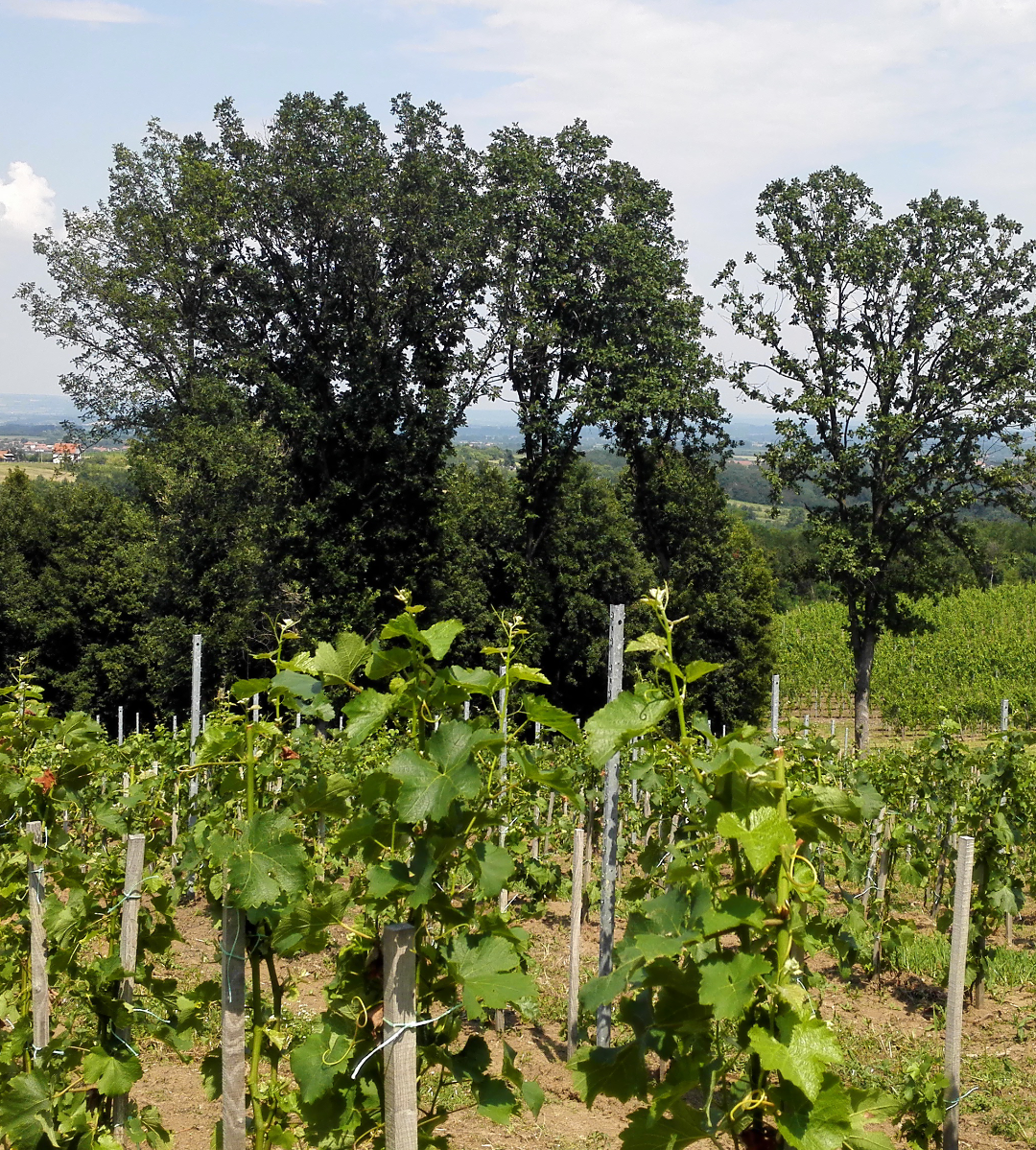 A vineyard covering 1 hectare was planted on the plot called Strmovo.
The sun is already rising high, and the vines can put up with heat better than us... So, we continue the story of Orašac vineyards in the shade of walnut tree in the yard of Matijašević family house, next to the old log cabin.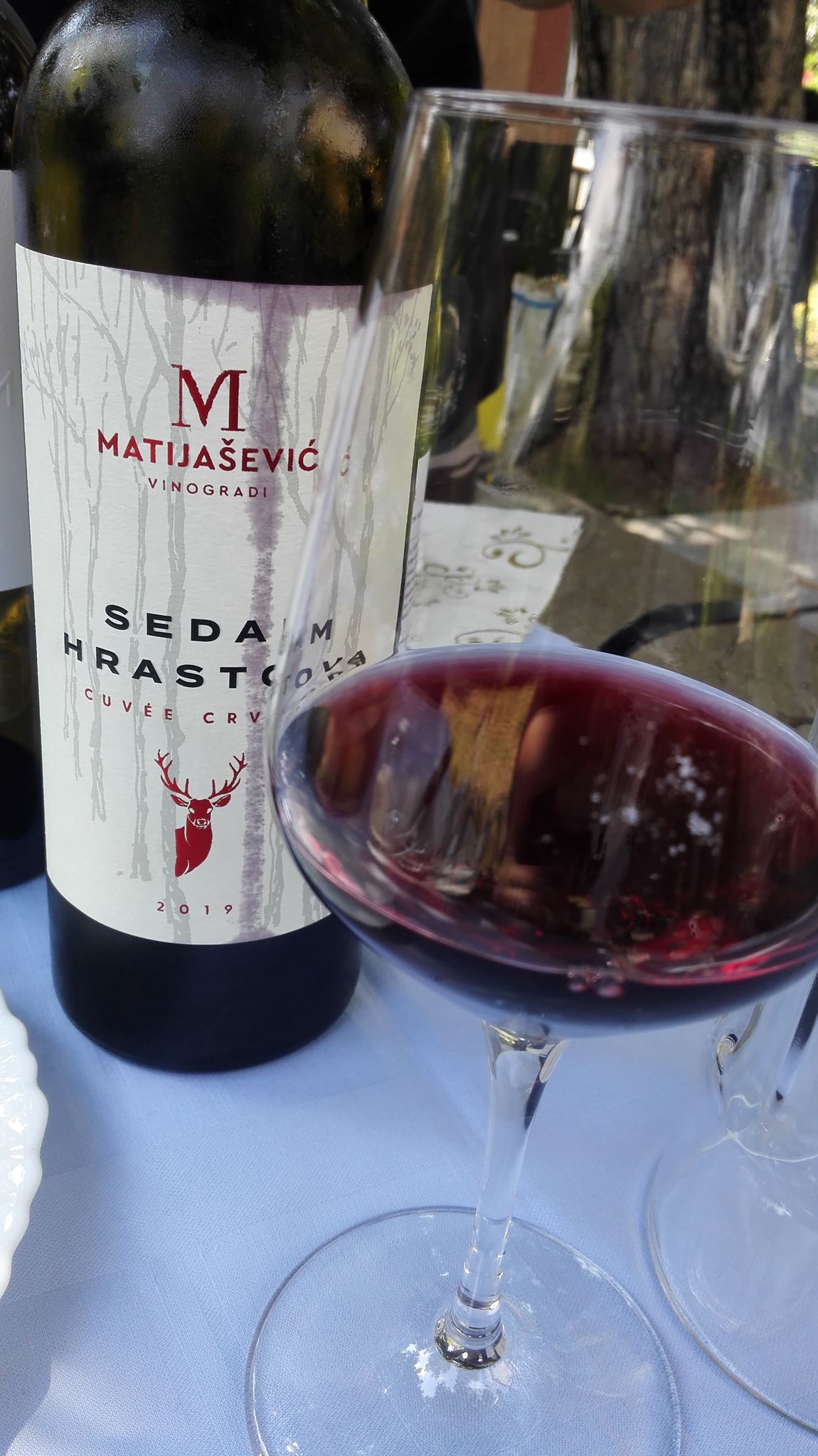 Matijašević winery has already presented wine made from Smederevka (Belina), our autochthonous grape variety, but we are patiently waiting to taste the first wine from this winery made from Prokupac (Kameničarka) at the year's end, since Orašac was once known for this grape variety. Until then, Prokupac continues to mature in wooden barrels in the wine cellar. We enjoy the shade while the wind from Orašac Hill whispers through the canopy of walnut tree in Matijašević's yard. Just like any other postcard says, greetings from Orašac!