Winemaking in Istria has been developing for centuries, both in the coastal area of Istria around Umag and Buje and in the interior of Istria, where the vineyards are located at higher altitudes, on hills covered by forests and on the slopes of Mt. Ćićarija. Today, Istria boasts more than 6,000 hectares of vineyards.
During my stay in Istria in March, I had an opportunity to go deeper into the interior of the peninsula to get to know vineyards of Central Istria better. We headed to the village of Ipši near Oprtalj along a narrow rural road through the forests and across hill slopes with a view over surrounding forests, vineyards and olive groves.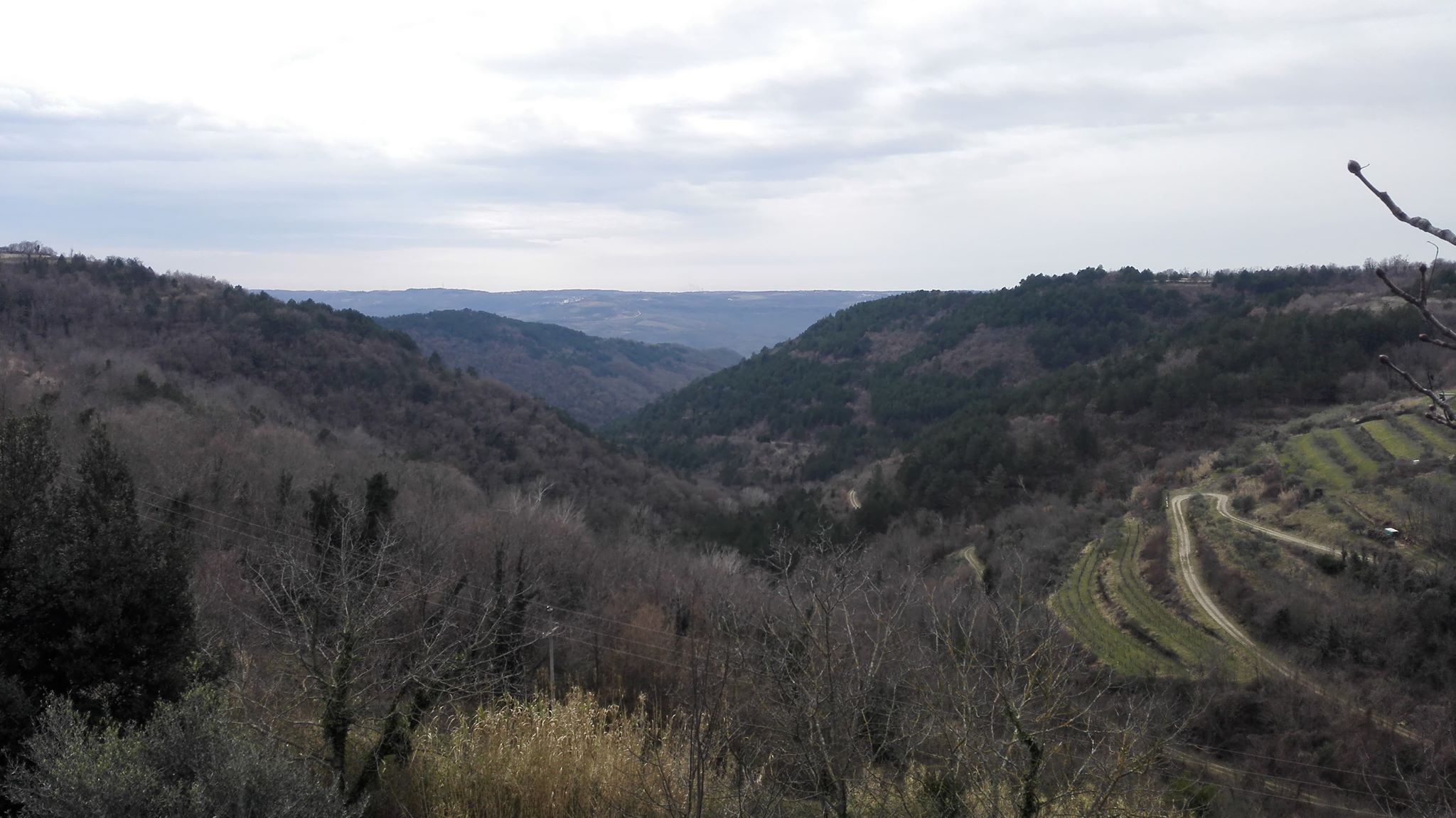 We reach the nearby hilltop. There, at an altitude of 420 meters, lies the vineyard of Santa Elena, which ranks among the highest Istrian vineyards. The vineyards owned by Ipša family covering ​​3.5 hectares have been planted on two occasions, so a portion of the vines is 9 years old, whilst the younger section of the vineyard was planted 4 years ago. Right next to the vineyards, one can see a pile of stacked stones, which testifies to what extent viticulture in this region means competing with nature, fighting for every piece of fertile land by clearing the rocks and stones. The soil in the vineyard is "the white soil". Concerning varietal composition, Refošk, Teran, Merlot, Malvazija and Pinot Grigio are planted in the vineyard. While I am standing in the vineyard, the wind shaves through the vineyard and disappears in the hills, somewhere near Butoniga artificial lake. On the neighboring hill, Motovun spread in all its beauty. It is exactly this air flow, sunshine throughout the day, white soil and diurnal range that characterize this location and give wines a distinct character.
In the vineyard, we meet Ivan Ipša, a young winemaker who was bringing pruning to a close. Following Ivan's initiative, his father and him expanded production, so in addition to top quality olive oil production, they decided to start producing wines as well. From the very beginning, they have been focused on organic production. The location of Santa Elena vineyard has been particularly suited to such production. If we talk about wines, the stylistic focus is on wines with long maceration, full body, complex aromatic profile and higher alcohol levels.
Santa Elena 2017 White Edition - Ipša - The first harvest of Malvazija from Santa Elena plot. A wine that will show its full potential in some 4-5 years, if someone keeps it in the cellar (given that Ivan remarked that only 600 bottles were produced). Already now, a rustic, powerful structure, supported by stronger alcohol, but the wine shows drinkability, a pulsating liveliness that will eventually blend into a harmonious entity. Ripe yellow fruit, melon, fig, basil, dried apricot, caramel, coriander. I am glad that a young winemaker like Ivan already has a clear vision of the path he will take in winemaking.