The story about Serbian wine identity continues ... The series of wine workshops and lectures called "Wine Identity" has proven that there are numerous wine topics and stories in the Balkans waiting to be explored in order to understand better the past, present and future of wine in this region. Wine Identity workshop, organized by the Serbian wine magazine VINO & FINO and the website VINOPEDIA.RS, was held on 18th June, 2016 in the city of Smederevo. Considering the topic of the workshop, there is no other place which would be more appropriate to host a lecture with focus on Smederevka, white grape variety from the Balkans. The host of the event was Janko Cellar - the most notable producer of Smederevka in  Smederevo and a persevering guardian of of this grape variety in Serbia.
(© N. Perić- WineJour)
Smederevka is definitely the most underrated grape variety in Serbia. Also, every  genuine lover of chilled spritzer will pick it as  his/her most preferred companion. Therefore, organizers of the workshop intended to explore whether Smederevka is destined for better future.
Finding parallels between Smederevka and Chardonnay would probably be a challenge even for experienced wine experts ... I imagine it would be difficult to find other similarities beside the fact that both of these varieties are white. However, DNA studies have shown that Chardonnay and Smederevka have a common parent - Gouais Blanc. In the Balkans, Gouais Blanc is known as Belina. This variety is known as  "Europe's great promiscuous grape" because a number of grape varieties that we know today descended from it. It has been confirmed that parents of Smederevka are Belina (Gouais Blanc) and a table grape originating from Moldova which is known in Serbia as "Bele Kozije Sise" (White Goat Breasts) due to elongated shape of berries.
Tracking grape varieties through historical documents can be rather difficult because the names of varieties are often cited wrongly. In determining grape varieties, people relied on previous experience whilst knowledge about grapes was commonly transmitted by word of mouth. For that reason, it doesn't come as a surprise that Smederevka in early written documents was hidden under the names Belina or White Plovdina, although we know nowadays that these are different grape varieties. Our historian A. Fotić, an expert on Ottoman history of the Balkans, reports that the first mentioning of Smederevka in professional ampelographic documents was in 1855 when the Austrian ampelographer Franz Trummer published his Systematic Classification where he wrote that "Weisser Szemendrianer" (in German: White Smederevka) was grape variety widely present in the Hungarian Empire (which is logical because North Serbia in those days was occupied by the Austria-Hungarian Empire). Already in 1876, another ampelographer Hermann Goethe stated in his book Ampelographisches Wörterbuch that Smederevka is a widespread white variety found in Hungary and Serbia. In countries of former Yugoslavia, this variety is well known as Smederevka. However, Smederevka can also be found under the following synonyms: Laška Belina, Dimjat (Bulgaria), Radoviška Plovdina,  Semendria, Zoumiatico (in northern Greece), zoumiat (in Turkey).
It is officially accepted that Smederevka / Dimjat is a Bulgarian variety, primarily based on the fact that Dimjat is the second most common white grape variety in Bulgarian vineyards. However, based on available historical sources, it is more appropriate to regard Smederevka as a Balkan variety (especially taking into account the fact that political borders in the Balkans are constantly moving). It is worth mentioning that there is a theory in Bulgaria that crusaders brought Dimjat to Thrace from the Nile Valley (Egypt). Knowing the pathways by which the winemaking culture spread across ​​the Mediterranean, this theory seems rather unlikely (despite its being rather romantic and convenient for marketing exploitation).
Smederevka in Serbia has the status of light summer wine, ideal for a spritzer. However, is this the actual potential of this variety or just echo of this variety's reputation during the socialist era in Yugoslavia and wine production in large industrial wineries? This was the intention of Wine Identity workshop - to explore all the faces of Smederevka and give us the sense of direction where winemakers should go when working with this variety.
Let's look for a moment these descriptions:
 "Adorned with high acidity, even in warm years, able to develop aromas ranging from simple citrus notes to ripe yellow fruit and honey. Some wine experts show snobbish dislike by describing it as "uninteresting" but the best examples are far from it. Some winemakers keep it in new oak, but generally this is not the best solution for this variety. "
"Less important variety used for making regional white wine. The wine shows typical varietal features such as high-acidity, neutral taste and delicate flavour. Although this wine rarely attains exceptional quality, price can be relatively high because of the region's reputation. "
(© N. Perić-WineJour)
These descriptions could easily be attributed to Smederevka wines (with the exception of the section that refers to "relatively high prices because of the region's reputation"). However, these descriptions refer to wines made from Cortese, also known as Gavi di Gavi (Piedmont, Italy), a wine that has a great reputation in the wine market of South Eastern Europe. Therefore, we can rightly ask whether the time has come for Smederevka to acquire the same status and thus promote this local grape from the Balkans.
Dragan Vasić, the owner of Janko Cellar, shared with us his firsthand experience in working with Smederevka. It's a late ripening variety so Smederevka is often the last grape variety in the vineyards to be harvested. He frankly adds that it sometimes seems that they don't devote enough attention to Smederevka during the harvest because they try to pick it as fast as possible and thus bring harvest to a close. Smederevka is a high yielding variety, so it should be planted on less fertile soils. Grape must contains up to 20% of sugar. Poor resistance to frost, its buds freeze already at -14 degrees Celsius. Dragan has a long-term contract for grapes originating from 30-year-old vineyards located on Drugovac hill near Smederevo. In the meantime, he also planted Smederevka on a plot in front of the winery and on the plot called Zlatno brdo (Golden Hill).
The key milestone for Smederevka in Serbia in recent history was "the Trophy for the best white wine made from indigenous variety" awarded to Smederevka 2007 from Janko Cellar at the Grand Tasting held in 2008 under the auspices of the National Sommelier Association SERSA. The wines were evaluated by the international jury. It was a stepping stone and a signal to Janko Cellar that they are on the right track: Smederevka shows much greater potential than we think.
The tasting began with wines from the vicinity of Smederevo. Small family cellars traditionally grow Smederevka in vineyards, so it is not surprising to encounter there well maintained 30-35-year-old vineyards. However, these wineries are surely lacking modern technology in the cellar. The wines are often rustic, with oxidative notes (or completely oxidized). Smederevka 2015 from Vodnjanka Winery (the village of Vodanj) leaves very nice impression in the mouth. Good structure, medium body, quite a dose of minerality combined with refreshing acidity indicate the potential of this wine. Unfortunately, the overall impression is spoilt by "funky" unclean aromas on the nose. Đorđevo Belo 2012 from Ilić Cellar (the village of Vodanj) is another representative of rustic Smederevka that is usually consumed by locals as spritzer. This explains why wines with technological faults often end up in spritzer glass because its flaws are less detectable then. Obviously, small family wineries with limited technology are not advised to age their wines for 3-4 years or longer. Therefore, numerous small wine cellars from Smederevo region should opt for fresh Smederevka that will be sold out until the next harvest (either bottled or in bulk).
Smederevka 2015 from Tikveš Winery (Macedonia) is an entry-level wine and the best-selling wine from Tikveš Winery in Serbia. Simple varietal notes on the nose, citrus fruits, apple. In the mouth, the wine leaves a neutral unconvincing trail. Acidity constitutes the backbone of this wine. Technologically healthy wine, without any faults or flaws. Quite enough, alongside more than reasonable price,  to gain considerable popularity in Serbia as "spritzer wine".
Sevdah 2015 - Aleksić Winery from Vranje (South Serbia). (Varietal composition: 85% Smederevka, 15% Sauvignon Blanc). A great example of exploiting varietal characteristics of Smederevka whilst making wine that will appeal to more demanding wine lovers as well. The wine has retained its characteristic freshness and minerality (exactly what today's wine audience expects from white wine) whilst Sauvignon Blanc added more herbal notes to the blend, thus adding complexity to wine. A proof that this rendering of Smederevka has promising future is the silver medal at Austrian Wine Challenge in Vienna (Austria) for Sevdah 2014.
Duet 2014 - Jeremić Winery from Smederevo. (Varietal composition: 50% Smederevka, 50% Sauvignon Blanc). It required lots of hard work to bring this wine to the tasting because Duet 2015 is already released on the market. Unfortunately, this wine in some way shows the attitude towards Smederevka. Varietal composition of Duet from vintage 2015 is 100% Sauvignon Blanc, without any Smederevka in the blend ... Unfortunately, the last opportunity to taste Duet 2014 will not stay in good memory (the presence of mercaptan), but we remain hopeful that Jeremić Winery will keep certain percentage of Smederevka in the blend because this variety definitely represents a symbol of Smederevo.
Leva Dimiat 2015 - Vinex Slavyantsi - For the majority of attendees, this workshop was the first encounter with Smederevka (Dimjat) from neighbouring Bulgaria. This wine could be compared with Smederevka from Tikveš Winery. Leva Dimiat leaves nice aromatic impression on the nose, enriched with floral notes. In the mouth, typicity and varietal features of Smederevka (Dimjat), dominated by flavours of citrus, yellow apples. Medium-to-light bodied wine. The vineyards of Dimiat used for this wine are located in South-East Bulgaria, near the town of Burgas. Excellent soil for Smederevka: infertile land, a combination of sand and clay, altitude about 200 meters above sea level.
Tiara Dimyat 2015 - Zagreus Winery - Then came another wine from Bulgaria, which won the audience's outright admiration. Smederevka that briefly aged in acacia barrels. Just enough to enrich varietal aromas of Smederevka with notes derived from acacia barrels. The wine is well integrated, rounded in the mouth. Modern incarnation of Smederevka (Dimjat). Otherwise, Zagreus Winery is well-known in Bulgaria for paying great attention to local varieties (Mavrud in particular). The winery was founded in 2004 but the project of planting a vineyard on an area covering ​​120 hectares started in 1998. Zagreus Winery is located in the Upper Thracian Plain (near Plovdiv).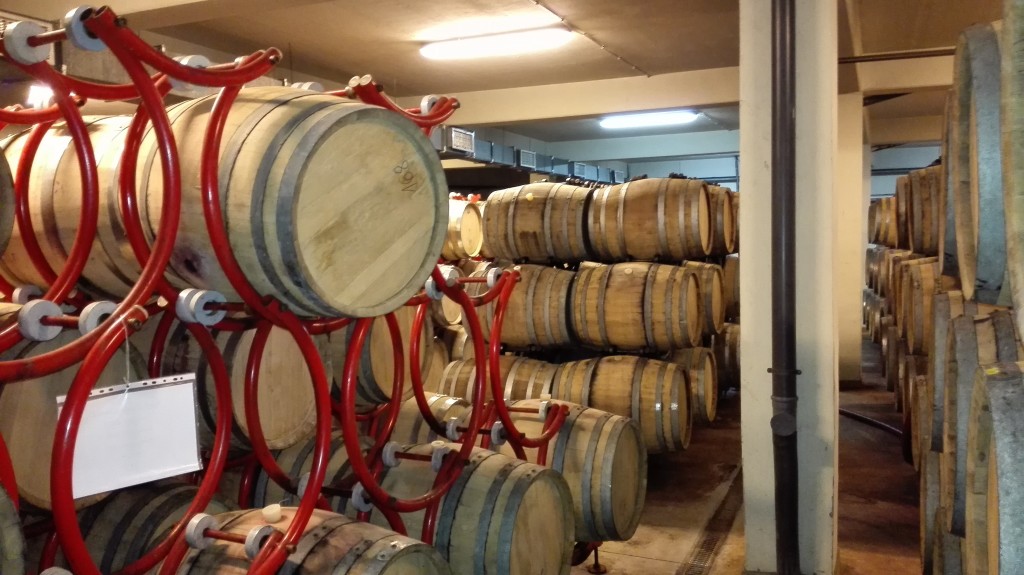 Zagreus Winery
Sense of Tears Dimyat 2014 - Maryan Winery - At the end of this regional wine tasting, here comes another wine from Bulgaria. And again, a surprise! This time, Smederevka partly fermented and aged in oak barrels. The wine has gone through MLF, so it differs significantly from previous Smederevka wines. Moving slowly in the glass, oily texture ... And then follows a real whirlwind of aromas. Complex, full-bodied wine. Rich aromas of butter, white flowers, honey, acacia, vanilla and lemon peel. One would object that this is an example of wine with completely altered character of Smederevka. This wine  stands out as "the wine with oenologist's signature" rather than wine which reflects terroir and variety. In any case, likeable wine that would easily win admirers in Serbia as well.
And then we move on to the most interesting part of the tasting. A unique opportunity to attend vertical tasting of Smederevka produced by Janko Cellar, showcasing wines from 2015 through 2006. So, another contribution to the history of contemporary Serbian winemaking and better understanding of local varieties. The vertical tasting of wine produced from Smederevka grapes originating from vineyards located on Drugovac plot, northwestern exposure, prevailing soils: cambisol with limestone in deeper layers.
Dragan Vasić, the owner of Janko Cellar (© N. Perić- WineJour)
Smederevka 2015 - Janko Cellar - (varietal composition: Smederevka with 3-5% Tamjanika) varietal wine, recognizable notes of citrus and apples on the nose. Refreshing, pleasant acidity nicely complements citrus notes in the mouth. Medium-to-light-bodied wine.
Smederevka 2014 - Janko Cellar - (varietal composition: Smederevka with 3-5% Tamjanika) Somewhat more complex on the nose. In addition to aromas of lemon and green apples, there are also notes of freshly mown grass and peach. In the mouth, the wine is fruity, pleasant impression. The finish with steely side...
Smederevka 2013 - Janko Cellar - (varietal composition: Smederevka with 3-5% Tamjanika) Dragan, owner of Janko Cellar, proudly points out that this is an example of Smederevka wine that he pursues. In addition to aromas of citrus, apples and elderberry flower on the nose, delicate notes of vanilla emerge in the finish. Smederevka typically develops with maturity delicate note of vanilla. This feature is easily detectable in this wine. Vibrant acidity, pleasant freshness.
Smederevka 2012 - Janko Cellar - (varietal composition: 100% Smederevka) Pure expression of Smederevka. While we are tasting it, I feel the same thrill as if I were tasting good example of Gavi di Gavi. Plentiful minerality in the mouth, acidity still lively, gives cheerfulness to wine. The nose is dominated by ripe fruit aromas, apple, citrus, quince notes, mint and again a touch of vanilla in the finish.
Smederevka 2010 - Janko Cellar - (varietal composition: Smederevka with 5% Italian Riesling) we're already moving towards wines where surprises are possible. Few wine experts would look into a bottle of 6-year-old Smederevka. But wine in the glass contradicts us. The wine is still vivid, in good shape. Completely tamed acidity. Aromas of yellow apples, ripe quince, citrus, elderberry flowers still prevail.
Smederevka 2009 - Janko Cellar - (varietal composition: Smederevka with 3% Tamjanika) Technically correct wine, without flaws. Ripe, soft. Acidity has completely lost its edge. Beautiful aromatic profile, more herbaceous than fruity. Rounded, pleasant wine. The colour turns more towards golden reflections.
 Smederevka 2007 - Janko Cellar - (varietal composition: 80% Smederevka, 17% Župljanka, 3% Tamjanika) This wine was awarded the Trophy for the best white wine made from indigenous variety in 2008, at the Grand Tasting organized by national sommelier association SERSA. The colour indicates that we are dealing with aged Smederevka. Golden-yellow hues glisten in the glass. Evolved nose, mature aromas of quince, yellow apple and honey are turning dull and without freshness. Acidity still present, but already losing intensity.
Smederevka 2006 - Janko Cellar - (varietal composition: 85% Smederevka, 15% Župljanka) And finally, the last bottle of Smederevka 2006. The owner of Janko Cellar commented that this is the right place to taste the last bottle of this vintage since experts who visit the winery do not show much enthusiasm to taste aged Smederevka. Now is the moment to taste it because Smederevka celebrates its moment of glory here in its capital city of Smederevo. Wine admirers flocked from Belgrade and other places to Smederevo because they admire wine made from this variety. A rare oportunity. 10-year-old Smederevka wine. Colour of gold in the glass. An exciting moment. And an indication that hard work in the vineyard and in the cellar  will bring results in the years to come.
This workshop gave an excellent cross-section of the situation on the wine scene when it comes to Smederevka. It takes a lot of education (particularly for small wine producers), necessary investments in technology and more support and promotion by the media and other opinion makers in order to transform Smederevka from an ugly duckling into a white swan of the Balkan wine scene.
Janko Cellar in Smederevo