Saturday, 15th August, 2015 ... Smiling Barbie is frolicking in front of the map of Serbia and announcing a scorching weekend of August in live morning show on national TV. Niš is one of the hottest cities in Serbia today ... The temperature close to 40 degrees Celsius ... But down south, there is a wine festival that simply can not be missed. Naissus Wine & Fine Festival ... for the fifth time ... I am always keen on touring the region of Niš, not only because of incredible natural beauty that surrounds the city of Niš. On previous occasions, I always combined going to wine festival in Niš with discoveries of Niš's surrounding, starting from mountaineering to Trem (the highest peak of Mt. Suva Planina), through aquatic adventures in Cerjanska cave, touring Sićevo Canyon and the village of Sićevo, to visiting cultural and historical sights in the city. South Serbia usually brings to mind numerous examples of untapped potential waiting for its moment of glory and still insufficient marketing promotion of this part of Serbia. Fortunately, the situation is changing gradually...
Niš is already now getting clear outlines of its identity. Let's just mention Emperor Constantine and Empress Helena, Kalča, Barbarossa, Šaban Bajramović ... On the cultural scene of southern Serbia, some great events have reached maturity: Niš Film Festival, then Nišville Jazz Festival, and in the segment of wine culture, after 5 years, Naissus Wine & Fine Festival has become must-see. Wine-loving crowd has grown over the last decade in Niš and learned to appreciate quality when it comes to wine.
MALČA WINERY
But before heading to wine festival, I made my way first to the village of Malča, where Malča Winery's cellar is located. The village is situated in Čegar vinegrowing area, within Niš wine-region. Vineyards in Niš Wine Region cover the area of 1,312 hectares. Some 30-40 years ago,almost 2 million liters of wine were produced in this region. Beside vine-growing cooperative in Malča, wine was also produced in the vine-growing cooperative in Sićevo which exceeded 10 times the size of cooperatives in Matejevac, Jelašnica and other nearby villages.
Nowadays, every household in Malča still owns a vineyard inherited from father or grandfather in the family, but wine is predominantly produced for domestic needs. Malča Winery made a pioneering move to show other winemakers in the village that wine can be successfully offered and sold on the Serbian market, where there is still plenty of room for new winemaking stories, especially those originating from the south of Serbia.
Malča Winery is located near Niš, on the regional road heading to the town of Svrljig. In a way, the winery combines the past and the present, because the winery is located in the vicinity of Mediana, Ancient Roman archaeological site. In 2012, Mr Bora Jović, the winery owner started his visionary project. A complex of 28 buildings and facilities for wine production was assembled on the site of a former winemaking cooperative built in the period 1903-1905, which was used to process grapes for the needs of local population. The entire site covers an area of 2 hectares. Bora's vision has not been fully realized yet, because the winery complex in the future will also include a small hotel for tourists and an open-air amphitheater with 360 seats. "Our task here is to create happiness," Bora says with a smile. Also, in the near future, the entire winery complex will be expanded with a restaurant, so the tourist offer will be complete.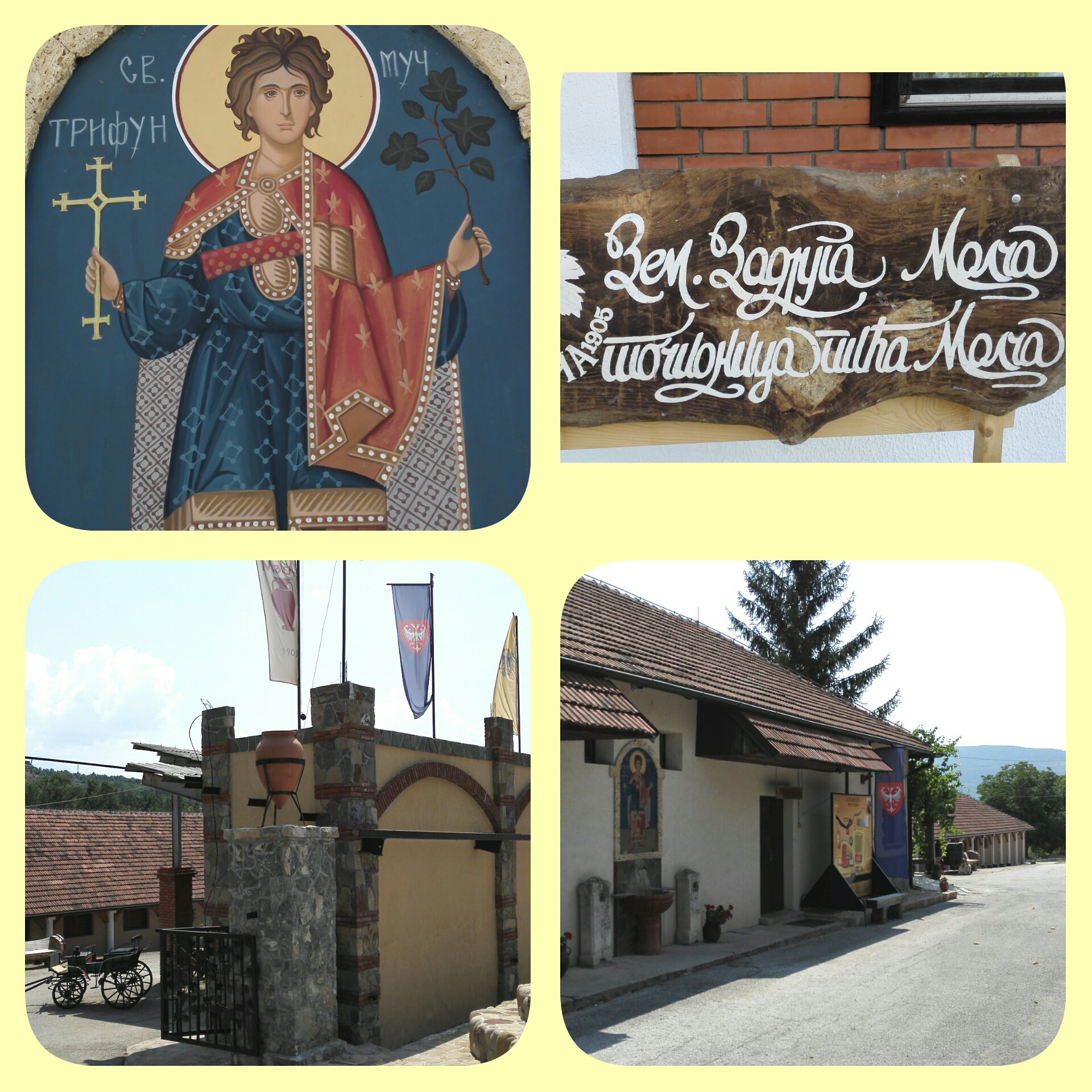 The winery also owns five-storeyed distillery system , industrial heritage monument of Serbia. Many years ago, distillates for Rubin's brandy were produced here. Visitors can see the distillation system which operates without electricity, owing to the steam boiler located in the adjacent building, which produces steam for temperature control whilst the water column is used to measure pressure with precision up to three decimals.
The winery is divided into four sections so that visitors can get an insight into historical development of wine making in Serbia: Ancient Roman house, medieval (the Nemanjić dynasty) house, Serbian house (typical winery in Serbia dating from 1950s, with concrete fermenters 7-8 meters in height) and contemporary winery. Ancient underground passages were discovered during the reconstruction of the cooperative, and one of them will be equipped for storage of balsamic vinegar in the near future.
Malča Winery is also the first winery that brought to Serbia the technology of wine-making in clay amphorae. Clay amphorae were purchased in Georgia. Four amphorae for red wine and four amphorae for white wine were buried in the ground in the winery basement. Bora Jović and Malča Winery oenologist, Milan Aleksić, decided to make amphora wines in accordance with the principles of organic production. They were forced to deviate from these principles only last year due to difficulties in the vineyard caused by the most difficult year for vinegrowers that even the oldest winemakers can hardly remember happening before. Grape quality is paramount for the production of wine in amphorae. Therefore, we will not be able to taste amphora wines from the harvest 2014.
In the vineyards, Malča Winery planted both international and local varieties. Although local variety Plovdina (in Bulgaria this variety is known as Pamid and represents the most common variety in Bulgarian vineyards) seems rather neglected in wine circles nowadays due to low acidity, Bora does not want to give up on this variety that is still widely present in Niš wine region. Wine Zone (varietal composition: 80% Plovdina, 20% Prokupac) is an example of wines that locals from Niš usually drank chilled in the summer days. Light body, simple fruity flavors, low acidity, unpretentious wine. The wine that is best to drink young ... In addition to Plovdina and Prokupac, Malča Winery also has an ambition to make wine from Black Tamjanika grapes. The vines were taken from the nursery vineyards of Bukovo Monastery near Negotin (East Serbia). During the visit, I proposed to Bora to create something similar to what I've seen in Rioja wineries: a small ampelographic collection with specimens of Balkans varieties, so that visitors may see and compare on the spot local varieties such as Plovdina, Bagrina, Prokupac, Vranac, Drenjak, Smederevka; Kadarka, Kevedinka, Slankamenka, etc.
I do not want to hide that I was rather suspicious about the quality of amphora wine from Malča Winery that I was going to taste. So far, nobody in Serbia has ever made it before, the oenologist found necessary info and tips on Internet and through personal contacts with colleagues from other countries ... As far as I know, winemaker Božidar Zorjan from Slovenia is one of the few winemakers who make amphora wine from Italian Riesling. Malča Winery is now giving its contribution to learning about the potential of this variety when it comes to amphora wines. For that reason, Bora's efforts are important not only for the Serbian wine production, but also in a wider context. And I'm glad that my suspicions proved to be unfounded.
Carica Jelena 2013 - Malča Winery (varietal composition: 100% Italian Riesling) amphora wine. The best grapes from selected sites are used for this wine. Long maceration and fermentation in amphorae ( for at least 6 months), followed by another 12 months maturing in oak barrels of 4000 liters. Golden yellow color, rich intense aromas ranging from the notes of raisins and dried figs, mild fruity notes of apricot and orange to fine aromas of honey and beeswax. The wine is characterized by a long finish. Discovering the richness of aromas of this wine also means understanding ancient philosophy that combines in wine soil as a natural element and energy that is transformed from berries.
TRTA OF NIŠ
Officially, the Guinness Book of Records quotes the oldest vine in the world widely known as "Old Trta" from our close neighbourhood, Slovenia. Slovenian experts and geneticists in Paris confirmed the authenticity of Old Trta, whose age is estimated at more than 400 years. This specimen of indigenous Slovenian variety Žametovka is growing on the facade of a house in Maribor. It was shown on pictures and engravings of Maribor from 1657 and 1681 which are now displayed in the Museum of Styria in Graz. Slovenians turned Old Trta into a real tourist attraction, and Maribor municipality often gives grafts of this vine as a gift and a symbol of friendship and longevity. Thus, three Serbian cities received as a gift grafts of Old Trta to plant them and cultivate the spirit of friendship and mutual cooperation with Slovenia. These three cities are Kruševac, Kraljevo and Niš. The graft of Old Trta in Niš was planted in 2012 in the yard of the Church of Saint Panteleimon. Every year, during my stay in Niš, I visit the Trta of Niš. The locals in Niš take really good care of this vine so year after year, a new tourist attraction in the city of Niš is growing to maturity.
THE FIRST VINE CRIME IN SERBIA
And just as the shocking news came in 2012 that vandals broke into cellars of Soldera Winery in Tuscany during the night and spilled 80,000 liters of Brunello di Montalcino from harvest 2007-2012 from the barrels, unfortunately a sad story was recently heard in Niš and it could easily become scenario of a crime series. In recent days, the media in Serbia paid great attention to unfortunate scenes of destroyed vineyards in the village of Velepolje, situated between Niš and Aleksinac. During the night, an unknown offender cut 2000 Merlot vines in the vineyard owned by young Ivan Jovanović, a music teacher in a local school in Niš and winemaker on the rise. The entire this year's harvest was destroyed. Ivan was proud of his vineyard, which was planted with the help of state subsidies. Fortunately, there is still a possibility to save the vineyard so the vines will recover in the coming few years with careful work. Meanwhile, police in Niš is working on identifying the perpetrators of this mindless act and we hope that the investigation will soon reveal who was behind the first vine crime in Serbia.
NAISSUS WINE & FINE 2015
Niš fortress looks attractive in all its splendour, so the festival organizer doesn't need much effort to maximize visual design and impression of the wine festival. The festival staff dressed in costumes of Roman soldiers and ladies in long dresses give it additional flair. And then follow great wines and brilliant army of wine admirers.
Every year, the number of exhibiting wineries at this festival continues to grow, all of them striving to strengthen their presence in South Serbia. The fact that winemakers praise the festival and wine audience of Niš confirms that wine festival organizers have found the winning recipe. Wine lovers from southern Serbia finally have an opportunity to find in one place the whole range of wines from the leading Serbian wineries and thus compare wines and form their own wine taste.
It will be remembered forever in the history of contemporary Serbian winemaking that the first Serbian amphora wine was made in Niš! Now there's no turning back, because Niš has reached the phase where wine bars have become popular meeting places, local shops and restaurants offer wines from local wineries, and Naissus Wine & Fine festival confirms that the critical mass is created.