Given the fact that majority of vineyards which produce grapes for wines on the Serbian wine market nowadays were planted in 1990s, it is reasonable to wonder whether it is possible to come across a Serbian wine labelled "Old Vine Wine". In France, such wines are labelled "Vieilles Vignes", in Germany "Alte Reben", in Portugal "Vinhas Velhas"... Despite common misconception, such a label doesn't necessarily serve as an indicator of wine's particular quality, but it rather points out the wine's distinct character. In its natural cycle, vines can live more than 150 years, although in reality this rarely happens. The vine is believed to reach its productive peak after 15-30 years. After this period, the yield starts dropping significantly, so most vinegrowers opt to replant or rejuvenate old vineyards in order to maintain their economic viability. On the other hand, one cannot neglect the fact that lower yield contributes to better quality of grapes and a greater concentration of aromatic and other substances in grapes - which may, although not necessarily, result in better quality of wine. The term "Old Vine" is not clearly defined and varies from one country to another. Due to different rules and traditions in wine regions, legal provisions concerning the required age of vine in order to be allowed to appear on wine labels as indication of wine's distinct character are not uniform. On top of that, in some cases, the term "old vines" may also denote a vineyard where many different varieties are planted together, which was a common practice in the Mediterranean area in the past, without any reference to the age of vines. The New World countries add to confusion, since vines are considered old there already at the age of 20, whilst the Old World countries keep the threshold at somewhere between 30 and 50 years of age. Starting from January 2013, Serbia has applied a legal regulation that the label "Old Vine Wine" can be used only if the grapes come from vines that are at least 40 years old. Although such wines are more appreciated by consumers in the market, and the age of vineyards is often emphasized in brand promotion of certain wines, the vines cannot live and produce yield for eternity. So, ancient vineyards come as a tourist attraction and a curiosity rather than a real raw material source for wine production. Here we come to the phenomenon of ancient grapevines and the question about the oldest vine in the world. Officially, the world's oldest vine in the Guiness Book of Records is called Stara Trta (Old Vine) and comes from our close neighbourhood, Slovenia. Slovenian scientists and geneticists from Paris have confirmed authenticity of Stara Trta, which is estimated to be more than four centuries old. This specimen of Slovenian local variety Žametovka grows along the facade of a house in Maribor. This vine can also be seen in paintings and engravings of Maribor dating back to 1657 and 1681, which are now part of collection in the Museum of Styria in Graz (Austria). The Slovenians have turned Stara Trta into a tourist attractions, and Maribor municipality often gives away grafts of this vine as a gift which symbolizes friendship and longevity. So, three cities in Serbia were given grafts of Stara Trta to be planted and thus cherish the spirit of friendship and cooperation with people of Slovenia. These three cities are: Kruševac, Kraljevo and Niš. The graft of Stara Trta was planted in Niš in 2012 in the churchyard of St Pantaleon's Church, and citizens of Niš are taking good care of it, so this year the first grapes from this vine have ripened well.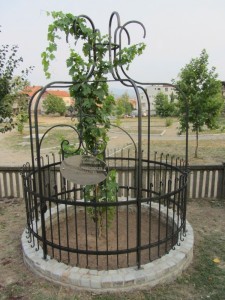 Trta of Niš In France and other countries with well-established wine culture, old vines are protected as natural and cultural heritage. Vineyards in the commune of Sarragachies in south-west France were planted in 1820 and they have managed to survive phylloxera. Nowadays, they are listed as a historic monument by the French authorities. In the Loire valley, Domaine Henri Marionnet produces wine from grapes grown in a vineyard planted in 1850. Being planted in sandy soil is in most cases a common feature of old vines which survived the phylloxera plague in the second half of 19th century. Tourism workers quickly recognized potential of old vines and vineyards, so they are quite often a part of sightseeing tours and a must-see. In our surrounding, the first to realize this and to start exploiting for tourism were organizers of wine tours on the island of Hvar (Croatia). There are about 20 vines which are confirmed to be more than 150 years old at the site called Draganjač (Hvar). These vines were planted in 1860, and survived phylloxera period owing to the fact that they were planted in the sandy soil. Residents of the island of Hvar take great pride in having the world's oldest vines of Plavac Mali on their island. The owner of this plot of land is Ivo Šurjak and grapes grown in this vineyard are used nowadays to produce wine for the family needs.
In the oldest vineyard of Plavac Mali In Serbia, there are several wineries which own old vineyards. One of them is Maurer Cellar from Hajdukovo, which differs in many aspects from other wineries in Serbia. Its owner Oskar Maurer, in his own words, has focused on organic wine production, so he intrigued wine admirers and experts at this year's RAW festival in London both with the fact that a Serbian winery is fully dedicated to organic wine production and with the unique symbiosis of small plots of land with old vineyards and unusual varieties which are preserved from extinction. Wines are produced in small lots, and some Maurer's wine labels contain indication of the age of vineyards where grapes were grown. Maurer Cellar is known for its Kadarka wines from several plots, including the one planted in 1880, which represents the oldest vineyard of Kadarka in the world, as well as plots of land where the vines were planted in 1912 and 1925. Maurer Cellar is also unique because only in their vineyards in Serbia you can come across Sremska Zelenika variety, in a vineyard planted in 1909. These vineyards were planted on a layer of sand with average depth ranging between 20 and 50 cm nestled on yellow loess sediments. So far, Oskar Maurer did 20 harvests from these plots, so he could compare in practice wines produced from grapes grown in old vineyards and in young vineyards. Without any doubt, his first choice is always wine from old vineyards. In Župa (Serbia), Budimir winery also makes some of their wines from grapes grown in old vineyards and this winery can be regarded as the guardian of old vines in Župa. In the vicinity of Drenča monastery (14th century), on a hill called Gubovac, there is a vineyard which is regarded as the oldest vineyard of Prokupac in Župa and Serbia, with estimated age of vines ranging from 70 to 130 years. Wine Sub-Rosa 2006 (60% Prokupac, 40% Cabernet Sauvignon) which opened the door to international recognition of Prokupac variety at international events and competitions and helped its growing reputation beyond Serbia, is made from grapes grown in this old vineyard. In the coming period, Budimir winery will present a special limited edition wine: 100% single vineyard Prokupac 2009 wine from the Gubovac hill vineyard. As tradition in Župa region goes, a vineyard is planted on a day when a baby boy is born in the family and when the child grows up, he is expected to start growing grapes in that vineyard. On the day when Grandpa Buda - an experienced winemaker, the founder and symbol of Budimir Winery, was born, a small vineyard with Tamjanika vines was planted in the vicinity of their family house. Today, it is yet another historic vineyard owned by the winery, which stands as a symbol of grape-growing tradition in this wine-makers' family. It is also a parent vineyard from which grafts are taken to plant additional couple of hectares of Tamjanika vineyards.
Prokupac vineyard owned by Budimir winery Beside private vineyards, throughout history, vine was commonly grown in Serbian Orthodox Christian monasteries. Unfortunately, no attempts have been made so far to inventorize all old vines in the monasteries and to determine their age. For that reason, it often happens that by word of mouth, the age of some vines goes beyond all rational limits, without any scientific research or material evidence. Surely the most famous vine in Serbian Orthodox monasteries is the Vine of St Simeon in the yard of Hilandar Monastery in Mt Athos (North Greece). Pilgrims believe that this vine is about 800 years old and that the noble vine sprouted at the place where St Simeon was buried. Today, this fruit-bearing vine is attributed miraculous properties in the treatment of infertility. One manuscript from the 16th century bears witness that the Pasha of Thessaloniki donated large estate to Hilandar Monastery as a sign of gratitude because he got an heir thanks to this vine. Certainly, it would be interesting to let scientists confirm or disprove this story about the age of St Simeon's vine. In any case, if this legend turns out to be true, no doubt that such news that a Serbian monastery is home to a grapevine which is twice older than Stara Trta would come as a big surprise in the global wine world. When we talk about monasteries, one of the most inaccessible monasteries in Serbia -Uvac monastery near the town of Priboj, simply cannot be missed. Historic records say that the monastery was built in 12th-13th century, but it was later destroyed in 1691. Since then, the monastery remained in ruins for 300 years, until its reconstruction in 1998. Until 17th century, this monastery was a regular stop-over for numerous travellers, pilgrims and high-ranked church dignitaries, so numerous records which describe life in this monastery are preserved. Written records bear witness that the monastery was surrounded by vineyards, which may sound rather surprising given that today this part of west Serbia doesn't have tradition of growing vine and producing wine. However, local microclimate obviously comes to the forefront, because this monastery is located in a valley which welcomes warm air currents from the Mediterranean, so even in winter time this area doesn't have much snow or extreme frost. In the yard of Uvac monastery, beside several recently planted vines, there is also an old infertile vine, discovered in 1998, when the reconstruction of monastery Uvac began. Although monks quote written records from 1524 when attrempting to determine the age of this vine, contemporary scientific methods and research would confirm its actual age with more certainty.
Uvac monastery Old vines and vineyards of Serbia are a real challenge for every scientist, because the information still needs to be collected and modern scientific methods are to be used in order to determine the age of vines. So far, little has been done to protect and preserve old vines and vineyards, so their destiny largely depended on their owners' intentions and awareness of their importance. The fact that almost every rural household in Serbia, as well as some in urban areas, had a grapevine growing in the garden tells us about the importance of vine in everyday life of local population in the past. Imagine a vine which has been defying the ravages of time for more than 130 years, although surrounded with concrete and asphalt. In the yard of a house in Gospodska street in Zemun, there is a vine growing on the facade of a house from the Austria-Hungarian times, a hybrid which was common in Central Europe at that time. The Nature Conservation Institute, a scientific institution dealing with preservation and conservation of Serbia's natural heritage, also keeps the Register of protected natural heritage objects, and the procedure has begun to register this vine as natural heritage. Thus, foundations are laid to protect other old vines and vineyars in Serbia in the future and to grant them the status of natural and cultural monument, which they surely are. Author: Tomislav Ivanović The article was published in specialized printed magazine for wine and gastronomy VINO & FINO, issue No.9, October-November 2013 http://issuu.com/vinoifino/docs/vinofino_br9_online