Despotika Winery in Vlaški Do has become a must-see for wine lovers and tourists who venture to explore Šumadija region (Central Serbia). In addition to wine museum, the winery has also expanded its accommodation facilities this year. Tourists are also given an opportunity to discover flavors and aromas of Šumadija cuisine in combination with wines from Despotika Winery, with prior notice.
Until now, organized groups visiting the winery have had the opportunity to experience typical Šumadija-style hospitality and traditional cuisine. Crispy golden-brown crusted pork from Šumadija, which is brought straight out of the oven in front of the guests, has become a flagship souvenir from Vlaški Do and Despotika Winery. Visitors keep memory of steaming pork which breaks into pieces when touched. However, starting from this summer, Despotika Winery has introduced the option of haute cuisine with focus on pairing Šumadija wines and a selection of local and international dishes. It is important to emphasize that you do not need to come in a group of 10 or 20 visitors to be able to enjoy the tasting menu. Even if you come individually, with your family or accompanied with your partner, you will have the opportunity to experience a unique wine and gastronomy show in the winery with a view of the surrounding vineyards and the most beautiful sunset over Šumadija.
From the open terrace with a view of Morava and Prokupac vineyards, you can observe outlines of Šumadija mountains in the distance, while revelling in a glass of Dodir 2019, a blend of Tamjanika and Muscat Ottonel. It will revitalize you after a road trip and introduce you to a magical whirlwind of wine aromas. Fluttering muscat aromas with a pang of freshness will tickle your palate and prepare you for the surprises that follow.
Soon, grilled polenta with Mangalitsa and sage arrives on the table, accompanied by Morava 2019 wine. Corn arrived in the Balkans in the 17th century, but ever since has become commonplace in every-day diet of Balkans' population. Therefore, one can find similar versions of cornmeal and semolina dishes in all countries of the region: polenta, kačamak, mămăligă, pura, žganjci ... Corn flour provided the villagers of Šumadija with enough energy to withstand all-day hard farm work, and Mangalitsa (a breed of pig created by crossing wild boar, autochthonous Serbian Šumadinka pig and Hungarian varieties such as Bakonyi and Szalontai), the healthiest and tastiest pork. Vibrant acidity of Morava simply blends with delicate fat of Mangalitsa. At the same time, sage (freshly picked in front of the winery) complements aromatic profile of the wine, so that a delicate spicy-herbal impression remains in the mouth.
Then we got the opportunity to taste Miroč cheese with peaches on young spinach accompanied with Nebo 2019 (varietal composition: Pinot Blanc, Rhine Riesling). Miroč cheese is a traditional cheese from East Serbia, and it is also known as "škripavac" because of its characteristic structure due to which it "squeaks" under the teeth while eating. I love that fine crunchy baked crust of Miroč cheese that continues into a warm soft interior, without melting entirely. This grilled cheese of strong intensity, full-fat and moderate salinity pairs nicely with a wine such as Riesling, which adds a necessary hint of freshness. Pinot Blanc in the blend underlines fruitiness of the dish and complements peach flavors. Šumadija is a traditional fruit-growing area, so fresh ripe peaches can be easily found in orchards in a circle a few kilometers around the winery.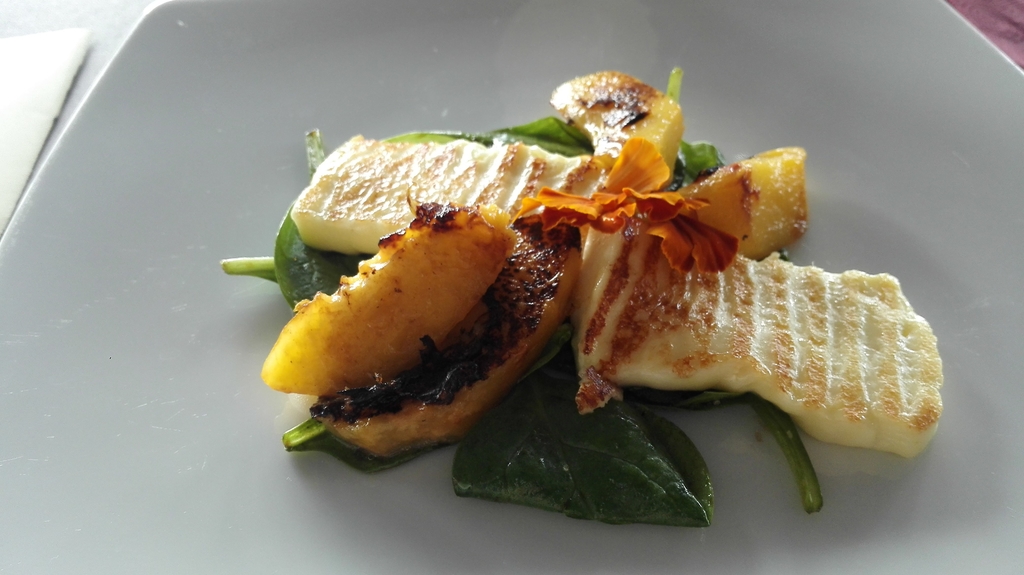 Even before the next dish arrives on the table, the smell of truffles pervades the air. Lately, truffle hunting in Šumadija has become a popular occupation, and forests around Kragujevac are especially famous for that. Fresh black truffle in combination with homemade pasta: ravioli stuffed with ricotta cheese and truffles... The ideal partner is Zmajeviti (Prokupac) 2017. Here is an opportunity to highlight spicy character of ripe Prokupac and its varietal elegance that does not cover creamy structure of stuffed ravioli and shows Prokupac's versatility, which makes it an ideal constituent of every restaurant's wine list.
According to a legend, Tournedos Rossini is a dish created by the famous composer Gioacchino Rossini, who is remembered as a great gourmet and skilled cook. However, the French are responsible for the origin of this dish in the 19th century. And who else could it be, when goose liver (foie gras) is needed for its preparation. A tender piece of meat fried in butter with a piece of goose liver has entered culinary textbooks around the world. Tournedos Rossini, a steak with foie gras and celery puree paired with Trag 2017 (Merlot) wine, brings a symphony of flavors and textures that will stay in your memory for a long time. One of the best Merlots you can currently find in Serbia ...
We completed exploration of the new menu at Despotika Winery with Vesna's apricot packets.
The menu will be constantly changing because the goal is to use as much as possible fresh ingredients from the immediate surrounding of the winery and seasonal fruits and vegetables. All the better, because visitors will have motivation to return to the winery and taste something different. And the surrounding vineyards are constantly changing in accordance with the seasons, so even the panoramic view that stretches in front of you will always look different.