Hemingway once said that those lucky ones who spent their youth in Paris keep memories of it throughout their lives, no matter where they are. I didn't spend my youth in Paris, but after my first visit, I feel that city partly as my own... This is the feature of all genuine metropolises, I have that feeling in Belgrade, Barcelona, Istanbul... and Paris. They are so multicultural and open that everyone finds a part of himself/herself in such cities.
What I discovered in Paris is a wine culture which is by no means theoretical, desiccated, as it may sometimes look at WSET courses or in wine descriptions in wine magazines. Only in Paris can you meet a farmer from Normandy who came to the farmers' protest (protests and strikes are part of the urban identity of the city and illustrate the rebellious spirit of the French people) and start discussing wines from Bordeaux and Languedoc accompanied with a glass of wine. The farmer's comments and descriptions could have easily been views of some sommelier in a renowned restaurant in the city center... Wine is equally appreciated both by a farmer and a wine professional.
While the main announcement in the television news was the farmers' strike in the city center and the blockade of roads due to the truck drivers' protest, Bercy neighbourhood, which once served as a wine region that supplied wine to the French capital, had turned into the wine center of Paris. VINALIES INTERNATIONALES 2022, one of the most important wine competitions in France, was scheduled in Bercy from February 10th to February 13th. It is important because it is organized by the wine professionals - the Union of Oenologists of France. For the first time, a wine judge from Serbia is participating in the competition, which certainly contributes to the promotion of Serbia as a wine country.
THE COMPETITION BEGINS ...
The atmosphere at the competition from the first day is quite cordial. The very fact that most of the wine judges are oenologists from France, i.e. colleagues who already know each other, gives a dose of spontaneity, informal closeness and immediacy. What followed next was a preparatory briefing for judges where we could get acquainted with the rules of the competition, technical details related to the use of evaluation software, applicable covid rules, etc.
This year, Vinalies Internationales wine competition brought together about 3,000 wines from 36 countries around the world, with wines from Ethiopia arriving at the competition for the first time this year. You will surely be surprised by this fact, but Ethiopia produces 12 million bottles of wine a year. As expected, the largest number of samples for the competition comes from France, but every year more and more wines from the Balkans participate in this competition. This year, the samples included 4 wines from Croatia, 5 wines from Slovenia, 32 wines from Romania, 31 wines from Bulgaria, 42 wines from Greece and 39 wines from Hungary. Serbia has not yet had the opportunity to present its wines at this competition.
The competition system itself is in accordance with the OIV rules with one important additional feature: after the evaluation, wine judges should describe each wine sample in detail, and winemakers get an overview of wine descriptors identified by the panel of judges together with information concerning the score. In this way, the winemaker also receives feedback on his wine. This is especially important because some famous French oenologists with rich experience in top wineries are judges in the wine competition, so comments received become even more relevant to the producer.
SLOVAK WINES IN THE SPOTLIGHT
While arriving at the airport in Paris and waiting for the transfer to the hotel, I spotted well-known faces of Slovak winemakers at the airport arrival terminal: Tomas Dilong from Viajur winery, Jaro Macik from Macik winery, Filip Nagy from Zlatý Roh winery and Slovak wine ambassador Edita Durčova... One could easily say: the top class of Slovakian wine scene.
The Slovaks made a joint presentation this year and prepared their common participation in the competition, which could be a good approach for joint application of Serbian wineries in international competitions in the future. Winemakers from Slovakia jointly sent samples for evaluation (253 samples in total) and thus attracted much attention because after France they were the most represented country in the competition.
Also, all the judges present during the gala dinner could get acquainted with Slovak winemaking, both in the past and in the present, and taste the best wines of Slovakia during the dinner. Excellently designed presentation, exquisite wines and joint efforts of Slovak winemakers - it's a recipe for success. It should only be added that the Slovak winery Martin Pomfy has won VINOFED trophy for the best red dry wine at the competition (96 points). I believe that many French people were surprised when the winners of the trophy were announced during the gala dinner.
Winemakers from Slovakia used this competition to showcase not only their part of Tokaj region, but also wines from indigenous varieties such as Frankovka and Furmint. International grape varieties were not neglected, so Pinot Noir and Cabernet Sauvignon from Slovakia were served as wekll alongside dinner. And they were praised wholeheartedly by the present wine experts.
THE WINNING TEAM
At the competition itself, 122 judges were divided into panels. In addition to the judge from Serbia, panel number F6 was composed of wine judges from France and Spain. Pierre Vieillefosse, an experienced oenologist from Bordeaux as president of the panel, and with him Carmen de Aguirre, a Spanish flying consultant & oenologist with extensive professional experience from Champagne to Costa Rica, then a young oenologist from Languedoc.... Indeed, from the very beginning, the whole team were collaborating successfully. 50 wine samples for evaluation per day, 50 detailed wine descriptions.
During 3 competition days, we had the opportunity to taste wines from Bordeaux, Slovakia, Luxembourg, Poland, Romania, Hungary and other countries. It is interesting that the influence of global climate change could be accurately identified in Bordeaux wines... Wines with 14-15% alcohol, intense color, rich tannins, full of sunshine could rather be classified somewhere further south, e.g. to the appelation Minervois or even Cahors... But the global climate change has become a reality. It's time to get used to it.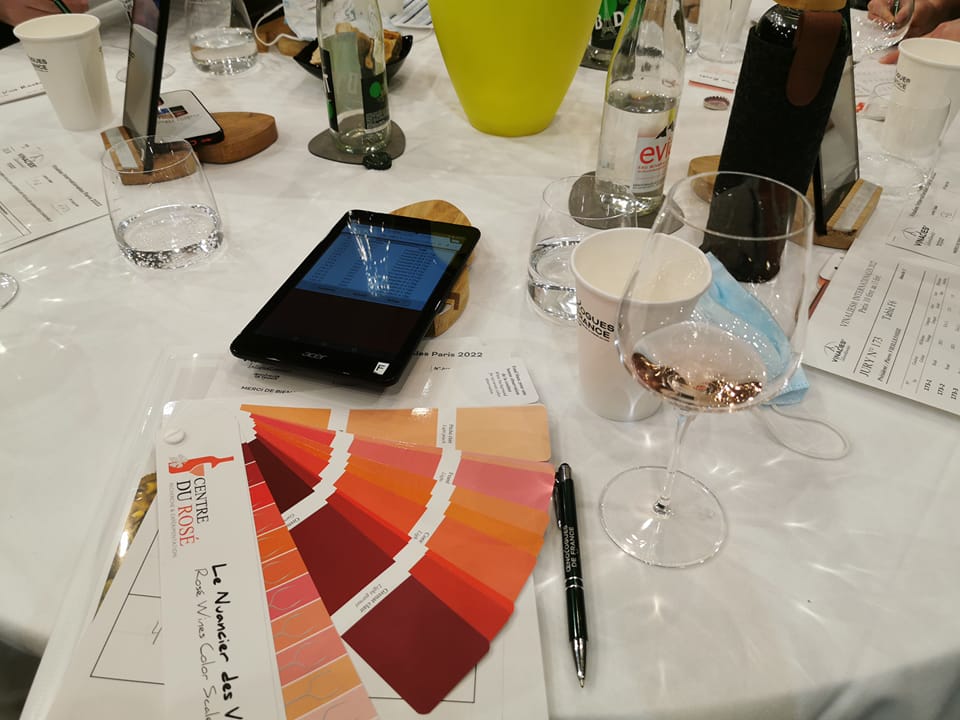 URBAN VINEYARD OF PARIS
I also used my stay in Bercy neighbourhood of Paris to visit urban vineyards of Paris. Namely, the local community, wanting to emphasize the history of this place, which was once a wine region that supplied wine to Paris, decided to build a small vineyard in Bercy Park. Chardonnay and Sauvignon Blanc varieties were selected, and every year about 250 liters of wine are produced from grapes from this vineyard. This could be a good ideas for, say, a park in the center of Irig or in the center of Aleksandrovac. I saw something similar in Bordeaux, where vines were planted all around the airport, so that immediately after leaving the airport, passengers are aware that they are in the famous wine region.