Njeguši prosciutto, cicvara, priganice, collard greens, Vranac, Krstač... Gastronomy lovers will discover genuine small pearls in the territory of tiny Montenegro, a fusion of Mediterranean cuisine, oriental influences and elements of continental cuisine. Good food does not go without good wines, and if we talk about Montenegro, of course, the first thing that comes to mind is wine from the autochthonous Montenegrin variety Vranac.
Therefore, we headed to Montenegro with a group of international wine journalists and bloggers to discover authentic Montenegrin Vranac.
Before setting out for Podgorica, a must-visit place is Boka Kotorska. A unique fjord in the south of Europe and a view that remains forever etched in memory. All the beauty of nature that has emerged since the beginning of the world... As we head down the winding path towards the Bay of Risan, all eyes absorb panoramic views of the bay. Some sighs of excitement and snapping of cameras... Nature was so generous in giving Montenegro natural beauties, and it is up to the locals to preserve those beauties (which is unfortunately not easy, looking at examples of chaotic illegal construction along the edge of the bay and rubbish by the side of the road left by tourists and locals).
KOTOR
The city of merchants and seafarers located in the Bay of Kotor is listed as a UNESCO World Heritage Site. The first associations on Kotor are usually big traffic jams during the summer months, trouble to find parking as close as possible to the old town. October is probably the right time to visit the city. No big crowds, no quest for a parking spot, and still beautiful sunny weather... Soon, we pass through the main city gate... Of course, wine lovers first go to visit the Cathedral of St. Tryphon, the patron saint of the city... St. Tryphon is equally respected by Catholics and Orthodox Christians. In Orthodox Christian tradition, this saint is also the patron saint of winemakers and vinegrowers. In addition to St. Tryphon's Cathedral, one should also visit the Church of St. Luke. Both buildings were erected during the twelfth century. And take a walk through narrow streets of the Old Town that will take you back to ancient times when Kotor was one of the main ports on the Adriatic...
The town is packed with small restaurants so we take a break and taste local dishes. Proximity to the sea inevitably motivates us to taste fresh seafood delicacies.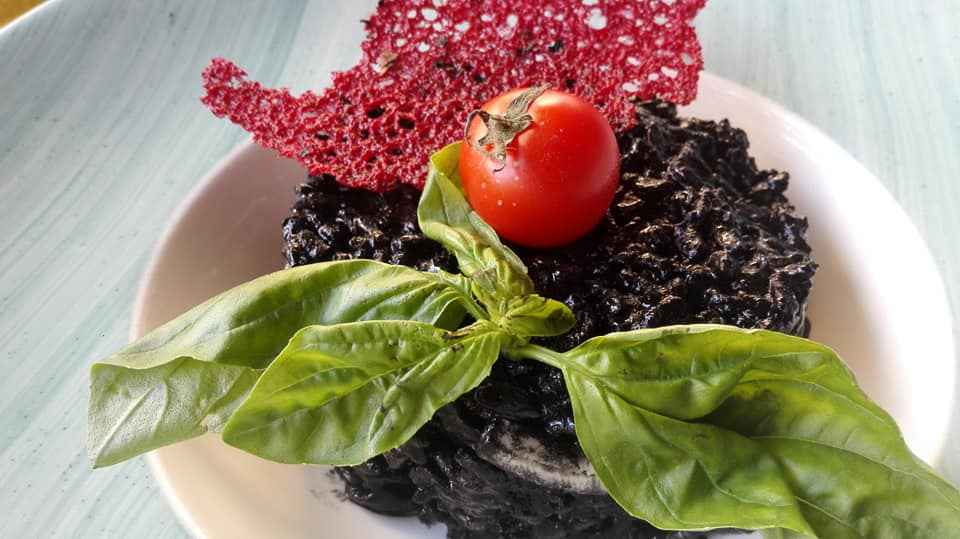 MONTENEGRIN VRANAC
Vranac is an indigenous Montenegrin grape variety that has spread throughout the region in the 20th century. Late variety, it requires sun-drenched positions and warm, loose, gravelly soil. The name of the variety Vranac is derived from the word "vran" (black) and the same term is used to denote a black stallion. Quite convenient, since Vranac wine is powerful, full-bodied, tannic, intensely colored, very extractive.
The variety originates from Crmnica, an area in the vicinity of Skadar Lake. Academician Ulićević listed the following synonyms for Vranac: Vranac Krstač, Crmnička Loza, Crmnički Vranac. He mentions that Vranac was grown in a very narrow area, not wider than 30km until the 19th century. In Macedonia, the first Vranac vines were planted in 1950 when the first experimental vineyard was planted at Butel near Skopje.
Scientific research and DNA mapping of Montenegrin indigenous grapevine varieties have confirmed that parents of Vranac are cultivars Kratošija (Zinfandel / Primitivo / Crljenak) and Duljenga. Plantaže 13th July Winery has done clonal selection of Vranac and 7 clones were registered.
ĆEMOVSKO POLJE
The most important locations if we talk about Montenegrin Vranac are Crmnica, the birthplace of this variety, and Ćemovsko Polje, the largest vineyard complex in Europe stretching on 2,310 ha. About 70% of Ćemovsko Polje is planted with Vranac. The leading white variety is Krstač. Other varieties include Chardonnay, Sauvignon Blanc, Pinot Blanc, Cabernet Sauvignon, Merlot, Marselan, Žižak.
Ćemovsko Polje project was implemented in the period 1977-1982.
The name Ćemovsko Polje is derived from the Albanian name for the river Cijevna (Cemi) which flows around the perimeter of the field. It is probably also the only vineyard in Europe located along the edge of the runway of Podgorica airport, so it looks as if planes descend directly into the vineyard rows. While trying to apprehend the size of the vineyard from the lookout post, we gaze towards Tuzi, Dinoša and Milješ, where, due to proximity of the surrounding hills and cooler micro-locations, white grape varieties are planted.
The importance of Ćemovsko Polje is even greater today because the team led by Vesna Maraš founded a national ampelographic collection there and carries out further scientific research with the indigenous Vranac and Kratošija, as well as other varieties that may have economic significance.
The soil of Ćemovsko Polje is composed of limestone conglomerate - pebbles, sand and fine fraction of earth, which gives wines distinct minerality. On all sides, vineyards are surrounded by limestone mountains, whereas the influences of continental and mediterranean climate greatly define the microclimate. Vineyards are actually located in a karst valley with extremely hot and dry summer and winter which is slightly colder than winter on the Adriatic coast. The vineyards are located at an altitude of 45 to 70 meters.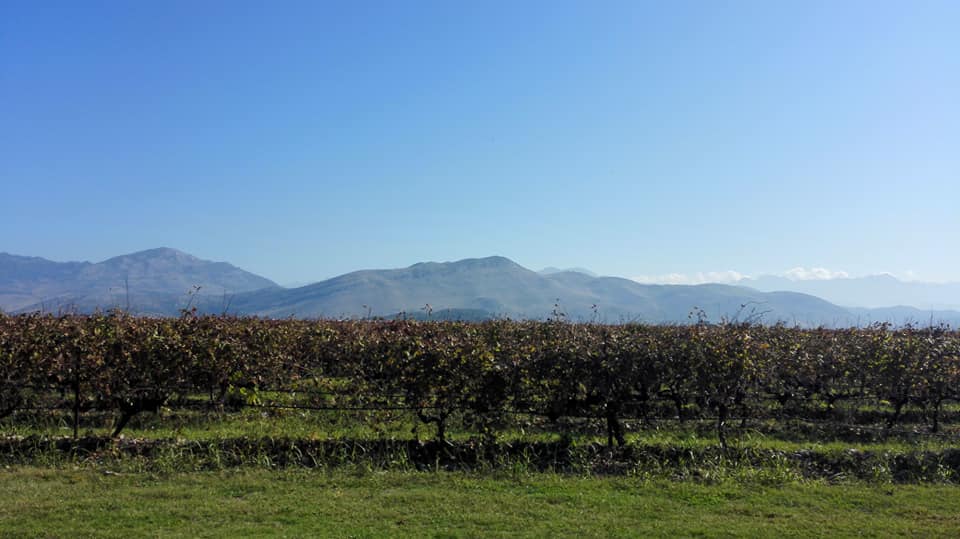 The size of these vineyards is best perceived at the time of harvest when about 1,000 pickers enter the vineyard. In order to provide sufficient labor force, Plantaže 13th July Winery hires workers from all over the region of former Yugoslavia.
ŠIPČANIK
The wine cellar Šipčanik is located inside a hill near the vineyards in Ćemovsko polje. The underground hangar of the former military airport has been transformed into an impressive treasure trove of wine. The basement is in the form of a tunnel 356 meters long, 13.5 meters wide and 7 meters high. Under nearly ideal conditions, about 2 million liters of wine are stored in oak barrels (77 large barrels and 450 barriques) and bottles.
Šipčanik has become a must-see tourist destination of Montenegro since this year. The cellar also has a tasting room and a specialized wine shop so tourists can explore wine history of Montenegro there.
TASTING
Crnogorski Val 2012 - (varietal composition: Krstač, Chardonnay) Sparkling wine made in the traditional method. The wine exudes preserved freshness and sophisticated expression. Persistent fine bubbles fill the mouth accompanied with playful acidity and leave an exciting impression. The aromatic profile evolves, so it's worthwhile to devote some time to this wine in a glass: from green apple, ripe peach to discreet notes of fresh herbs, basil, lime wrapped in hints of toasted bread. Noble, fresh, complex.
Pro Anima 2018 - (varietal composition: 100% Pinot Blanc) At Ćemovsko Polje, about 22 ha are currently planted under Pinot Blanc. However, given the results they achieve with this variety, Plantaže 13th July Winery are seriously considering expanding Pinot Blanc vineyards further. Fermentation and aging in stainless steel tanks sur lie. I like that this wine is lacking neither freshness nor strength. On the nose, aromas of ripe yellow fruit, pear, ripe yellow apple, pineapple, tropical fruit. On the palate, the same aromatic profile, with some spicy notes in the finish. Smooth, soft, warm.
Chardonnay Barrique 2016 - Fermentation and aging for 10 months in a barrel, followed by additional 6 months in a bottle. Impact of wood combined with the distinctive varietal characteristics of Chardonnay. Ripe yellow and tropical fruit simply overflow from the glass, pineapple, peach, apple followed by honey and vanilla tones. Creamy, full-bodied, lush on the palate. High alcohols unmistakably indicate that we're tasting powerful Chardonnay from the Mediterranean.
Vladika 2016 - (varietal composition: 80% Vranac, 10% Cabernet Sauvignon, 10% Merlot) This wine is paying homage to Njegoš and it's particularly popular in the Serbian market. Excellent value for money. On the nose, an attractive trail of vanilla and sweet spices blend into a fruity soft impression dominated by notes of cranberries, blackberries and dark cherries. In the mouth, smooth, soft, complex. Distinct flavours of dark cherry and blueberry, tones of coffee, dark chocolate, vanilla, cinnamon. Long, persistent finish.
Vranac Reserve 2013 - The wine that best exemplifies the superiority of Plantaže 13th July Winery, which can select the best quality grapes from the top positions in vineyards covering over 2,000 hectares every year to produce consistently wines that can be ranked among the best wines of the region. The tasting of this wine was followed by a moment of silence as the wine journalists in attendance tried to capture all those nuances of aromas, layers and complexity. Wine is alive, it keeps evolving, growing, changing in a glass... Each moment brings new experiences... After 6 years of aging (3 years in French oak barrels and another 3 years in a bottle), the wine has just begun its development. Great ageing potential. Dominantly fruity profile (dark cherries, blueberries, blackberries), fresh tobacco, raw leather, cinnamon, licorice. Acidity contributes to wine's freshness and vibrancy. Powerful and yet so elegant.
Medun 2013 - Late harvest wine from partially dried Vranac berries. On the nose soft, warm. Aromas of vanilla, caramel and cinnamon underlined with aromas of raisins, sour cherries, overripe blackberries, dates, dark chocolate. Firm tannins combined with distinct sweetness would have spoiled the overall impression, hadn't there been amazing acidity that complements this wine with vibrancy and freshness. Full body. 15% alcohol.
(Photo: T. Ivanović, M. Reuterdahl)