This year's WineOS, the international festival of wine, delicacies and fine living, has once again presented an exceptional accompanying program of tastings and workshops in Osijek (Croatia). Wine lovers had a great opportunity to hear personal winemaker's story told by Davor Zdjelarević, a Croatian winemaker who had gone through ups and downs of winemaking in the period of transitional economy. Certainly, a fate that struck a few other winemakers in the territory of former Yugoslavia as well... But Davor managed to pick up strength, turn a new chapter and move forward again.
Wines from Zdjelarević Winery have already earned their place in the contemporary wine history of Croatia. Back in 1985, Davor and his father and brother renovated the family estate in Brodski Stupnik and became the first private winery in Croatia. By 2000, production had grown from 5,000 liters to 140,000 liters. Simply, back in those days, the competition in the premium segment was not large because there were few private wineries, whilst large industrial wineries were still largely focused on production of wine for mass consumption.
Davor moved with family from Zagreb to his estate in Slavonia and expanded vineyards. Davor Zdjelarević believes that apart from Graševina, grape varieties with the highest potential in Slavonia are Rhine Riesling, Chardonnay and Sauvignon Blanc. Soil in Brodski Stupnik is not homogeneous: depending on the location, heavy clay soils, stagnosol and yellow soil are represented, while gray soil is predominant in the valley. The Rhine Riesling vineyard was 10 years old at the time of harvest.
Wine selection at the tasting reflects his winemaking journey.
Rhine Riesling 2000 - Zdjelarević - In the glass, the wine's golden colour indicates that it has just entered the noble age. Although 20 years old already, this Riesling doesn't boast with petroleum notes. An explosion of lush, ripe aromas of yellow fruit, quince, yellow pear, propolis, honey scented trail, herbal hints of linden tea... Multi-layered, noble impression. Acidity still underlines wine's freshness. On the palate, a long, oily honeyed trace, with flavours of figs, yellow apple, apricot, quince. Wine that still hasn't had its final say.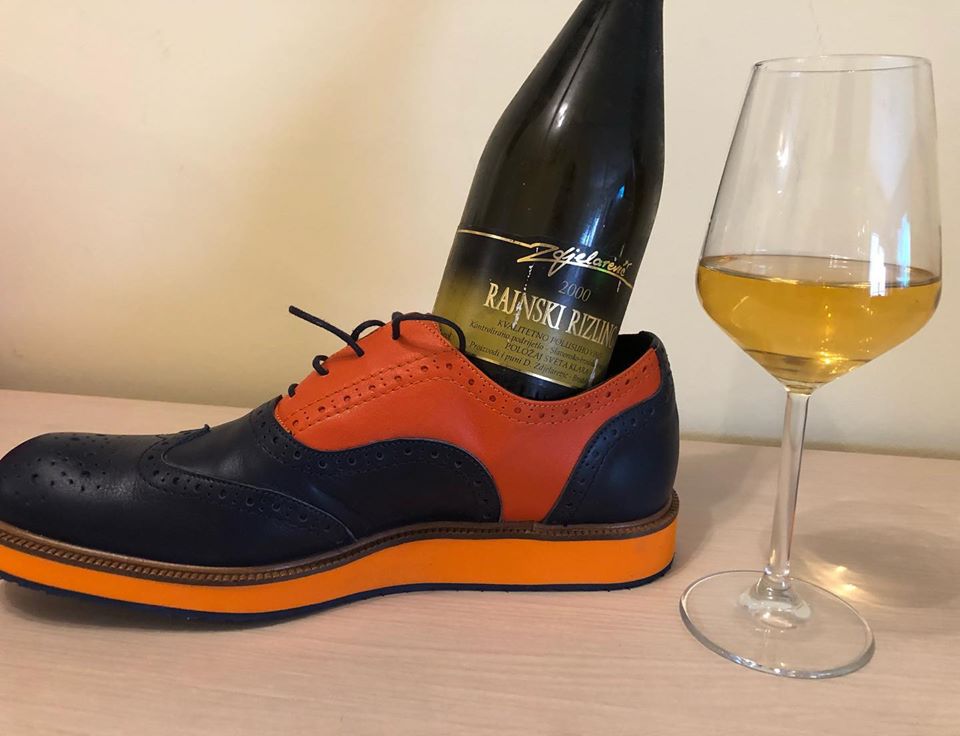 (Foto @Ž. Garmaz)
To sustain such skyrocketing growth, Davor decided to involve partners in the project. The market was already getting saturated, large retail chains began to press winemakers to offer lower prices, and then the global economic crisis hit. Partners from Russia emerged as a solution and he sold 50% of the company to them. Joint venture to fuel further growth, ambitious plans in the Russian market... But over time, it turned out that the Russian market was not immune to global economic crisis and situation in Ukraine, so the partnership showed signs of weakness. The exit strategy was to withdraw from the whole project, with financial compensation and a commitment that he wouldn't engage in winemaking for the next 10 years. Also, Davor kept Zdjelarević brand itself in possession.
In the entire region of former Yugoslavia, Davor Zdjelarević was considered one of the leading winemakers. But there folowed a period when he was considered a victim of transitional economy and a failed winemaker... So much bigger was the surprise for everyone when they realized that Zdjelarević wine brand still existed... The wine phoenix was ready to make a come back on the Croatian wine scene.
Nagual White 2007 - Zdjelarević - (Varietal composition: Chardonnay, Sauvignon Blanc) A blend that deviates from heavy, buttery Chardonnays without a sense-of-place and with character shaped by autolysis and malolactics rather than terroir, which could be found nowadays in every corner of the wine globe. Chardonnay and Sauvignon Blanc are vinified separately, with Chardonnay matured in Slavonian oak. After 2 years, this Chardonnay is blended in large barrels with Sauvignon Blanc matured in stainless steel tanks. In every respect, a great wine. Concentrated, full-bodied, complex. It has shown that it can withstand the test of time. And it's a privilege to be able to taste it now.
Yellow Muscat Brutal 2009 - Zdjelarević - Muscat vineyard stretches over a plot less than 1 hectare in size. The vineyard is located in Brodski Stupnik, on lower positions where there is more humidity. Davor believes that aromatic varieties favour more humid environment. The wine aged for 3 years in the barrel and then for another 6 years in the bottle. The result is a wine that hardly shows its Muscat features. Lots of warmth, more body, fruit-driven nose, apricot, yellow apple, tropical fruit, mango. Well preserved freshness.
Nagual White 2013 - Zdjelarević - (Varietal composition: Chardonnay, Sauvignon Blanc) Although the wine has the same name as in vintages 2007 and 2010 and the same varietal composition and vinification, new philosophy has taken the spot. After leaving Brodski Stupnik, Davor started the project of the first Croatian "diffuse" winemaker. In other words, a winemaker without a vineyard! He has been cooperating with prominent Croatian winemakers from all regions, and he has been using their infrastructure and grapes as raw material to make wines in accordance with his winemaking philosophy. He is the sole employee of the company now, producing 80,000 bottles of wine. Chardonnay in Nagual 2013 comes from the vineyard of Antunović Winery, whilst Sauvignon Blanc originates from Siber Winery's vineyard. A complex wine, multi-layered, it takes time to fully open in the glass. Full body, apparently Chardonnay gives the wine its structure. On the nose, it seems that Chardonnay is coming to the fore, though the citrusy-herbal trail leaves a hint of delicious freshness... The approach reveals a skilled winemaker, so don't bother delving too much into search for terroir in the glass.
Nagual Black 2016 - Zdjelarević - (Varietal composition: Cabernet Sauvignon, Merlot) Before we got wine in our glasses, Davor explained the name Nagual to us. In accordance with tradition of the Indian people of Mexico and Central America, nagual represents the protector spirit that can appear in the form of any animal. Therefore, Davor wanted to emphasize alteration in his wines, because they change as a nagual from one variety to another, while the essential quality remains the same.
Sparkling Grof Millenium Brut 2000 - Eventually, a true jewel. Sparkling wine, classical method, disgorged after 18 years. 1200 bottles in total. Golden yellow coloured wine in the glass, fine and persistent perlage. In the mouth, heavy, mature, full-bodied, in contrast with freshness infused by the bubbles. In the finish, flavours of hazelnuts, nuts, caramel.
Davor calls himself the first "diffuse" winemaker in Croatia. I'd rather call him the wine phoenix. He managed to preserve reputation of Zdjelarević brand, which from the very beginnings stood for superior quality. And then he managed to rise back again because he still hasn't had his final say when it comes to wine.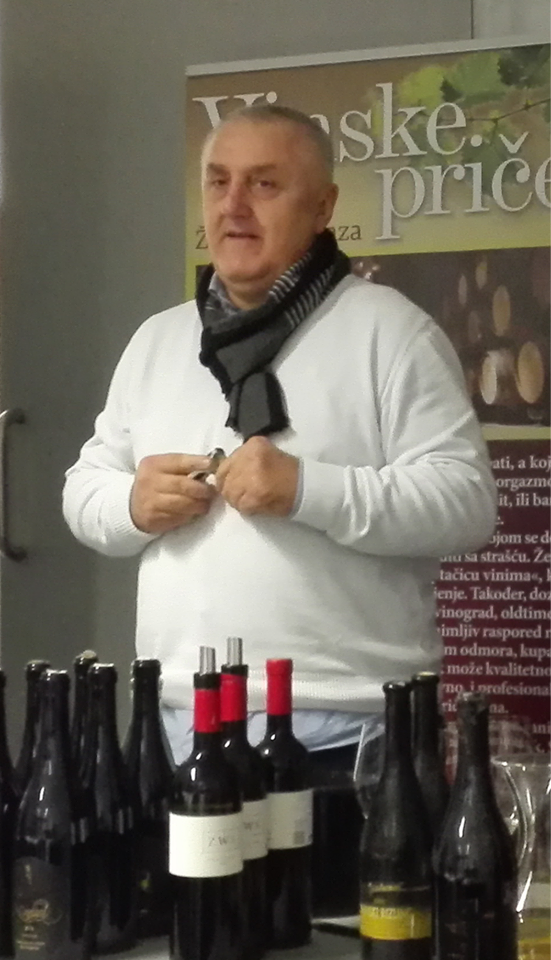 ______________________________________________________
WineOS Festival was held on January 10th and 11th, 2020 for the sixth time in Osijek (Croatia). The festival brought together more than 80 exhibitors from Croatia and neighboring countries and provided an opportunity for visitors to discover new eno-gastro experiences.