The famous French painter Henri Matisse wrote in his letter to the writer André Rouveyre in 1947, "I'd like to propose a toast to you every day with this glass of fresh fragrant Alsatian wine. Too bad you're not here." Well, in order not to pass as Rouveyre, I decided to dedicate my stay in Alsace partly to Alsatian wines.
Alsace can hardly be described in words... French and German culture are constantly intertwined in front of you, in every aspect of life and a unique Alsatian identity is emerging. The smell of freshly baked croissants and tarte flambée pervading the village streets, rows of traditional houses that take you back to the Middle Ages and create a special atmosphere, especially during Christmas holidays when Advent candles and decorations shine on the windows. Vast glades around the village are covered with vineyards. One quickly gets used to the local custom of serving a glass of Crémant d'Alsace with breakfast and thus starting the day.
Josmeyer Winery is located in the village of Wintzenheim near Colmar. In the immediate vicinity of the village center, a wide open gate reveals a spacious courtyard surrounded by houses which host the winery.
I arrive at the winery on time and Isabelle greets me in the yard with a cheerful smile. Isabelle and her sister Celine are the owners of Domaine Josmeyer. Although the winery cultivates 27 hectares of vineyards divided into 80 plots, Isabelle and Celine manage to run a winery with a team of 5 people in the vineyards and 2 people in the cellar. Together with administration and sales, Josmeyer Winery team consists of 12 people. Celine is in charge of paperwork, sales, exports, administration and finance, while Isabelle as an oenologist spends all her time in the cellar and vineyards.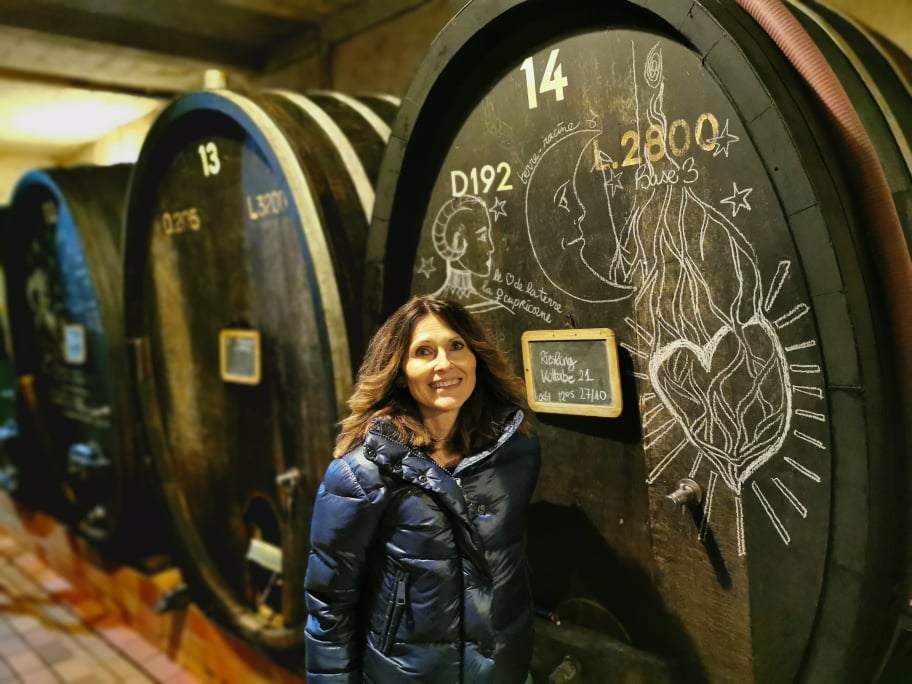 Wines from Josmeyer Winery are certainly ranked among the most exciting wines from Alsace. Stylistically, Isabelle strives to create dry varietal wines, terroir-driven and showing meticulous winemaking. They are certainly a good promoter of Alsace as 45% of annual production is sold in France, mostly in restaurants, while 55% of wine get exported.
The family wine business dates back to 1854, when Aloyse Meyer started wine business and a restaurant in the vicinity of present day winery. Since the surname Meyer is quite common in Alsace, in 1963 Hubert Meyer added the initial letters of his father Joseph's name to the surname, thus creating the Josmeyer brand.
Isabelle proudly points out that the most important moment in the development of the winery was when her father decided in 1995 to introduce biodynamic practices in vineyards. For four years, he had been hiding it from neighbors and other winemakers for fear of being ridiculed. In those days, biodynamic wine production had not yet reached the reputation it has today.
Josmeyer Le Kottabe Riesling 2020
Isabelle's father found inspiration for this Le Kottabe wine in a dance from ancient Greece. Wonderful delicate impression on the nose, yellow fruits, citrus, tangerine. Rounded and opulent on the palate, each sip of wine leaves an impression of full body and a distinct trail of ripe yellow fruit, pear, quince, apple, mirabelle. Minerality in the aftertaste. The grapes for this wine come from the vineyards in the plain, and since there was a lot of botrytis that year, they have rejected a significant portion of yield, so only the best quality grapes were used for the wine. 91/100
Josmeyer Les Pierrets Riesling 2016
Riesling from old vineyards, about 60 years old, from two plots both in the plain and on the slope (north side, limestone). The year 2016 proved to be good for Riesling. A wine that can certainly mature for at least 15 years. The wine is constantly evolving in the glass, at first a little shy, but as time goes on, the minerality complemented by notes of citrus, petrol and ripe yellow fruit becomes more and more pronounced. A long, impressive salty trail on the palate. Persistent fine acidity gives exciting vitality to the finish. 93/100
We continue tasting Riesling... The wines from Domaine Josmeyer are essentially dry, full of crunchy freshness and primarily focused on terroir. So many variations on the Riesling theme. Soil types, carefully selected microlocations. I have the impression that biodynamics and specific plot selection are equally important for Isabelle and her philosophy of winemaking.
Josmeyer Riesling Grand Cru Hengst 2016
Hengst is one of Grand Cru positions in Alsace, in the surrounding of ​​the village of Wintzenheim. In Alsatian dialect, "hengst" means "stallion". Perhaps this describes in the most adequate manner the strength and character of the wines that originate from this location. About 30 producers own vineyards in that area. Concerning the choice of grape varieties, one can find Traminer, Pinot Blanc, Riesling in vineyards located on this plot, but Pinot Noir has been increasingly planted in recent years as well.
The wine has the concentration and complexity of wines sourced from Grand Cru positions, but it also retains its softness and elegance. Aromatic profile of Riesling, but with a hint of overripe tropical fruit. Multi-layered, full body. A long, opulent finish that leaves a striking mineral trail. 93/100
Josmeyer Grand Cru Hengst Samain 2014
Samain is the name of an ancient Celtic festival that marks the end of the harvest and the beginning of the dark winter season. The wine needs time in the glass to open. Dominated by distinct minerality and salty trail on the palate. Aromas of ripe yellow fruit, quince, pear, yellow apple, kerosene notes. In terms of character and robust structure, the wine reminds me of Furmint from the Serbian winery Sagmeister. 94/100
Josmeyer Icare Pinot Gris 2018
Mild creamy impression, aromas of white peach, apple, spicy notes, citrusy freshness. Vibrant, yet rounded, concentrated ... A mineral trail lingers on the palate for a long period of time. 89/100
Josmeyer Le Fromenteau Pinot Gris 2017
Ripe yellow and white stone fruit, warm, rounded impression on the palate. Excellent acidity. Extremely agreeable wine. Again, a strong trail of saline minerality. 90/100
Josmeyer Les Folastries Gewurztraminer 2017
Dry wine, sumptuous aromas of tropical fruits, melon, lychee, coriander, cardamom in a spicy finish. No high alcohol, no bitterness.
91/100
As we tour the wine cellar, Isabelle emphasizes that the large barrels in the cellar are the winery's biggest asset and that she takes good care of them. How much attention is paid to them can be seen by the fact that Isabelle personally painted each barrel and thus visually connected her wine philosophy and the character of the wine aged in barrels. Subsequently, she used it to produce bottled art.