As I've been returning home from Kalenić market, I'm thinking about the best way to use the leek I've just bought. Given that wine festivals and other wine events during weekends are still scarce, I have more time to dedicate to cooking and trying out some new recipes and new flavors.
People usually make a mistake by viewing the cuisines of Asian countries as one entity, i.e. "Asian cuisine". However, each country has its own traits, and these can be perceived in food as well. For that reason, we cannot equate Chinese, Japanese or, for example, Thai cuisine.
The cuisine of South Korea is not widely known in Serbia. You will not easily find restaurants that offer Korean dishes. So, I get even more excited to try out some of the recipes from South Korea in my own kitchen.
Korean cuisine already has a reputation for being extremely demanding when it comes to pairing with wines. Not only is it rich in ingredients, but its integral part is also a generous amount of hot peppers and other quite aromatic and hot aggressive spices. But, the cooking technique is such that the hot and spicy mouthfeel is never aggressive and harsh. It's well integrated, it acts more from the background, spreads slowly and leaves a long spicy hot trail on the palate, which further stimulates salivation and appetite. Therefore, wine struggles to show its best features and aromatic profile.
Leek is one of the main ingredients for "kkanpunggi". I cut the chicken into pieces and added ginger, soy sauce and pepper to blend spices with the meat as much as possible. After that, I will add egg whites and starch so that the pieces of chicken remain juicy and fluffy on the inside but crispy on the outside.
I fried leeks cut into strips, garlic and hot pepper in oil.
The magical secret ingredient of Korean cuisine is flavored oil. Put a few tablespoons of crushed hot chilli pepper in the oil and heat it slowly so that the oil absorbs aromas and flavors as much as possible. Then take it off the fire and strain it. Vegetable is fried in that oil: green pepper cut into strips, hot pepper, leek cut into rings and onion. During frying, sweet and sour sauce is added (soy sauce, water, vinegar, starch and sugar). Finally, mix it with fried chicken pieces and sliced leeks, garlic and hot peppers and sprinkle with sesame oil.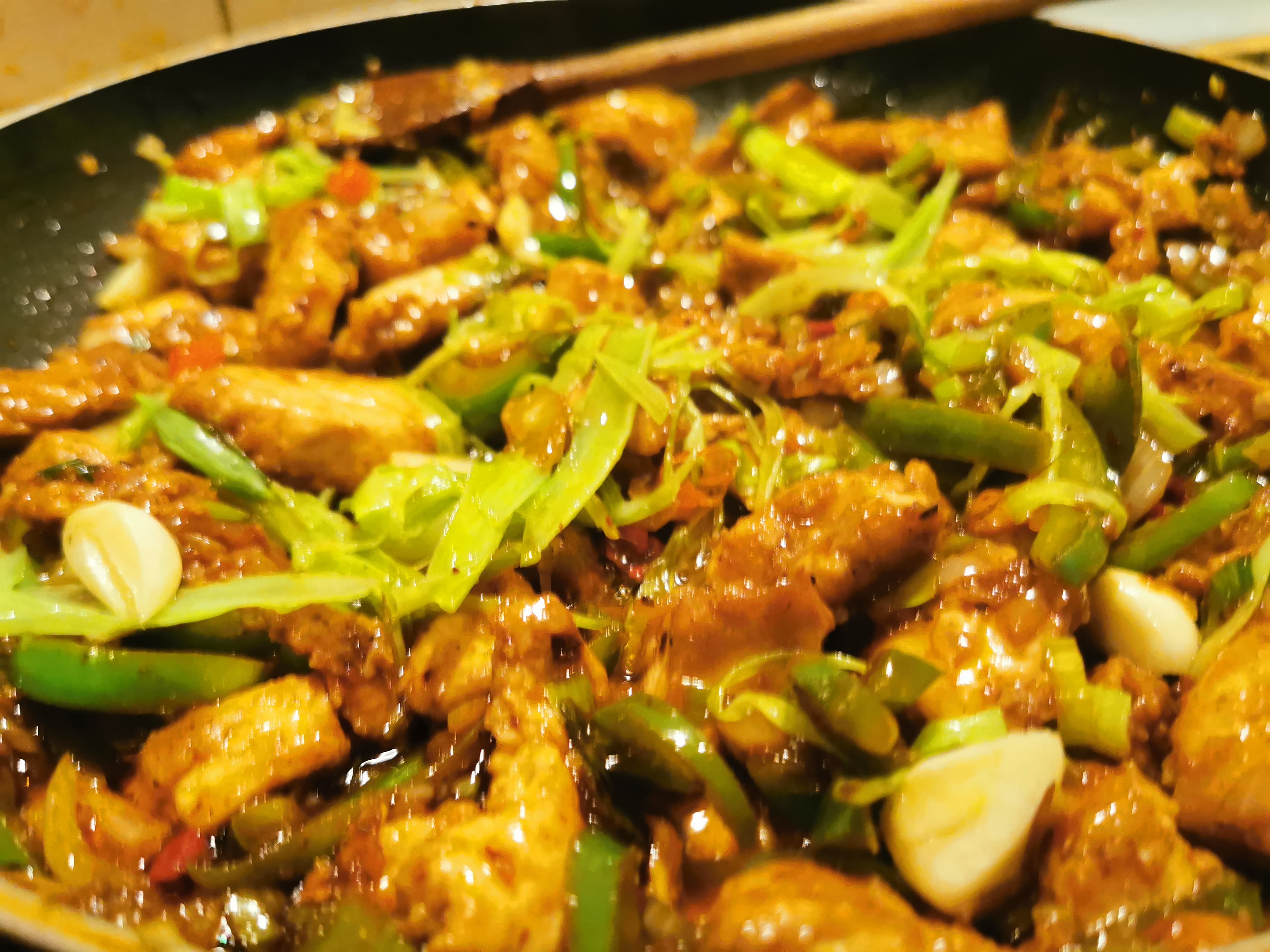 The intensity of spices in this dish and hot mouthfeel push me to avoid complex wines with a rich aromatic profile. I tried pairing with Traminer, but the sumptuous aromas of Traminer did not match the aromas of kkanpunggi. Also, I could not find a suitable red wine that would pair well with this dish. White wines always come to the fore as a better option.
Out of several wine labels we tasted with kkanpunggi, the wine that calmed aggressiveness of spices and hot mouthfeel in the best way was Quet Grašac 2018 from Fruškogorski vinogradi. Grašac is increasingly proving itself on the contemporary wine scene of Serbia as a versatile option when it comes to food pairing. Its developed, mature impression did not disturb fluttering spicy character of the food, but merely curbed aggressiveness and softened the strength of spice. At the same time, the aromas of peach, ripe yellow apples and hints of delicious tropical fruit gave additional complexity to kkanpunggi. Pleasant acidity and citrusy freshness helped to wash away the hot trail and to prepare the palate for a new bite. Airy structure of the chicken merged nicely with the wine's medium body. On the whole, Grašac from Fruška Gora vineyards was an adequate match in this case.