Pairing wine and chocolate will surely sound very appealing and tempting to you, but in reality, it is not an easy task. We need to match elements in wine such as aromas, acidity, body and intensity of finish to structure, level of sweetness and flavour intensity in the chocolate. Experienced sommeliers will advise you to try out various combinations and experiment as much as possible before choosing the perfect pair.
The organic food store OLIVIA in Vračar hosted an evening of discovery on February 11th. A workshop where we attempted to discover the ideal pairing between handmade Aguara chocolates and Serbian organic wines (Imperator and Plavinci Wineries).
The main guideline when pairing wine and chocolate is to align aromatic profiles. However, other elements should be equally tackled. Full-bodied red wine with plentiful tannins can leave a bitter impression if paired with dark chocolate that has low sugar. Therefore, white and milk chocolate are generally considered to be easier to pair with wines.
Aguara White Chocolate Traminer + Gratianus 2015 Imperator - All Aguara chocolates are made with dried fruit without additives, which means concentrated pure fruity/spicy aromas in a piece of white chocolate. The main ingredients of this white chocolate are dried oranges, melons, cinnamon, ginger. When tasting, it is best to take a piece of chocolate and let it melt slightly in your mouth to release its aromas completely. And then complement that impression with a sip of wine. The semi-dry Gratianus 2015 makes a good aromatic match. Ginger gives a spicy finish, and chilled wine helps curb that spiciness. Orange hints found in chocolate add to wine's extra freshness.
Aguara White Chocolate Traminer + Flavius ​​2015 Imperator - In comparison, now I decide to taste the same white chocolate but with a wine that has slightly more residual sugar. Sweet Flavius, a slightly later harvest of Traminer, leaves even better impression. It is this more intense sweet impression in the mouth that blends perfectly with creamy texture of white chocolate and gives excellent full-bodied mouthfeel. Out of these two combinations, Flavius ​​is definitely a better choice!
Aguara Chocolate Black Tamjanika + Ramonda Roze 2017 Plavinci - Milk chocolate with added raspberry, sour cherry and rose petals leaves warm creamy texture in the mouth. Ramonda rosé from Plavinci Winery is made from Regent variety. After grape crushing, skin contact lasts for a maximum of 15 minutes. No sulfur added, aromatic profile dominated by red forest fruits, strawberry, cherry, mild floral notes, somewhat masked by reduction. If we compare aromas, wine and chocolate can be paired, however, wine's acidity in the finish disturbs soft rounded impression of milk chocolate.
Aguara Chocolate Vranac + Indigo 2016 Plavinci - Chocolate (70% cocoa) with cherry, blackberries and cloves pairs perfectly with distinct fruitiness of Regent. Acidity in wine gives a touch of freshness to the dark chocolate and leaves a harmonious long impression in the mouth. Aromas of wine and chocolate blend perfectly. Overall, I would call this a successful match.
Aguara Chocolate Vranac / Aguara Chocolate Cabernet Sauvignon + Maximianus 2015 Imperator - Maximianus 2015 from Imperator Winery (varietal composition: 40% Merlot, 20% Malbec, 20% Cabernet Sauvignon, 20% Cabernet Franc) I tasted in parallel with two types of dark chocolate to find the best match. Aguara chocolate Cabernet Sauvignon (70% cocoa) with added dried cherry, blackberry, red currant and pepper mix. Generally, this wine pairs well with chocolate containing a higher percentage of cocoa thanks to fresh and vibrant acidity that breaks down tannic structure combined with concentration and mild bitterness of the cocoa parts. However, when it comes to aromatic profile, match with pepper mix left much better impression, so this time a winning pair was Maximianus and Aguara Chocolate Cabernet Sauvignon.
Aguara Chocolate Vranac / Aguara Chocolate Cabernet Sauvignon + Quintillus 2015 Imperator - Quintillus 2015 wine from Imperator Winery (varietal composition: 50% Merlot, 50% Malbec) came out victorious in this duel as it matched equally well both types of chocolate. Fully rounded, soft impression. Aromas of wine found space to express themselves despite rich and intense chocolate aroma.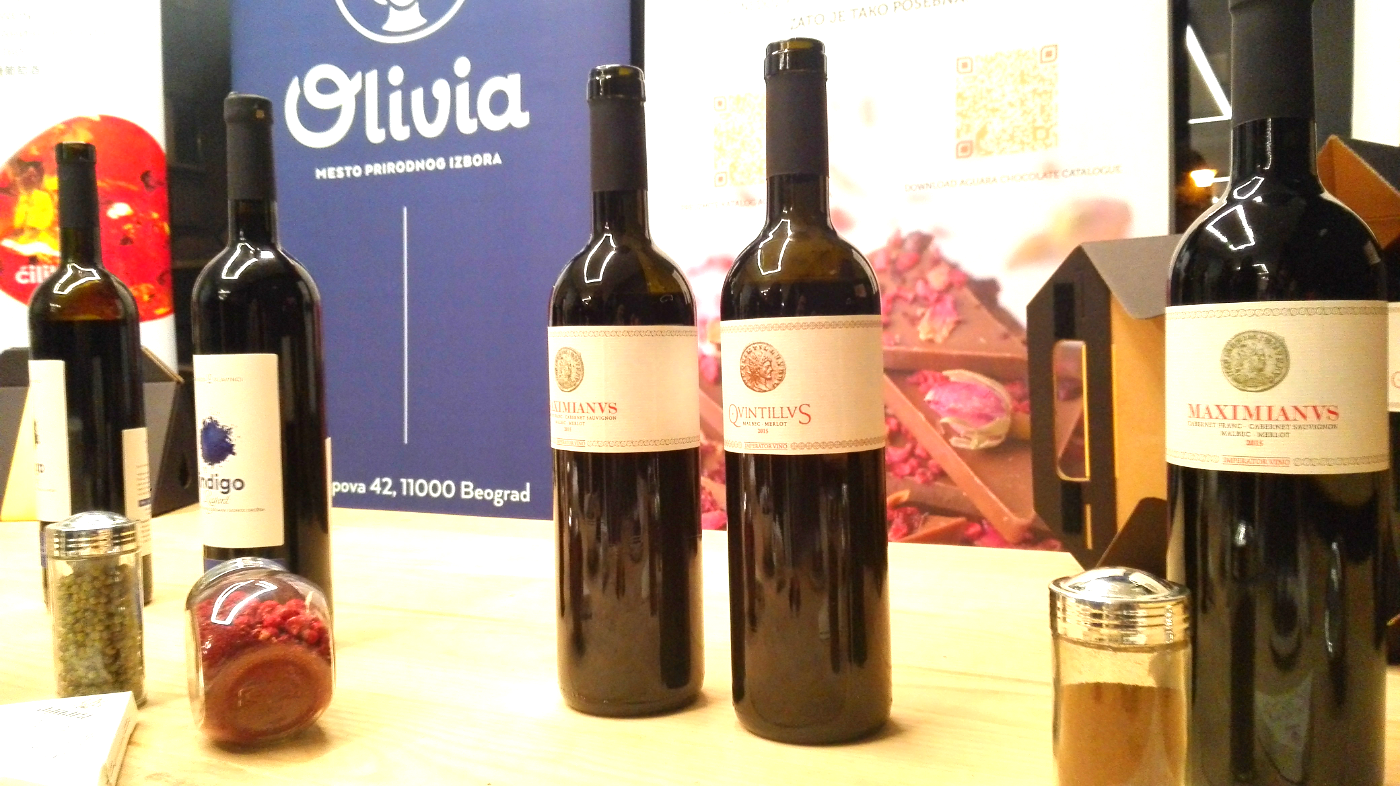 (17/02/2019)